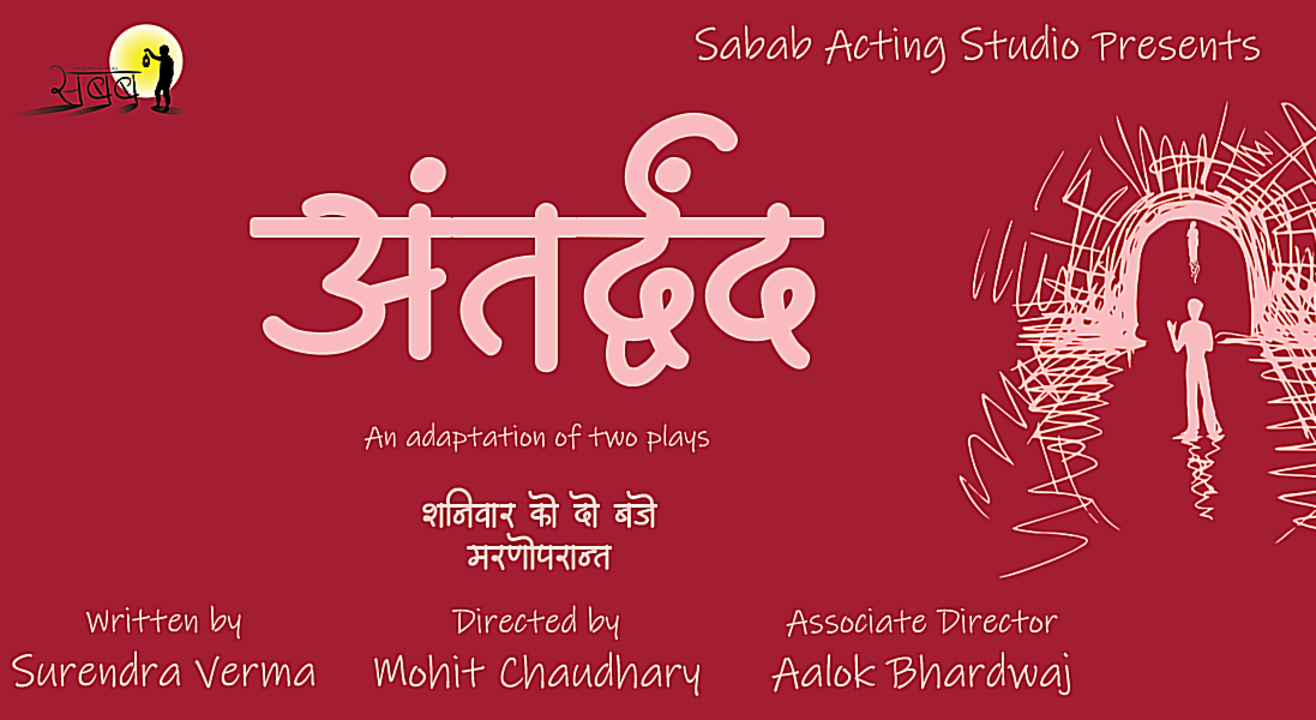 Baba Kharak Singh Road, Delhi
Event Guide
Live Performance
Enjoy a unique experience
Invite your friends
and enjoy a shared experience
Baba Kharak Singh Road, Delhi
Event Guide
Live Performance
Enjoy a unique experience
Invite your friends
and enjoy a shared experience
Event Guide
Live Performance
Enjoy a unique experience
Covid 19 Safety Measures
This event adheres to the following

Health & safety measures
Invite your friends
and enjoy a shared experience
Covid 19 Safety Measures
This event adheres to the following

Health & safety measures
"Antardwanda" is a compelling theatrical event directed by Mohit Chaudhary, featuring two thought-provoking plays penned by the renowned playwright Surendra Verma. This unique event delves deep into the intricate complexities of human relationships, with a central theme revolving around the tumultuous world of extramarital affairs.
One immerses the audience into the lives of characters grappling with the forbidden allure of infidelity. Set against a backdrop of love, temptation, and moral dilemmas, it explores the emotional turmoil that ensues when boundaries are crossed and secrets unravel.
In the other one, it explore the theme of extramarital affairs, but with a distinct perspective. Here, the story unfolds from a different angle, shedding light on the consequences and ripple effects that reverberate through the lives of those involved. The audience is drawn into a web of conflicting emotions, ethical quandaries, and poignant human experiences.
"Antardwanda" invites viewers to introspect on the complexities of human nature, the choices we make, and the impact they have on our lives and the lives of those around us. This event promises a riveting and thought-provoking journey into the intricacies of relationships, morality, and the enduring power of theater to provoke contemplation and discussion.
Shanivar ko 2 Baje
Cast:
Sachin Pathak
Swarnima Bajpai
................................
Marnoparant
Cast:
Mohammed Naushad
Mohit Chaudhary
.................................
Associate Dir: Aalok Bhardwaj
Baba Kharak Singh Road
Baba Kharak Singh Rd, New Delhi, Delhi 110001, India
GET DIRECTIONS
Baba Kharak Singh Road, Delhi
Event Guide
Live Performance
Enjoy a unique experience
Invite your friends
and enjoy a shared experience