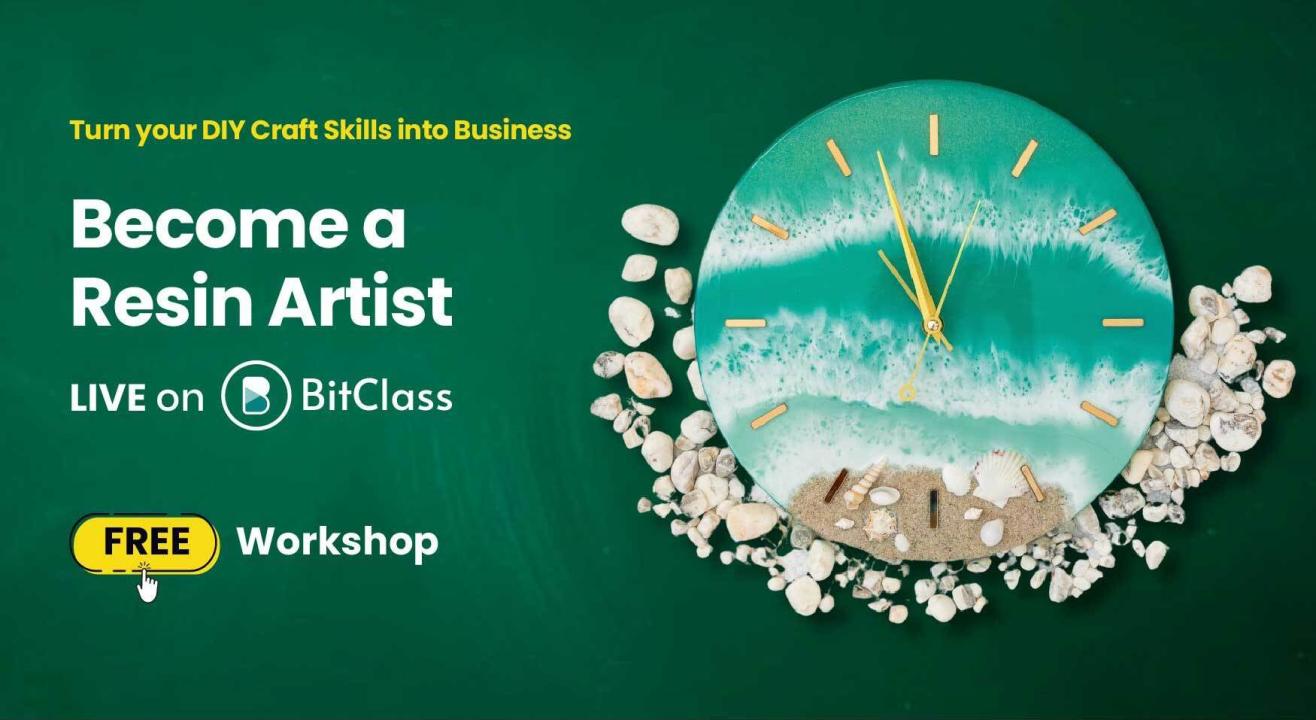 Become a Resin Artist | Start your Home-based Craft Business
Event Guide
Masterclass
Learn from an expert
Invite your friends
and enjoy a shared experience
Become a Resin Artist | Start your Home-based Craft Business
Event Guide
Masterclass
Learn from an expert
Invite your friends
and enjoy a shared experience
Event Guide
Masterclass
Learn from an expert
Invite your friends
and enjoy a shared experience
About this Course
"Every artist was first an amateur."
What if we tell you that you don't any need prior art knowledge or experience to get started with resin art?
Yes, you heard it right!
This course is for absolute beginners in the world of resin art. In this course, you'll go through some really easy ways, play with resin mediums to create a fun, interesting, and colorful abstract painting.
Resin art is a mesmerizing art where you try to create patterns that resemble natural things like beaches, seascapes, flowers. The possibilities are endless.
What you will discover in this course?
Resin & types of resin
Preparing the base
Proper way of mixing
Use of pigments and tools needed
Essence of resin art- lacing effect. It's the main charm of resin art
How to finish up the product
What are the materials required for the course?
Any resin medium
Any wooden/MDF base piece/coasters available
Resin colors (minimum 3)
White acrylic color
Any Metallic Color (Silver/Gold)
Brushes
Weighing Scale, blow torch, mask & gloves
Plastic cups
Ice cream sticks
Tissue paper
Plastic sheet to spread to avoid spoilage of working place
Straw
Abro-tape or Latex
By the end of this course, you will be able to create art pieces using different resin mediums. You will understand the versatility of this art and the tricks and techniques to make stunning art pieces. Taking this course will help you get over your fear of failure and leap up the learning curve so that your first resin art piece turns out to be amazing.
Let your creativity flow with resin art mediums and click the REGISTER button today!
Become a Resin Artist | Start your Home-based Craft Business
Event Guide
Masterclass
Learn from an expert
Invite your friends
and enjoy a shared experience