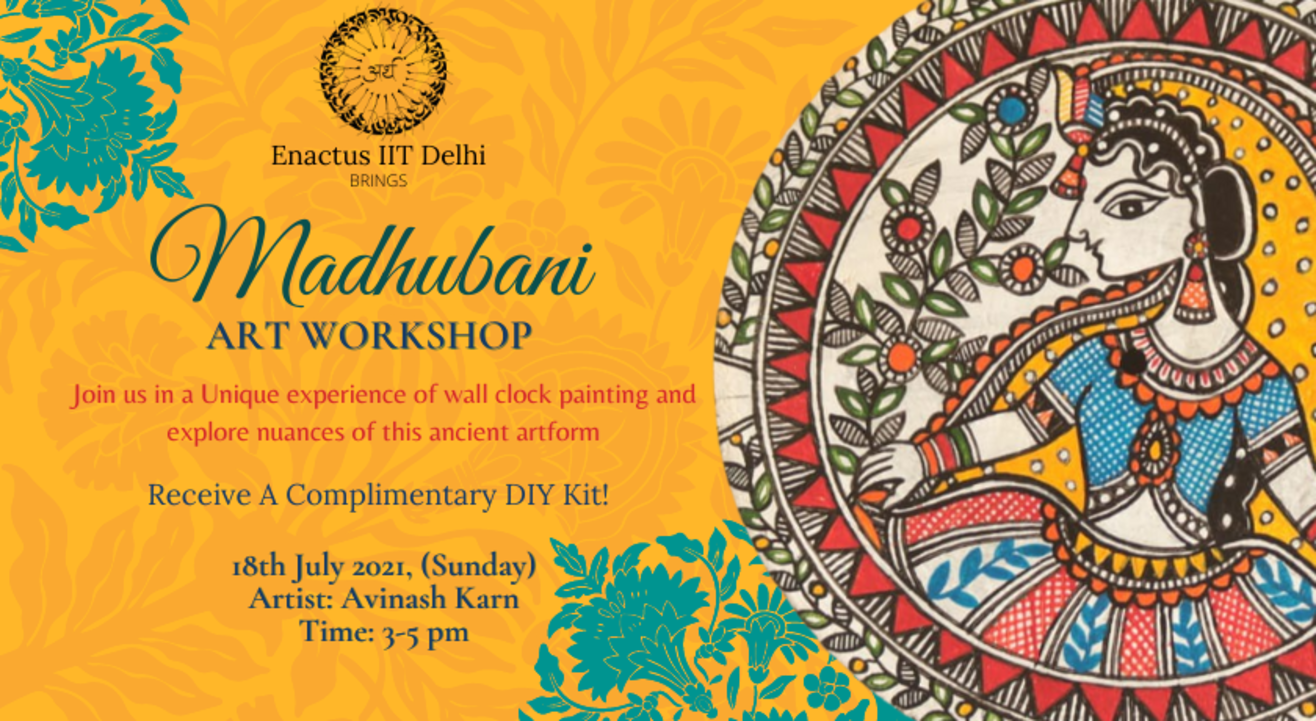 Madhubani Workshop (With an Eco-Friendly Gift!)
Enjoy this event from your home
Event Guide
For Age(s)
Family Friendly
Masterclass
Learn from an expert
Invite your friends
and enjoy a shared experience
Madhubani Workshop (With an Eco-Friendly Gift!)
Enjoy this event from your home
Event Guide
For Age(s)
Family Friendly
Masterclass
Learn from an expert
Invite your friends
and enjoy a shared experience
Event Guide
For Age(s)
Family Friendly
Masterclass
Learn from an expert
Invite your friends
and enjoy a shared experience
NOTE: Starting from 19th July, 2021 (and within 7 business days after the Workshop) a Do It Yourself kit will be delivered right to your doorstep, where you can unleash your creativity and use your newly learned skills to adorn it with beautiful Madhubani art. It will contain an eco-friendly clock base which is made sustainably by Project Arth, empowering women, gaushala workers and artisans in the process.
Project Arth, Enactus IIT Delhi has been working for the past three years to help solve the social and environmental evils facing us today in innovative ways. Continuing with our mission, Arth in association with media partner KahaJaun brings a new workshop that aims to raise awareness about our fading Madhubani artform, and in the process, empower women and artisans that hand craft our eco-friendly clocks!
Madhubani Art (or Mithila painting) is a style of Indian painting, practiced in the Mithila region of the Indian subcontinent.
It is characterized by its eye-catching geometrical patterns. So deeply is it intertwined with the culture that it also constitutes ritual content for particular occasions, such as birth or marriage, and festivals, such as Holi, Surya Shasti, and Durga Puja.
The inception of the Madhubani art form dates back to the Ramayana period in the Mithila Kingdom of Bihar. Undoubtedly this exquisite art form has made its mark in the pages of history, but its colors are fading gradually in modern times.
Arth, a project under the banner of Enactus IIT Delhi, is here to organize a unique Madhubani Art Workshop where you'll be painting a stunning, eco-friendly wall clock for yourself while exploring nuances of this magnificent artform.
About the Artist:
Avinash Karn is an artist from Ranti village, Madhubani, Bihar – the ancient region of Mithila claimed to have been the epic heroine Sita's birthplace. It is a region where women have been practicing the ritual art of painting for a long time. Having grown up in this atmosphere, Avinash chose to take up Madhubani's eloquent art form to greater heights, and studied at Benares Hindu University's department of Fine Arts to evolve his artistic language. Based in Varanasi currently, the artist has been conducting workshops for urban dwellers as well as in the form of community building initiatives with the tribal people in Jharkhand, for which he was recently honored. He has received the Piramal Art Foundation arts residency (2016), was awarded with a Grant for a community art project by Artreach India (Org.), New Delhi (2016); received a Scholarship in the field of Madhubani Painting, Ministry of Culture, Govt. of India, New Delhi (2014-16) among others. He has worked on several largescale mural paintings and his works have been exhibited and collected worldwide.
Supplies Required:
Set of Acrylic Paints (other kinds of paints are also suitable)
Brushes: No. 00 & 02
Coffee cups for mixing colors
Wipes
Pencils, erasers and other basic stationary
So what are you waiting for? Come, join us for an insightful artistic voyage!
And check out our pages to know more about us!
ARTH (@arthforpeople) • Instagram photos and videos
Arthkart (@arth_kart) • Instagram photos and videos
Checkout our gifting products at arthkart.company.site
Know more about the Arth story at HOME | ARTH (projectarth.org)