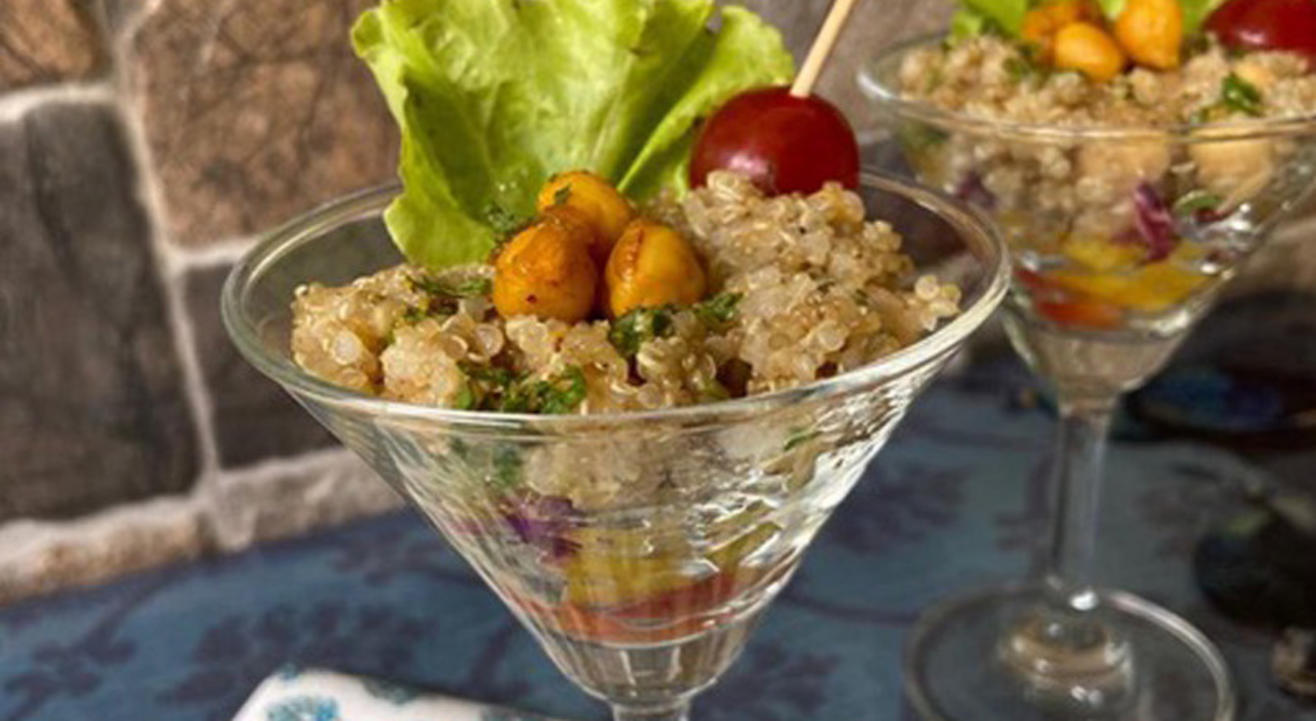 पार्टी स्नैक्स – हिंदी क्लास (Party Snacks – Hindi Class)
October 8 | 4PM - October 9 | 5PM
Invite your friends
and enjoy a shared experience
Invite your friends
and enjoy a shared experience
About the Event
हम अपने मुख्य भोजन के लिए स्वस्थ विकल्प चुनने व बनाने में सक्षम होते हैं, लेकिन हम में से अधिकांश स्नैक्स के समय चूक करते हैं। अस्वास्थ्यकर स्नैक्स लेने से स्वस्थ मुख्य भोजन का लाभ नष्ट हो जाता है। इस क्लास मे हम कुछ स्वस्थ स्नैकिंग व्यंजन विकल्प पेश करते हैं ।
मेन्यू-
कीन्वा मार्टिनी
ज़ुकीनी रोल-अप
टैको टार्ट्स
जैकेट आलू
व्हाइट बीन्स कटलेट
ककड़ी सुशी
प्रस्तुतकर्ता: मंजू अग्रवाल
दिनांक: गुरुवार, 8 और शुक्रवार 9 अक्टूबर 2020
समय: शाम 4.00 बजे से शाम 5.00 बजे तक (11.30 बजे यूके, 2.30 बजे यूएई, 6.30 बजे सिंगापुर)
पता: ज़ूम लाइव
8 अक्टूबर 9 बजे IST पर पंजीकरण बंद हो जाएंगे
सत्र से एक दिन पहले रेसिपी शीट ईमेल के माध्यम से साझा की जाएगी। यदि आपको ईमेल या रेसिपी शीट प्राप्त नहीं होती है, तो कृपया संपर्क करें – office@sharan-india.org या कॉल / व्हाट्सएप – +91 9769117747
While we are able to make healthy choices for our main meals, most of us mess-up when it comes to snacks / in between the meals. Having unhealthy snacks negates the benefit of healthy main meals. In this class we present some healthy snacking dishes.
Menu:
Quinoa Martini
Zucchini Roll-Ups
Taco Tarts
Jacket Potatoes
White Beans Cutlet
Cucumber Sushi
Date: Thursday, 8th and Friday 9th October 2020
Time: 4.00 pm to 5.00 pm IST (11.30 am UK, 2.30 pm UAE, 6.30 pm Singapore)
Presenter: Manju Agrawal
Registrations close on 8th October 9 am IST
Note: You will receive a zoom link one day prior to the event via email. If you do not see this please check your spam and whitelist our address to avoid missing future mails by dragging it into your Primary Box
Recipe sheets will be shared via email one day prior to the session.
In case you do not receive the email or recipe sheets, please contact – office@sharan-india.org or call / whatsapp – +91 9769117747
Cancellation 24 hours before the event attracts full refund. No refund for cancellation on the day of the event.