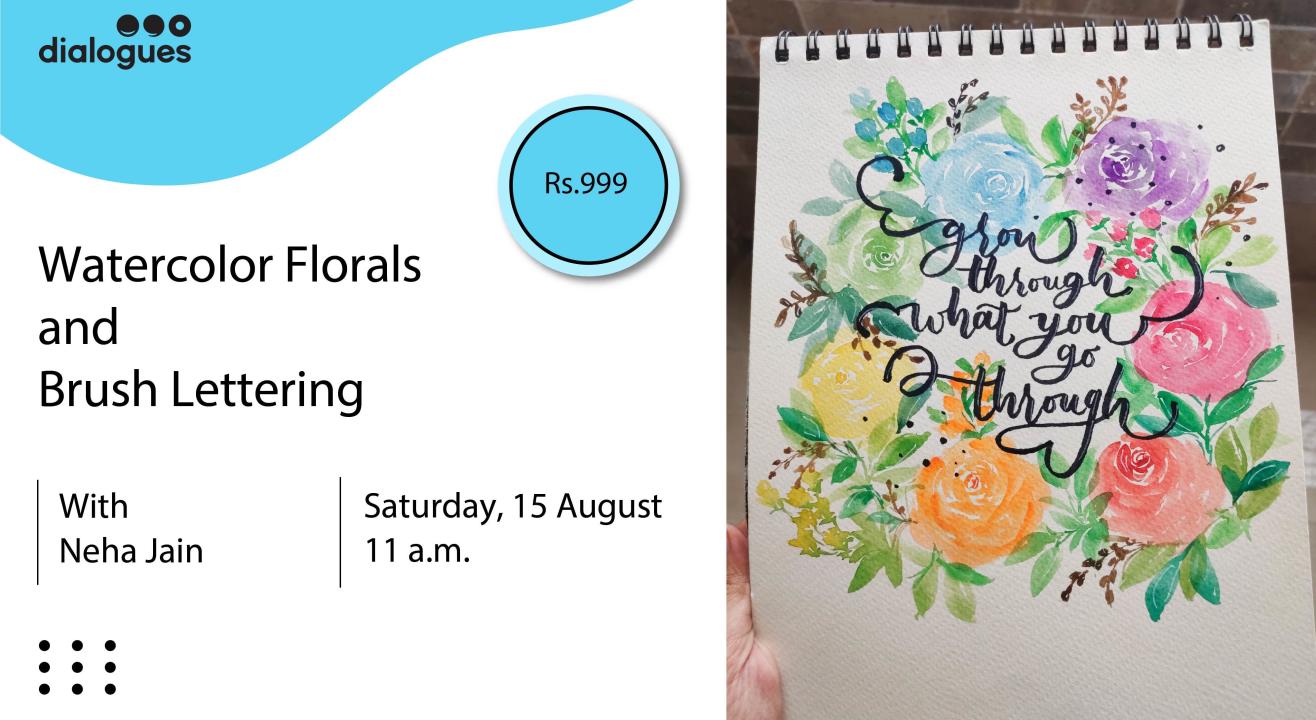 Watercolor Florals and Brush Lettering (2 Days)
August 15 | 3:30PM - August 16 | 5:30PM
Invite your friends
and enjoy a shared experience
Invite your friends
and enjoy a shared experience
About the Event
Introduction:
Illustrations of flowers using watercolors are among the most favorite art forms of artists worldwide. There is a range of products designed specially to paint botanicals, which will be introduced to you in this workshop.
Lettering is the art of drawing letters, composing them into an illustration with intention and design. It is used in creating wall art, decor, cards, invites, menus, etc. It is a free form of art where you can mix scripts and fonts, alter sizes and shapes of letters giving it your unique personal touch. There are endless tools and design forms in lettering and every artist has their own style of expression.
What You Will Learn:
This is a 2-Day Workshop where you will learn,
Day 1 -
1. About the medium that is watercolors
2. How diluting the paints in different proportions gives different transparencies and gradients of colors
3. How the blending techniques and strokes give rise to beautiful flowers and leaves
Day 2 -
1. Basic drills and strokes, method using of brush pens
2. Upper Case and lower case letters
3. Joining letters to form words
4. Flourishes
5. Tips on placement & alignment of words and designing of projects
Materials Needed:
1. Watercolor paints
2. Size 3/4 round brush
3. Palette
4. Brush pens
5. Pencil & eraser
About the Artist:
Neha Jain, is a dentist in Hyderabad, currently pursuing her masters. She is a self-taught artist who has been into art since childhood. She has loved exploring mediums from a very early age, be it papercrafts or painting or sculpting. She started her Instagram page in 2018 and is into watercolors, acrylics, calligraphy, sketching, and lettering. Currently, she is working with clay, resins, and fluid arts.
IMPORTANT:
- This is a LIVE session, not a pre-recorded tutorial
- For the best experience, join the workshop from your laptop/desktop
- Ensure that your internet connectivity is strong
- Log in 15 minutes prior to the workshop. This would help us work out any technical difficulties so we can start the session on time.
- If you are unable to join the session due to technical reasons, please call us on (+91-6361358825)
- This is a closed event. Only registered email ids will be allowed to join the session.
Please note that you will receive the invoice and the link of the session on your registered email id. If you fail to receive the email, you can reach out to us on team@dialogues.space or call us on +916361358825 and we will send the invite to you again.