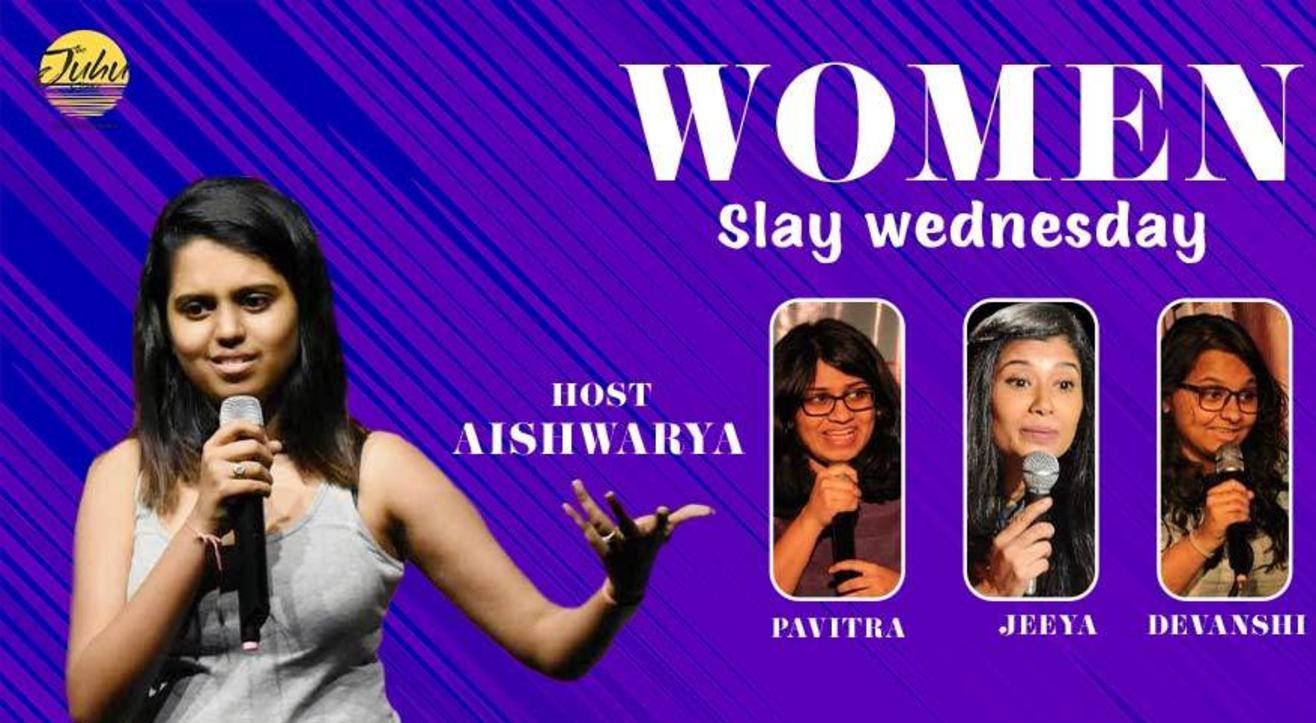 Comedy
About
Women Slay Wednesdays
Show Description:
Women Slay Wednesday is a new show that will happen every Wednesday with a brand new line up of Comics that will leave you on the floor laughing! Men need to pay the price to watch the best in comedy! A show that Has everything from sex, heart break, feeling fat, PMS, domestic violence, being poor, hating rich people, brother and sister fights, growing old, being young all this and so much more.
Lineup
Host Aishwarya Mohanraj
Comics
Pavitra Shetty
Jeeya Sethi
Kajol Srinivasan
Shashi Dhiman
Abira Nath
Devanshi Shah
Artsits Info
Aishwarya Mohanraj
Aishwarya Mohanraj is a standup comedian and writer. Aishwarya was one of the top 10 contestants in Comicstaan and since then has written for shows like Son of Abish, Behti Naak and On Air with AIB. She has performed in various comedy venues such as Canvas Laugh Club and NCPA. She was part of Amazon Prime Original Comicstaan Season 1
Pavitra Shetty
Pavitra Shetty is an undiscovered singer, upcoming stand-up artist and reportedly also a girl. To prove this, she has recently started a tag-team called The Sidechicks providing a disturbing look at what girls with unlimited WiFi connections can do. The biggest inspirations for her stand-up are her Mom, random aunts who keep visiting her place and her very own weighing scale. Already featured multiple times on television and radio, Pavvy is also part of hit Chalta Hai shows Dame Funny and Undateable. And she has an unnaturally high number of best friends who insisted that a new bio was written for her.
Kajol Srinivasan
Kajol Srinivasan is an upcoming comedian who, in her words, is half Tamilian, half Bengali, like 2 Chetan Bhagat novels in 1. She is an alumna of the first ever artists' residency organized by Akshara and the US consulate on women's empowerment. Kajol has performed widely at venues like IIT Bombay, the Kala Ghoda Arts Festival, BITS Pilani, Canvas Laugh Club and others. She curates and performs at corporate shows with customized content. She is a graphic designer by the day
Abira Nath
Abira Nath is an upcoming comic and has featured in several shows.
Jeeya Sethi
Jeeya believes if you are fat once (by fat she means FAAAAT) you are fat forever, mentally you never become thin even after losing all the weight. An event manager turned stand-up comedian, improviser and actor, she has made entertainment her new life's mission since nothing else is going for her!
Shashi Dhiman
Shashi Dhiman is an upcoming comic and has featured in several shows.
Devanshi Shah
Devanshi Shah is an upcoming comic and has featured in several shows. she was part of the Amazon Prime Original Comicstaan Season 2