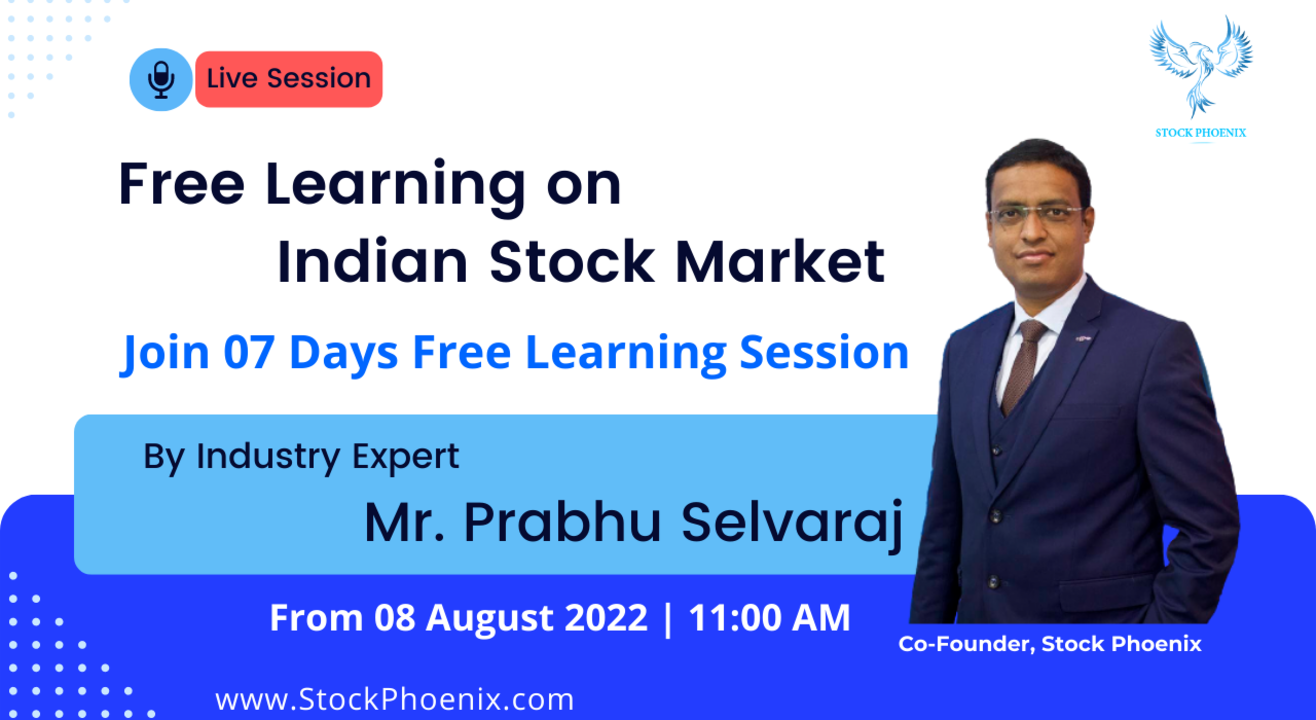 07 Days Free Stock Market Learning Series | Stock Phoenix | Prabhu Selvaraj
September 5 | 11AM - September 11 | 12PM
Enjoy this event from your home
Event Guide
Masterclass
Learn from an expert
Invite your friends
and enjoy a shared experience
07 Days Free Stock Market Learning Series | Stock Phoenix | Prabhu Selvaraj
September 5 | 11AM - September 11 | 12PM
Enjoy this event from your home
Event Guide
Masterclass
Learn from an expert
Invite your friends
and enjoy a shared experience
Event Guide
Masterclass
Learn from an expert
Invite your friends
and enjoy a shared experience
Welcome to the World of Stock Market Learning. You have reached the right place to kick start your secondary source of Income.
Stock Phoenix is one of the Fastest Growing Stock Market Training institutes in India. The Company was established in the Year 2018 and ISO Certified Organisation. We have trained more than 5000+ Students on Mentorship programs and conducted Live Seminars covering 75000+ Public Followers. Follow us on Telegram at https://t.me/StockPhoenix
These three days workshops we have designed to give your a fair idea about the Indian Stock Market. And will help you to get a good amount of knowledge as to how you should start your Journey in Stock Market for your Secondary Source of Income.
What are we going to cover in Three days Live Workshop?
Stock Phoenix - 07 Days free Learning Program
07 Days Stock Market Learning Program :
Thanks for filling up the form for your Free 07 Days Stock Market Learning Program. This article will help you to give more information about the Free Learning program.
Free Learning will go for 21 days and various topics of Fundamentals and Technicals will be covered. Classes will be conducted by Prabhu Selvaraj and Senthil Kumar along with Mentors at Stock Phoenix.
1: Free Learning Program will start at 11:00 and ends at 12:00 PM.
2: Classes will happen from Monday to Saturday.
3: Daily Different Topics will be covered and Topics will not be repeated.
4: No Recordings of the Free Webinar will be Provided.
5: Login by 10:45 AM to block your seats as only 1000 seats will be allowed Live.
6: No Tips are Buy and Sell recommendations would be given in the Free Webinar.
Contact at https://t.me/StockPhoenixTeam for any further Queries and Clarification
Register Today to block your seat and be part of the wonderful Live Learning Session with the Founders of Stock Phoenix.
*Disclaimer: We will be giving you a welcome call to explain about this workshop and how to join the workshop on the Gotowebinar Platform and we will also send an SMS for a reminder to join the workshop live at the event Days. Your data is secured under the Privacy policy of Stock Phoenix.
07 Days Free Stock Market Learning Series | Stock Phoenix | Prabhu Selvaraj
07 Days Free Stock Market Learning Series | Stock Phoenix | Prabhu Selvaraj
September 5 | 11AM - September 11 | 12PM
Enjoy this event from your home
Event Guide
Masterclass
Learn from an expert
Invite your friends
and enjoy a shared experience