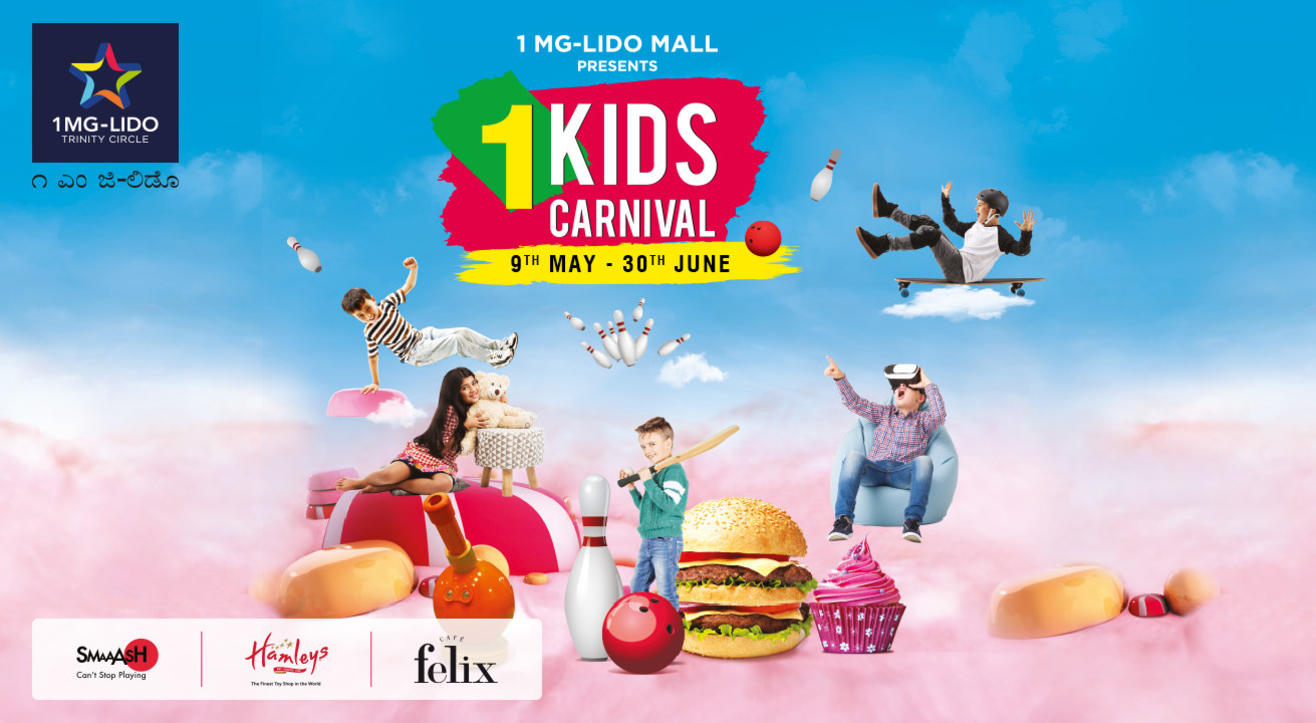 Shopping
1 Kids Carnival At 1MG-Lido Mall | Bangalore
May 9 - June 30 | 11AM - 8PM
699 ( Get a Rs75 movie voucher)
About
Vacation time: ON | Study: OFF
Ticket prices have been slashed from Rs. 2,999 to Rs. 699 for a limited time. Hurry and grab your tickets! Plus, enjoy an Insider movie voucher of Rs. 75 on every purchase.
The April - June time frame is synonymous with summer vacations. And summer vacations mean restless kids who are bundles of energy, looking to have some fun. Keeping this in mind, this year 1 MG- LIDO Mall is organizing a kids carnival that provides a fun-filled day for children aged between 5 - 14 years.
A single ticket costing Rs. 699 (including tax) will be inclusive of any of the 10 arcade games + 2 VR games in SMAASH, lip-smacking treats in Cafe Felix and a Pro-session on games conducted by Hamley's. It also includes a goodies bag from them at the end for stashing the prizes.
Any 10 arcade games + 2 VR games from Smaaash
Free training on games + Goodiebag from Hamleys
Delicious lip smacking food from the Junior Menu – Café felix

What is the minimum and maximum age to avail the offer?
Kids must be between the age of 5 years to 14 years.

Should kids be accompanied by a parent/guardian?
Yes,This is mandatory

Is this ticket valid only for one person?
Yes. One ticket can only be used by one child.

How long is the ticket valid for?
The ticket is valid till June 30th.

Can I use the 3 offers on different days?
All 10 video games need to be utilized in a single day. However you can choose to use the coupon at Café Felix and Hamleys on different days.

Can more than 1 person play video games using the ticket at SMAAASH?
Yes.

Can adults also buy tickets for themselves?
No. Only children between the ages of 5 to 14 can use these coupons.

Are tickets refundable to transferrable?
Once purchased, tickets cannot be transferred or refunded.

Can we use this ticket at another retail outlet?
Tickets can only be used at 1MG-Lido Mall.

Can I only buy 1 of the 3 coupons?
All coupons must be bought together in a single ticket.

What is the kind of food available on the junior menu?
You can choose any of the following: fish fingers, tartare sauce, chicken nuggets, mac 'n' cheese poppers, penne in cheesy tomato sauce, pizza margarita, chicken popcorn & a milk shake / ice cream.

What can I look forward to in my Hamley's goodie bag ?
A lovely stationary kit.

How many tickets can I purchase in a day?
You can purchase an unlimited amount of tickets!
Venue
1 MG-Lido Mall
1MG-LIDO Mall Trinity circle Swami Vivekananda road B-lore-560008.
GET DIRECTIONS