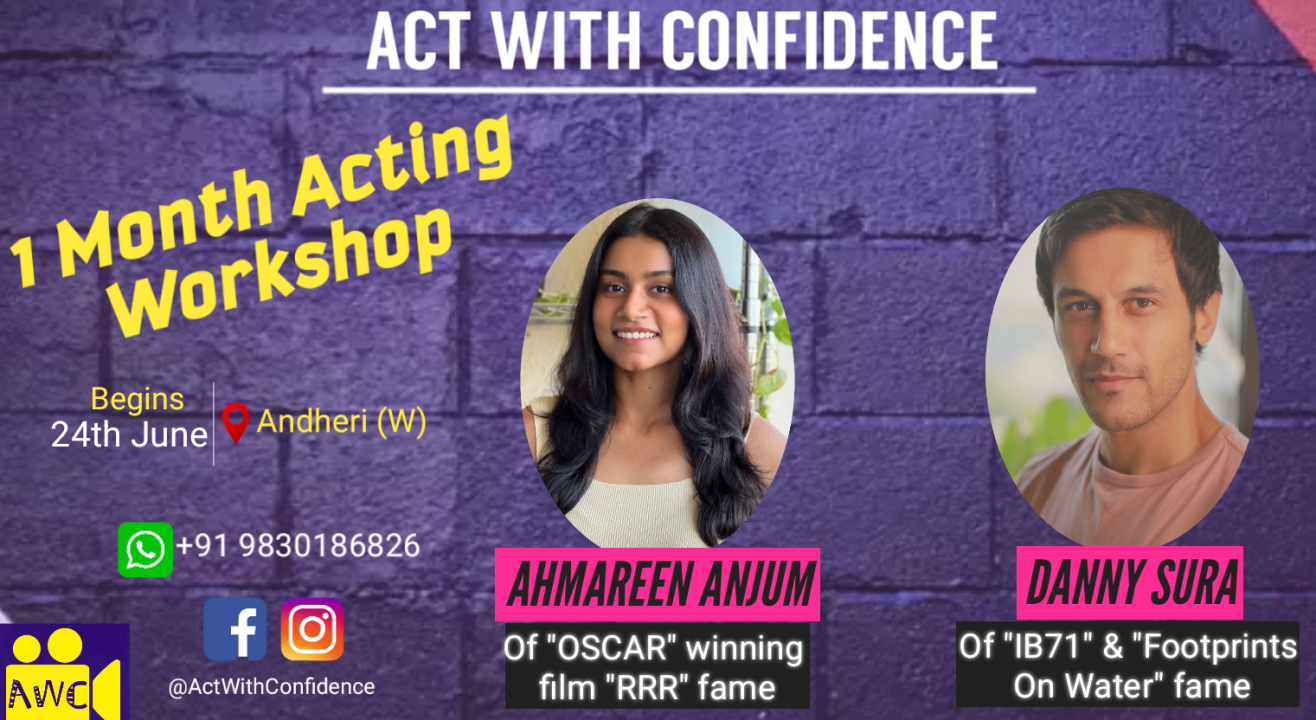 June 24 | 11AM - July 16 | 2PM
Venue to be announced, Mumbai
Event Guide
Masterclass
Learn from an expert
Invite your friends
and enjoy a shared experience
June 24 | 11AM - July 16 | 2PM
Venue to be announced, Mumbai
Event Guide
Masterclass
Learn from an expert
Invite your friends
and enjoy a shared experience
Event Guide
Masterclass
Learn from an expert
Covid 19 Safety Measures
This event adheres to the following

Health & safety measures
Invite your friends
and enjoy a shared experience
Covid 19 Safety Measures
This event adheres to the following

Health & safety measures
The 1 Month Acting Workshop is especially designed to give you a deep & detailed understanding of the craft and to make you a better & more confident actor/actress.
Contact Us
+ 91 9830186826
actwithconfidence81@gmail.com
Topics that will be covered in detail:-
Breathing & Voice
Diction & Speech
Movement & Body Language
Imagination
Improvisation
Monologues
Camera Techniques
Understanding Emotions
Character & Scene Study
Audition Preparation, Tips & Tricks
and a lot more..
A little bit about Team Act With Confidence
We have conducted two offline workshops successfully in Mumbai and multiple online Acting Workshops in the past 3 years, having happy and satisfied students from all over the world including UK, Italy, America and India. We have also done casting for big brands like UltraTech Cement, Dabur, PAYTM etc.
Danny Sura - A professional Actor and Psychologist from the UK, Danny moved to Mumbai in 2011. He is known for his blockbuster film "IB 71" and the international award winning film "Footprints on Water". He has also acted in several TV commercials, web-series such as 'Girl In The City' and TV shows including "Vidrohi", "Maharaja Ranjit Singh" and "Tenali Rama". His show "21 Sarfarosh: Saragarhi 1897" is streaming on Netflix as well his feature films "Main Aur Mr. Right", "Kya Kool Hai Hum 3" and "Hindi Medium". Back in the UK, Danny was a qualified Coach and Mentor and he produced and acted in several short-films, feature films and toured stage productions across the country. In India, he is currently touring with Mrs. Lillete Dubey's Primetime Theatre Company.
IMDb page - imdb.me/dannysura
Ahmareen Anjum - A professional Actor who has over 10 years of experience, with a Degree in Film-making, a Diploma in Acting and Masters in Advertising. She has acted in many TV commercials, stage productions, cine plays, short films, TV shows and Oscar winning film "RRR", "Sir" which won an award at the Cannes Film Festival 2018, "Class of 83" & "Tottaa Pataaka Item Maal", streaming on Netflix and "Devi Aur Hero". Ahmareen started producing, acting, directing and editing her own content from a very young age. She has personally coached actors by helping them with their character development and dialogue delivery.
IMDb page - https://www.imdb.com/name/nm9465525/
www.instagram.com/ActWithConfidence
www.facebook.com/ActWithConfidence
Arrive at the event 10 mins before start time.
Don't eat a heavy meal before the Workshop.
Please carry water, pen and paper and wear relaxed and comfortable clothes
Be respectful and maintain the decorum of the space.
Empty your cup and be prepared to learn new things from our seasoned mentors.
June 24 | 11AM - July 16 | 2PM
Venue to be announced, Mumbai
Event Guide
Masterclass
Learn from an expert
Invite your friends
and enjoy a shared experience