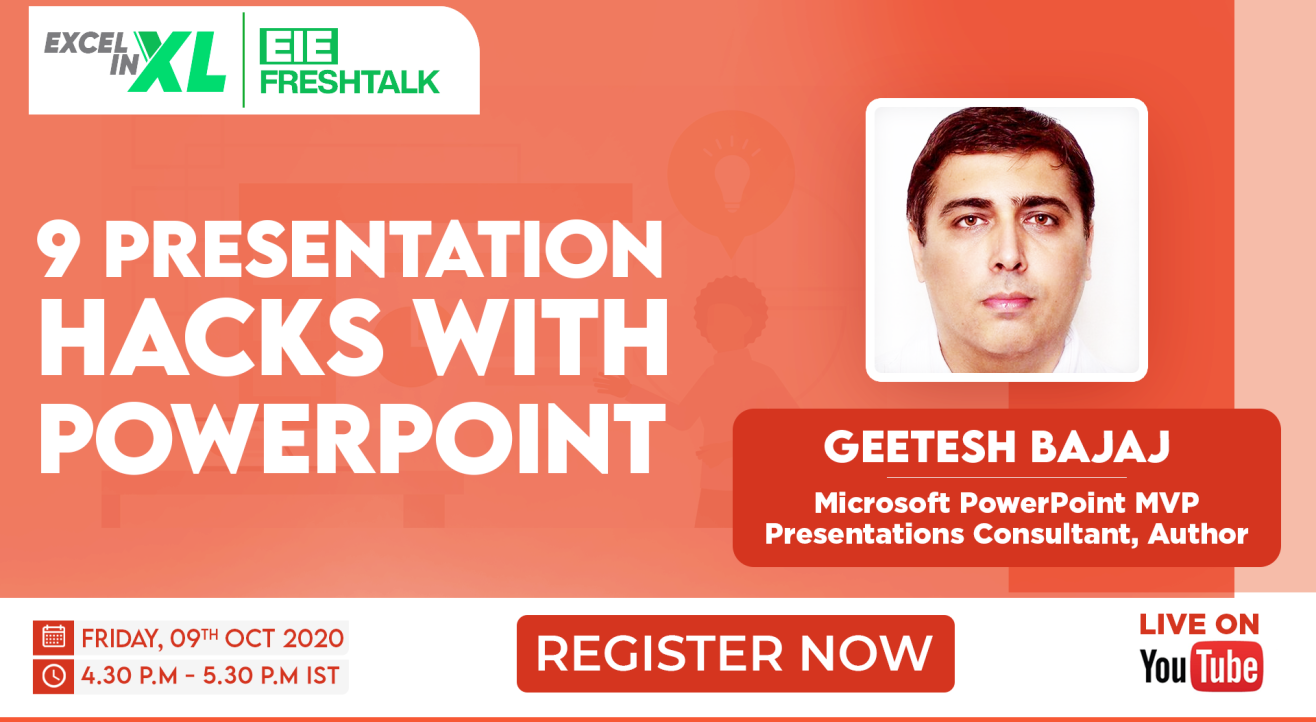 9 Presentation Hacks with PowerPoint by Geetesh Bajaj | #EiEFreshTalk by Excel in Excel
Invite your friends
and enjoy a shared experience
Invite your friends
and enjoy a shared experience
About the Event
Excel in Excel presents #EiEFreshTalk on 9 Presentation Hacks with PowerPoint by Geetesh Bajaj (Microsoft PowerPoint MVP Presentations Consultant, Author)
Date: Friday, 9th October 2020
Time: 4.30 pm to 5.30 pm IST
REGISTER NOW
This is a free YouTube Live Event
About Speaker:
Geetesh is an internationally acclaimed PowerPoint, storyboarding, infodiagramming and presenting expert, who has been awarded as a Microsoft PowerPoint MVP (Most Valuable Professional) every year for 20 years now, making him the longest serving MVP in India. As an MVP, Geetesh interacts and collaborates with the Microsoft PowerPoint product development team.
He is also on the Board of Directors for the Presentation Guild, a presentation industry trade association, based out of Cincinnati, USA.
Based out of Hyderabad, India, he believes that any presentation is a sum of its elements these include abstract elements like story, concept, color, interactivity, and navigation and slide elements like shapes, graphics, charts, text, sound, video, and animation. Geetesh has authored six books.
His Indezine.com site attracts many page-views each month and has thousands of free PowerPoint templates and other goodies for visitors to download. In addition, Geetesh also issues a weekly PowerPoint newsletter on Indezine.com.
About EiEFreshTalk:
#EiEFreshTalk is a Talk Show presented by Excel In Excel on its YouTube Channel (https://www.youtube.com/theexcelinexcel), where it will be hosting great leaders and subject matter experts (SMEs) from various fields to speak regularly on a variety of topics ranging from Excel to Analytics and Finance to Financial Modeling and many more.
These sessions are intended to offer the viewers the opportunity to listen to the esteemed speakers and interact with them to have their queries addressed.
Watch our past talk's at https://www.youtube.com/playlist?list=PLnsVzIf_J3fIMQTp7x7c4usgpeqYN9l1V
______________________
Register for Upcoming #EiEFreshTalk at https://excelinexcel.in/eieFreshTalk
Stay updated with us on our
Facebook Group @ https://www.facebook.com/groups/eiefreshtalk/
WhatsApp @ https://www.excelinexcel.in/whatsappupdate
Telegram @ https://www.t.me/ExcelinExcel
Watch other episodes of #EiEFreshTalk at https://www.youtube.com/playlist?list=PLnsVzIf_J3fIMQTp7x7c4usgpeqYN9l1V
Learn MS Excel: www.ExcelinExcel.in/ms-excel
Our Website: www.ExcelinExcel.in