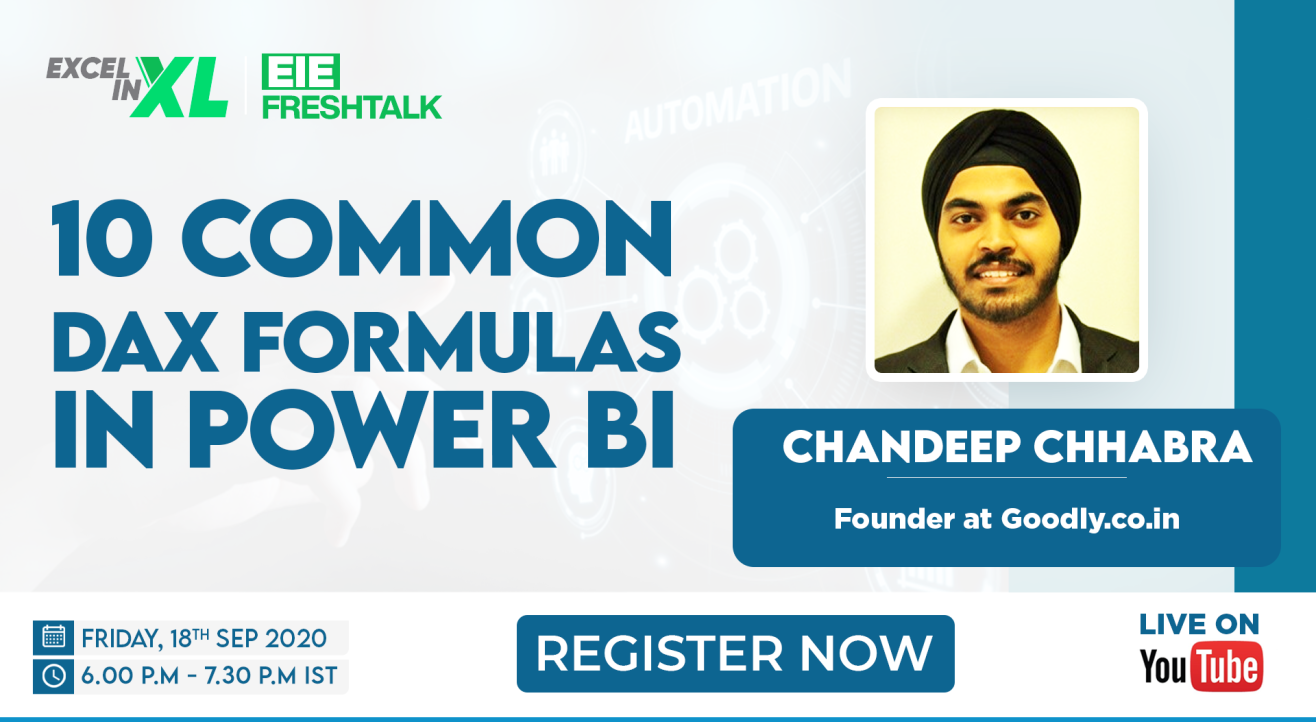 10 Common DAX Problems & Solutions in Power BI by Chandeep Chhabra | #EiEFreshTalk by Excel in Excel
Invite your friends
and enjoy a shared experience
Invite your friends
and enjoy a shared experience
About the Event
Excel in Excel presents #EiEFreshTalk on 10 Common DAX Problems & Solutions in Power BI by Chandeep Chhabra (Founder, Goodly.co.in)
Date: Friday, 18th September 2020
Time: 6.00 pm to 7.30 pm IST
Key Takeaways:
Create simple DAX formulas to solve 10 practical business calculations in DAX.
Learn and avoid the pitfalls and gotchas while writing DAX formulas.
REGISTER NOW
This is a free YouTube Live Event
About Speaker:
Chandeep Chhabra is an Excel and Power BI expert and has been training, consulting & blogging to help people become quicker and smarter with these useful tools since 2013
For about four years he worked for an investment bank, helping startups raise capital. This is where he came to use Excel extensively for his tasks. He then decided to move to self-employment and that is how Goodly was born at the end of 2013 when he left his full-time job and started training people in Excel Modeling and creating PowerPoint Presentations.
He conducts training programs for many top companies on Excel and Power BI. As a consultant he helps companies automate their most complex business reports. He is an avid blogger and uses the time available after his training and consulting work to blog about the learnings he had from his key activities.
Chandeep Chhabra's website is goodly.co.in.
About EiEFreshTalk:
#EiEFreshTalk is a Talk Show presented by Excel In Excel on its YouTube Channel (https://www.youtube.com/theexcelinexcel), where it will be hosting great leaders and subject matter experts (SMEs) from various fields to speak regularly on a variety of topics ranging from Excel to Analytics and Finance to Financial Modeling and many more.
These sessions are intended to offer the viewers the opportunity to listen to the esteemed speakers and interact with them to have their queries addressed.
Watch our past talk's at https://www.youtube.com/playlist?list=PLnsVzIf_J3fIMQTp7x7c4usgpeqYN9l1V
______________________
Register for Upcoming #EiEFreshTalk at https://excelinexcel.in/eieFreshTalk
Stay updated with us on our
Facebook Group @ https://www.facebook.com/groups/eiefreshtalk/
WhatsApp @ https://www.excelinexcel.in/whatsappupdate
Telegram @ https://www.t.me/ExcelinExcel
Watch other episodes of #EiEFreshTalk at https://www.youtube.com/playlist?list=PLnsVzIf_J3fIMQTp7x7c4usgpeqYN9l1V
Learn MS Excel: www.ExcelinExcel.in/ms-excel
Our Website: www.ExcelinExcel.in