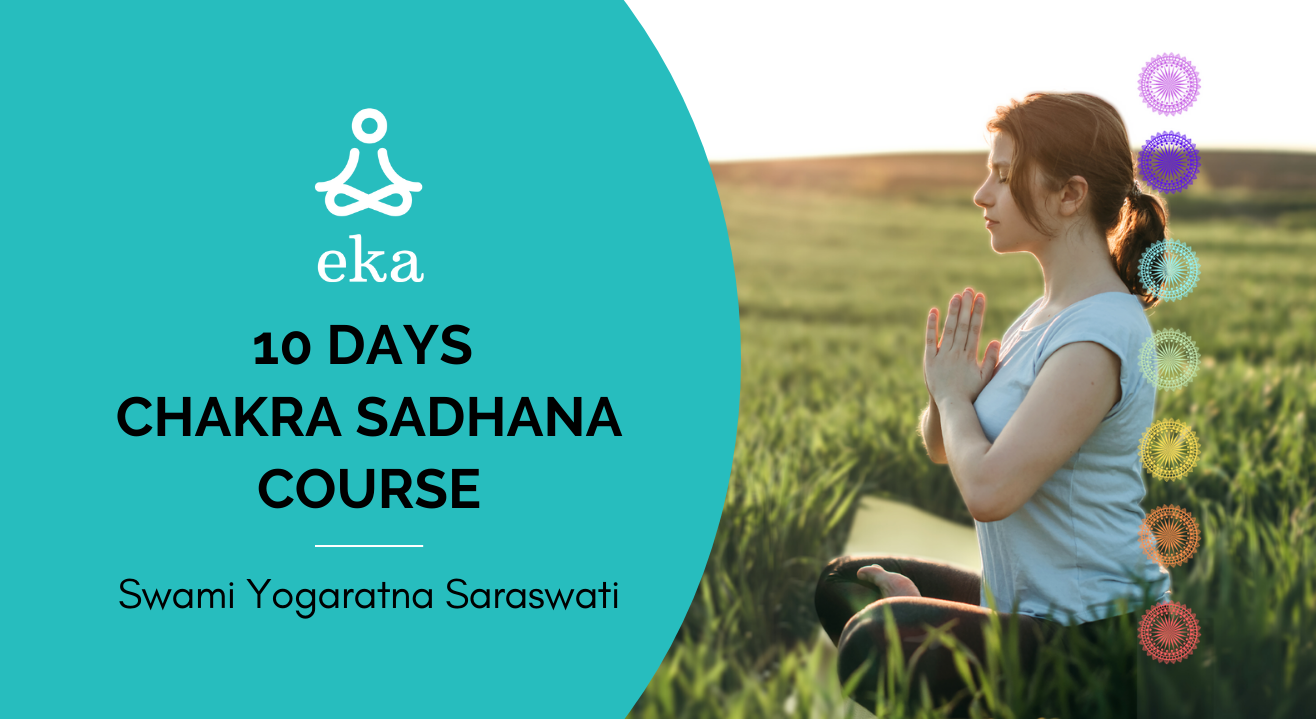 10 days CHAKRA SADHANA COURSE with Swami Yogaratna Saraswati
November 22 | 5PM - December 3 | 6PM
Enjoy this event from your home
Invite your friends
and enjoy a shared experience
Invite your friends
and enjoy a shared experience
About the Event
The course timings are
DATES
Sun 22-11-2020 to Thu 26-11-2020
Sun 29-11-2020 to Thu 03-12-2020
TIMINGS
17:00 to 18:30 (IST)
(Each session is one and half hour)
The course will consist of theory, practice and questions. Each day will build on the previous day's practice.
SHORT DESCRIPTION OF THE COURSE
In the chakra sadhana course of 10 days we will be exploring the chakras. We will see the symbolic representation of the chakras, we will see the location of the chakras, we will get to know all their qualities, elements, jnana indriyas and karma indriyas which are sense organs and organs of actions. We will learn how to cleanse, balance, and activate them in preparation for Kundalini awakening.
As a preparation we will learn about pancha koshas and a little about pancha mahabhutas. We will be doing very deep yet simple asanas, pranayamas, mudras and bandhas to cleanse balance and activate each chakra. And we will also do chakra shuddhi, which is an ancient meditation from the tantras- powerful, yet engaging and simple, and universal as it is found in many other spiritual systems.
By the end of the course you will have the complete sadhana that you can do on a daily basis for cleansing, balancing ,activating and enhancing your chakras, which will bring you up to a level of peak health and peace of mind and spiritual readiness for Kundalini awakening.
The course will include the theory and practice, questions and answers from Swami Yogaratna Saraswati, who has over 35 years of experience teaching in the tradition of Satyananda Bihar Yoga specialised in Meditation from the Tantras including Yoga Nidra and Chakra Sadhana.
Know more about the Teacher:
With over 34 years of experience in practicing and teaching yoga from the tradition of Bihar School of Yoga (BSY), Swami Yogaratna Saraswati is a beacon of light for those on the path of meditation. She is known around the world for her talent in leading Yoga Nidra and other Meditations from the tantras, yoga therapy, yoga for children, the higher techniques of Chakra Sadhana, Kundalini yoga and many others, including satsangs (talks) and kirtans (group singing).
Her ashram in Gokarna called Shankar Prasad Foundation is the representation of her true spirit. With regular yoga and meditation classes open to anyone, an organic rice farm, an English medium primary school, 100% environmentally sustainable practices, and community projects across Gokarna such as dog sterilization, reforestation, and waste management – the ashram is an inspiring place to imbibe the true spirit of yoga.
Born in Paris of Australian parents and raised in India, Swamiji studied art, education, and linguistics in India and Australia. After studying, working, and travelling, she committed her life to spiritual quest.