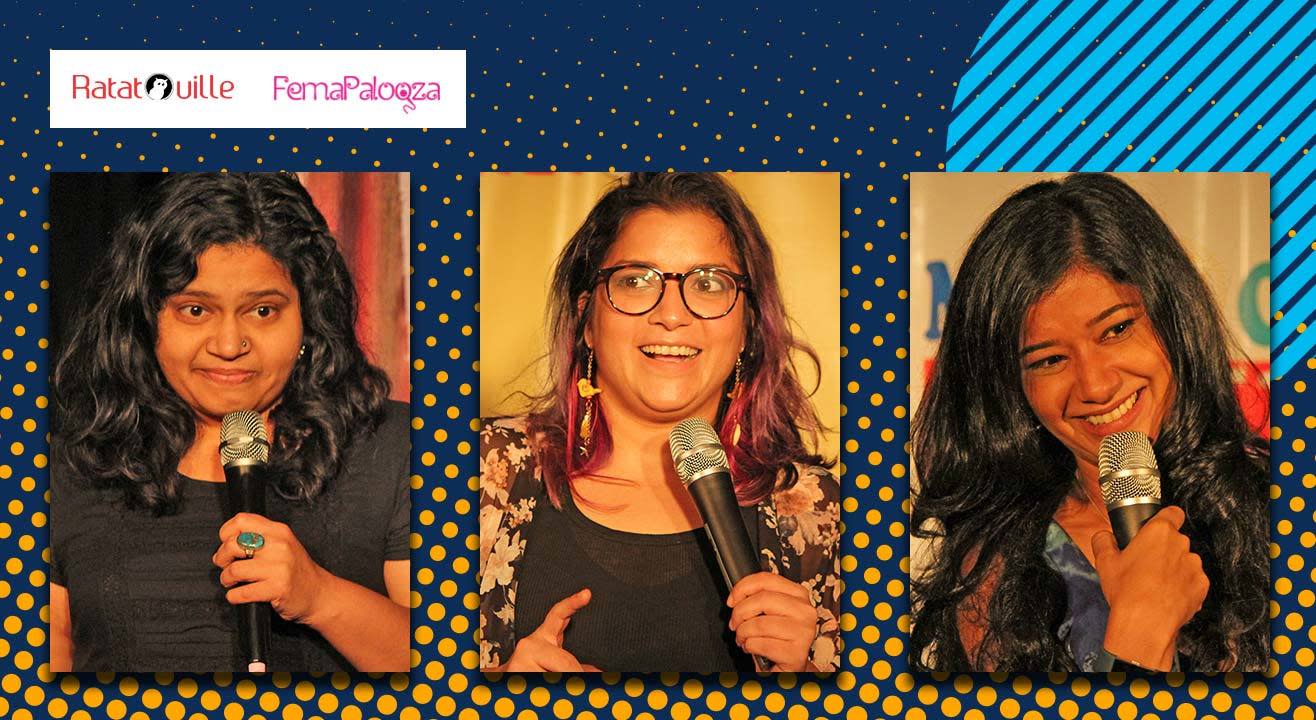 Comedy
11 FemaPalooza
Jeff Goldberg Studio, Khar
About
#11FemaPalooza is an open mic with an all female line up! Some new, some old female comics come and try their hand at comedy. Come be part of someone's first time! ! An evening of laughter and fun! you do not wanna miss this one!
To register for an open mic you can follow us @come4come on all social media.
Jeeya Sethi
Jeeya believes if you are fat once (by fat she means FAAAAT) you are fat forever, mentally you never become thin even after losing all the weight. An event manager turned stand-up comedian, improviser and actor, she has made entertainment her new life's mission since nothing else is going for her! She is an actor - done play like wisdom and recently been part of the super hit show Deranged Marriage.she is an improviser with The Etceteras, she is a Standup comic who did her first 30 mins in June. she is also a Producer of comedy shows all over the city doing shows under the banner Ratatouille and now she teaches standup comedy as a course.
Trupti Khamkar
Actor, comic and full-time single person Trupti Khamkar is a an established name in serious theatre and Marathi Television. But if you take life too seriously, you will never come out alive. Which is why after hit plays such as Piya Behrupiya that has played around the world and cult hits such as Fu Bai Fu, Trupti is stepping on to the stand-up stage. And she has already won every competition there is to win on the circuit. It gives her a much-needed break from the make-up and she can ham unapologetically. Trupti Khamkar ladies and gentlemen.
Aditi Mittal
Aditi Mittal is one of the top ten comics in the country and the girl Alok Nath warned his daughters about. After all the features in print, web, radio and television including BBC World and BBC America, there are very adjectives left unused in describing Mittal's brand of stand-up. Her comedy like her career choices are very Kamikaze but people still line-up for her shows and later remark 'Did She Just Say That?'
As a regular feature at the biggest venues and comedy festivals across the country and the first Indian comedian to have performed at The Laugh Facory in Los Angeles, Aditi is doing something right and has made us believe Bad Girls will one day save the world.
Venue
Jeff Goldberg Studio, Khar
Links Building, 4th Floor, Corner of 14th Rd. & Linking Rd, Above Fascination Store, Opp Domino's Pizza, Khar West, Mumbai 400 052