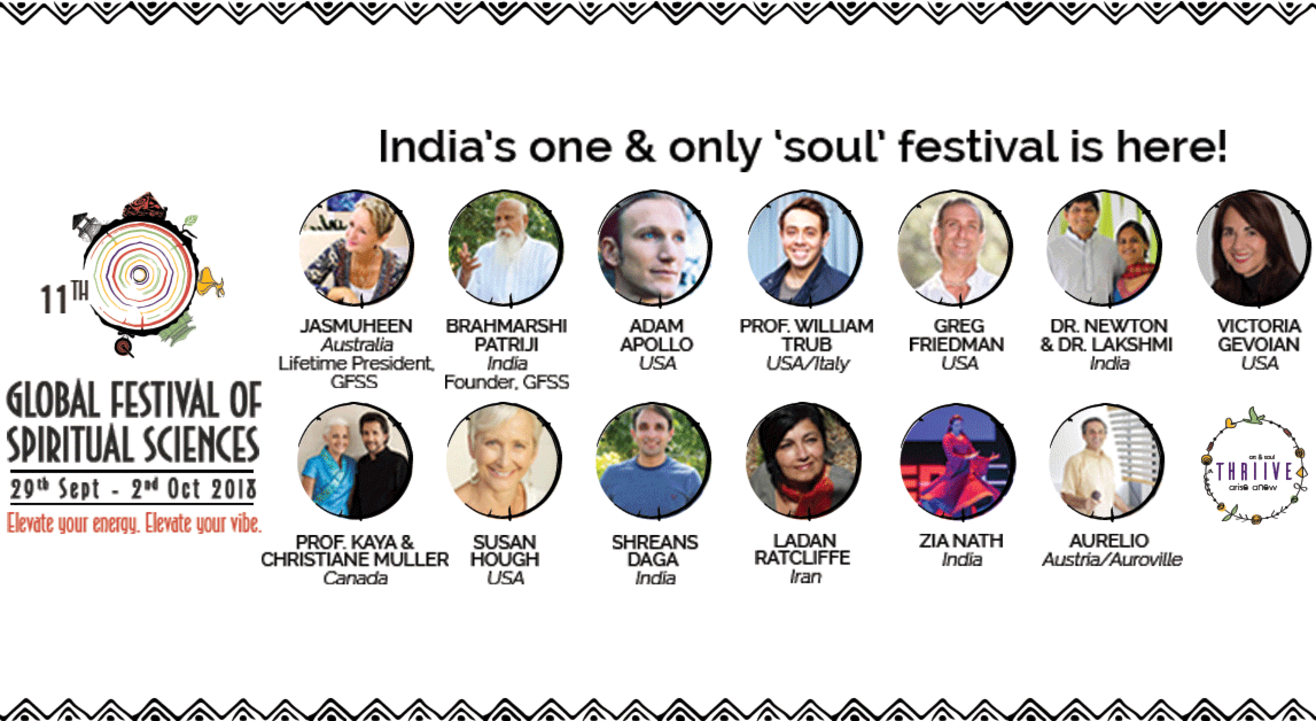 Learn
11th Global Festival of Spiritual Sciences
Pyramid Valley International
About
India's one and only 'soul' festival is here!

#Goodvibes isn't just a cool hashtag - it's your energy signature. The 11th year of GFSS will be focusing on the one thing that's everywhere: energy! So this year's line-up of global speakers, musicians, and yogis are here to show everyone the power of creating your own unique vibe, in Asia's most powerful pyramid!
The top 7 reasons why you need to be seen @GFSS 2018:
A line-up of global presenters changing the world


Sufi dance concerts, and alternative DJ sounds with renowned whirlers and musicians


Discover yoga and tai-chi


Meditations with experts inside Asia's most powerful pyramid, and energy spots within the gorgeous Pyramid Valley


Celebrating your soul with a 1000+ tribe of like-minded people


Mindful activities to keep the young ones interested and engaged


Pristine accommodations to suit all pockets: from dormitories to luxury rooms.
A line-up of fun activities for kids
Organic gardening
Make a dream-catcher
Fuse beads
Kid's yoga (krida yoga)
Coloring mandalas
Block painting
Storytelling
Pottery.
The Presenter Line-Up for 2018
Jasmuheen (Australia)
Lifetime president of the GFSS in India, Jasmuheen is also an ambassador of peace which aims to co-create a peaceful, harmonized world in which global hunger has been eliminated.

Brahmarshi Patriji (India)
Founder of the Pyramid Spiritual Societies Movement and the force behind GFSS, Brahmarshi Patriji's mission is to awaken the inner guru within all.

Adam Apollo (USA)
Leadership ambassador at the White House and Founder of the UNIFY Movement, Adam Apollo has offered valuable insights on achieving a sustainable and thriving interplanetary culture.

Dr. Newton and Dr. Lakshmi (India)
Thriive Pillars' Drs. Newton and Lakshmi are global experts on past life regression, rebirthing & life after death.

Prof. Kaya and Christiane (Canada)
Best-selling author & international speaker, Prof. Kaya is a global expert on dreams, signs and symbology. He co-founded the University/City Mikaël (UCM) with his wife Christiane, which is recognized by the Government of Quebec, Canada and Switzerland.

Greg Friedman (USA)
A guide and mentor who shares his indigenous wisdom in his self-hosted, nationally syndicated radio program "Inner Journey With Greg Friedman."

Prof. William Trub (USA/Italy)
Author of "All Men Are Afraid," instructor at American University in Cairo and practitioner of Vipassana meditation, William Trub has done intensive research on melopoeia (the music-making capacity of language) and how word choice can have a profound effect on people's lives.

Shreans Daga (India)
Vice-chairman of Pyramid Valley International, Shreans Daga has aided hundreds of masters in spreading their light around the world, and guides people to transform their lives through love-based changes to create a brand-new, empowered reality.

Susan Hough (USA)
A certified life coach with over 30 years of experience, Susan Hough combines traditional training with a connection to spirit and indigenous wisdom, in her transformational coaching.

Victoria GeVoian (USA)
Executive director of the Joshua Tree Retreat Center (California) and author of "God As A Mother," Victoria GeVoian has worked in the film industry and is an established spiritual advisor.

Ladan Ratcliffe (Iran)
A teacher of metaphysics, ancient Egyptian knowledge and sacred geometries, Ladan's passion lies in assisting seekers in attracting abundance and peace into their lives.
Vibe with music, sound & dance in our Art and Soul Xperience with:
Adam Apollo and his electric DJing skills to heart-opening, harmonic tracks
Zia Nath, India's foremost sacred danseuse, whirling expert, TEDx performer, Founder of Realms of Dance™
Aurelio, world-renowned sound therapist
A quick peek at some of the Presenters from the Past
Dr. Fred Alan Wolf aka Dr. Quantum (USA), Eminent physicist, award-winning author of 'Taking The Quantum Leap', world-renowned for his research on the relationship of quantum physics to consciousness.
Aurelio (Austria/Auroville), Celebrated sound therapist, Founder and Creative Director of Svaram, actively pioneers the development of new musical instruments and music ceremonies.
Donna Eden (USA), Best-selling author and one of the world's most authoritative spokespersons for Energy Medicine, teaches people how to work with the body's energy systems to reclaim their health and natural vitality.
Dr. Raymond Moody (USA), Pioneer in research on Near Death Experiences, and author of 'Life after Life'.
Robert Schwartz (USA), a leading Hypnotist, PLR Expert and Author whose work and research on the Life Between Life planes is much acclaimed.
And many many more…
Thriive Art and Soul, India's only state-of-the-art digital portal, showcases and registers a verified network of healers and therapists from across 150+ alternative health modalities. Its online library of meditation and wisdom talks is unparalleled. Thriive hosts an impressive roster of wellness, art, and soul events globally.
About Pyramid Valley International
Pyramid Valley International is home to one of Asia's largest and most powerful meditation pyramids. This 28 acre valley, where lush coconut groves sway along water-ways bordered with Zen gardens and waterfalls, has become a true powerspot in India. More details about this Pyramid and Venue can be found at www.pyramidvalley.org
Day 1 (29th Sep) - 05:00 AM to 09:30 PM
Day 2 (30th Sep) - 05:00 AM to 09:30 PM
Day 3 (01st Oct) - 05:00 AM to 09:30 PM
Day 4 (02nd Oct) - 05:00 AM to 09:30 PM
Cancellation by Participant
There are several costs involved in making preparations for the event very early on. Partial refund will be given at the request of the participant as per the following -
Cancellation 15 days before the conference: 50% of donation amount will be refunded.
Cancellation 6 days before the conference: 25% of donation amount will be refunded.
Cancellation 2 days before the conference: No refund will be given.
Venue
Pyramid Valley International
Maitreya-Buddha Vishwalayam, Kanakapura Road, Kebbedoddi Village, Kanakapura Taluk, Ramanagar, Harohalli Hobli, Karnataka 562112