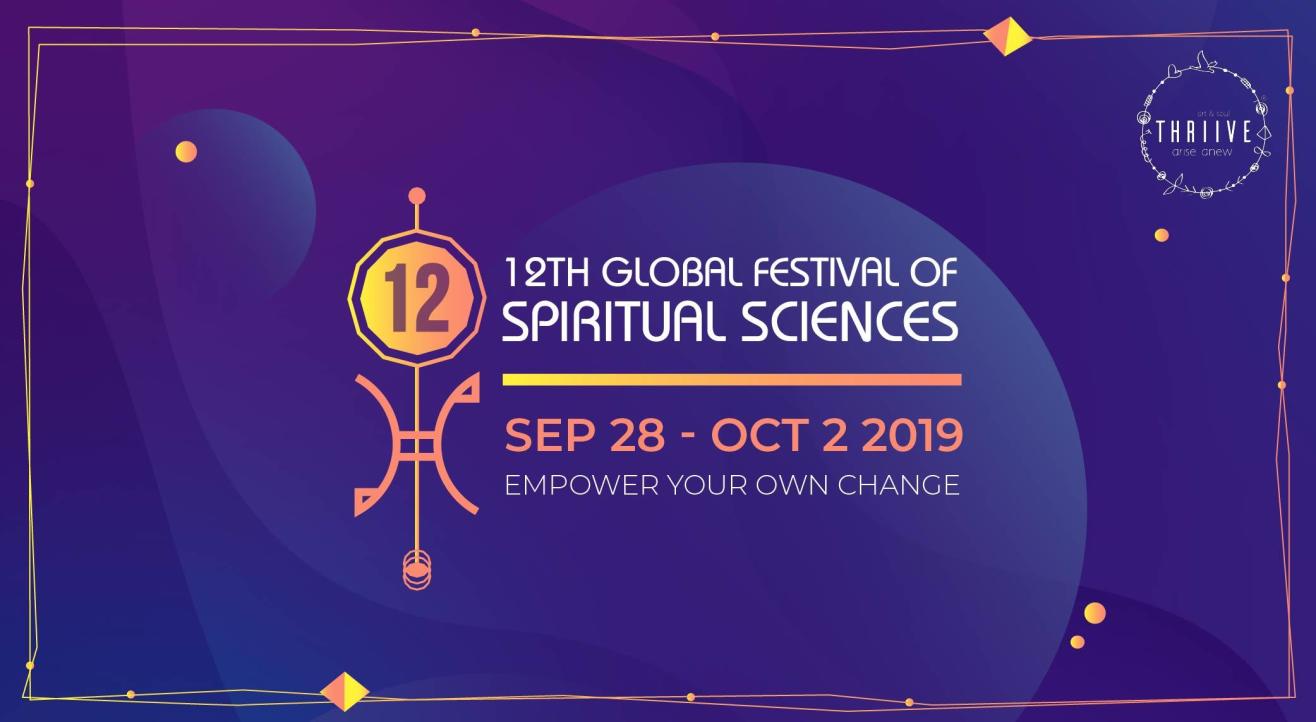 Self Improvement
12th Global Festival of Spiritual Sciences I India's one & only 'Soul' festival
Pyramid Valley International
About
Offer: Use code GFSS at checkout to get 25% off on tickets! (Offer not valid on The Teachings of Evolutionary Enlightenment by Andrew Cohen)
Real breakthroughs happen only when we step out of our comfort zones, knock back fear, and embrace change. We make it easy for you with our 12th Global Festival of Spiritual Sciences (GFSS) from 28th Sept - 2nd Oct 2019, where you can dive deep into everything that's holding you back, and unleash a powerful new you! In its 12th year of celebrating the human spirit, Thriive Art & Soul is back with yet another empowering edition of Indias larger than life soul festival.
Explore the wonderful world of wellness with profound thought-Masters, yogic experts, and soul artists in the lineup, and scrumptious, wholesome meals, in the scenic and serene Pyramid Valley International at Bengaluru, housing Asia's most powerful Pyramid, the hub for the 1000+ like-minded community to come together and celebrate the spirit of humanity!
To celebrate the spirit of the Bravehearts in us, who step out of their comfort zones, knock back fear, and embrace change, this year theme for the festival is Empower Your Own Change.
The top 9 reasons for being at GFSS 2019
Thought-provoking internationally renowned global speakers
High energy group meditations in Asia's most powerful pyramid
Vibrant vibes of a 1000+ like-minded tribe
Soulful music and dance that celebrates the spirit of life
Yoga & Tai Chi to balance your body, mind, and soul
The peaceful environment of the lush green pyramid valley
Range of accommodations from dormitories to luxury rooms
Sattvic, balanced wholesome vegetarian meals to restore nutrition values
Mindful engagement for kids with activities like yoga, meditation, art, dance, farming, & storytelling.
Our Presenter Line-Up for 2019
We have a longer list of speakers and presenters for you this year including Andrew Cohen, our star speaker, to make your experience fascinating and enriching.
Andrew Cohen (USA): A globally renowned spiritual teacher and founder of Evolutionary Enlightenment - spiritual teaching that awakens the deepest and best part of ourselves, Cohen's session at GFSS will be about Evolving into Enlightenment to help us discover our own Authentic Creative Self.
Jérôme Boujon (France): Researcher, inventor, KRI-certified Kundalini Yoga teacher and world-renowned expert in sacred geometry, Jérômes presentation at GFSS is about sacred geometry, the invention of Diamond Earth and will include meditation with mudras and mantras.
Judy Satori (New Zealand): Renowned spiritual teacher and the author of Sunshine Before the Dawn and the Ascension series, Judy Satori at GFSS will help us discover our true reality as she will explain our divine-human story through energy alchemy like never before.
Brahmarshi Patriji (India): Founder of the Pyramid Spiritual Societies Movement (PSSM), Life Positive Good Karma Awardee by Speaking Tree and the force behind GFSS, Patriji will be talking about meditation and enlightenment at the festival.
Dr. Newton Kondaveti, MD & Dr. Lakshmi Newton, MBBS (India): Global experts on Past Life Regression Therapy, they have changed the landscape of Past Life Regression Therapy in India and have traveled the world with their workshops and seminars on PLR, Rebirthing, Life After Death, etc. They are regarded as global experts on Past Life Regression Therapy.
Shreans Daga (India): Vice-chairman of Pyramid Valley International & Founder-President of the Mumbai Pyramid Spiritual Society, Shreans Daga will demystify the concept of meditation, manifestation & healing with quantum science in his presentation titled Life By Design & Not By Default.
Dream Rockwell (Canada): Founder of the globally renowned Lucent Dossier International, co-founder of Lightning in a Bottle festival and a much sought-after public speaker, Rockwell at GFSS will present Uplevel your Life Now wherein she will help us unravel the universe within us.
Katarina Marin (Slovenia): A multi-therapist & KRI-certified Kundalini Yoga teacher, Katarina at GFSS will enable people to align to their true identity and purpose and be the highest version of themselves.
Dr. Ms. Laura Hof (Netherlands): Daughter of Wim Hof, Founder of the famed Wim Hof Method, Head of Events at Innerfire & certified instructor of the Wim Hof Method.
Nipa Asharam (India): A certified Health & Life Coach and TED Speaker, Nipa Asharam is the founder of Eat.Breathe.Smile an initiative to help people discover a holistic way of living.
Art & Soul Xperience
Soak in the festivities and vibe with music, sound & dance in our Art & Soul Xperience with:
Zia Nath: A TEDx performer, international teacher of sacred dance and founder of Realms of Dance & Whirling Mandala, in Zia's session at GFSS, you can revisit ancient realms as you whirl with her in her Whirling Mandala workshop.
Rivesh Vade: A renowned Naada Yogi, Sound & Frequency Therapist and founder of Wellness-Vibe & Bodh Marga Foundation, Rivesh Vade, in his session with singing bowls, will guide us to very deep levels of relaxation to enable us to amp up our decision-making power.
Aakarsh aka Axe: Award-winning illusionist, hypnotist, and mentalist, Axe will present The Oblivion - A theatrical, one-man, stand up illusion show.
Testimonials:
GFSS is like a doorway for people who have even the remotest desire in getting direction on what the world of spirituality is or know nothing about meditation, as it offers various techniques, and one can pick and choose what they resonate with, as well as for experienced meditators.
~
Sumin Shah
"This is my fifth consecutive year at the GFSS. Someone asked me why you come here every year. The answer is very simple- I think I find myself over here, every year. There are people from all walks of life. If you look at Pyramid Valley, the place, you just need to come here once to see the energy and feel the energy of this place."
~
Dr. Tamanna
"Whether it's because of the potency of this pyramid or the people who meditate here every day and the sweet people that run this place, I have had an absolutely fantastic experience. I have met so many people from all over the world, and I've gotten to know a level of depth and of presence and intelligence in India that I've never experienced before in my life. Being in the pyramid is powerful, it resonates in there, the energy is definitely moving in a big way. The care and the compassion that I experienced from almost everybody that I meet here is inspiring. It's heart opening and I'm very thankful to be here."
~
Adam Apollo
About Thriive Art & Soul:
Thriive Art & Soul is Indias only state-of-the-art digital wellness platform that verifies and registers alternative therapists from across 160+ alternative therapies. Its 1000+ strong therapist community is growing daily. As a wellness media platform, it curates and creates cutting edge wellness content.
Thriive also hosts an impressive roster of wellness, art & soul events globally. Thriive Art & Soul, within two years of its launch, is considered a trusted resource of wellness in India.
About Pyramid Valley International:
Pyramid Valley International (PVI) is home to one of Asia's largest and most powerful meditation pyramids. This 28-acre valley, with lush coconut groves along water-ways bordered with Zen gardens and waterfalls, is one of the seven wonders of Bengaluru.
Venue
Pyramid Valley International
Maitreya-Buddha Vishwalayam, Kanakapura Road, Kebbedoddi Village, Kanakapura Taluk, Ramanagar, Harohalli Hobli, Karnataka 562112