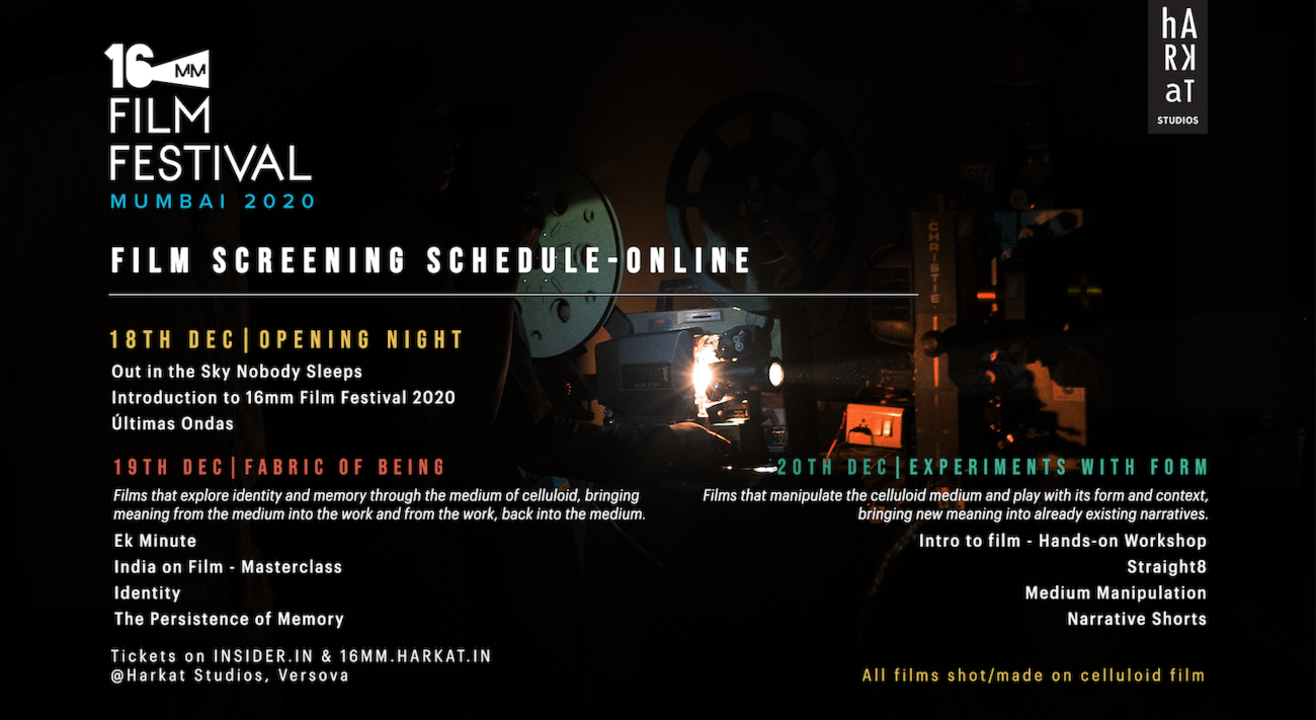 December 18 - 20 | 6:30PM
Enjoy this event from your home
Invite your friends
and enjoy a shared experience
Invite your friends
and enjoy a shared experience
About the Event
Welcome to the 2020 (virtual) edition of the 16mm Film Festival - the world's only film festival which exclusively showcases films shot on celluloid!
The 3-day programme explores what most of us have been missing the most this year: relationships. Relationships with ourselves, with others, with physical spaces and with the medium of celluloid. We follow protagonists in both fiction and documentary as they discover their own identity, struggle with issues of migration, experience role play, fall in love, fall out of love, learn about the land they live on, the culture they left, time gone by and moments in memory.
The 16mm film festival is a yearly event where we celebrate the physical beauty of celluloid film - in all its formats, from Super8 to glorious 70mm. This year, instead of our usual hands-on workshops, we are excited to offer virtual festival 'goers' an range of films like never before - from experimental shorts which explore the medium of celluloid to moving documentaries to downright entertaining fiction.
The selection as well as the conversations have never been so international - we have films in Spanish, Arabic, German, Dutch and of course English from Europe, Iceland, the UK, North America, China and India (all with English subtitles).
Highlights are a Masterclass around the highlights of the curatorial 'India on Film' with filmmakers and scholars, interactive 'watch parties' where audiences can chat with each other while watching eclectic short film programmes, conversations with film-makers from around the world and of course the yearly "Straight8" highlights!
Screenings marked with *) are watch parties.
Schedule
Friday, 18 December 2020 | Opening Night
This year, the 16mm Film Festival explores the relationships people have with each other, with spaces and with the medium of celluloid itself. The opening night of the festival will see screenings of two films, setting the tone for the rest of the festival, along with a brief introduction to the 16mm Film Festival 2020 by Harkat Studios.
18:30-18:35
OUT IN THE SKY NOBODY SLEEPS
Directed by: Edgar García Chávez
"Put me on the train, send me back to my home." Shot on Super 8mm, the film is a music video that explores spaces and the memories that we tend to associate with them.
19:00-20:00
ULTIMAS ONDAS
Directed by: Emmanuel Piton
A travelogue and a short documentary, Últimas Ondas explores the lost villages in northern Spain, meeting and talking to the last people who live in these deserted places.
Saturday, 19 December 2020 | Fabric of Being
Films that explore identity and memory through the medium of celluloid, bringing meaning from the medium into the work and from the work, back into the medium.
11:00-11:30
EK MINUTE *)
1 minute films - both fiction and documentary - from the Indian subcontinent.
13:00-15:00
MASTERCLASS: INDIA ON FILM
Masterclass around the highlights of the curatorial 'India on Film' with filmmakers and scholars.
16:00-18:00
IDENTITY *) Short film Screenings + QnA
Films that talk about people and their stories through short narratives, bringing individual identity into the forefront.
18:30-20:30
THE PERSISTENCE OF MEMORY *) Short film screening + QnA
Films that use the medium of celluloid to unveil truths about memory, nostalgia and forgetfulness.
21:00-23:00
BORRUFA
Directed by: Roland Dahwen
An immigrant's family's life in Oregan is disrupted when Leonora discovers that her husband has a second family. Haunted by memories and a family that needs her, Leonora struggles to choose between her responsibilities and her desires.
Sunday, 20 December 2020
11:00-13:00
HANDS-ON WORKSHOP: INTRO TO FILM (Please purchase tickets separately on Insider.in)
This beginner's workshop, introduces people to the world of film, the first medium to bring the moving image to life. In today's age of the democratisation of media, a lot of us have access to the camera in our smartphones and DSLRs, but unfortunately, have perhaps never touched or known celluloid film intimately. The workshop will cover an introductory session explaining stock, film, cameras and development. This is followed by a hands-on experience curated just for the participants.
16:00-18:30
STRAIGHT 8 Screening + Conversation
Founded in London, 1999, straight8 is a global one-super-8-cartridge-no-editing short film competition. The films you will see were edited as they were shot, with no retakes and no colour grading, which means the first time the makers saw their films is with the audience themselves. The top 8 films every year get screened at the Cannes Film Festival. This year, we will be screening the Top 25 Straight8 films.
14:00-15:30
MEDIUM MANIPULATION *) Screening + QnA
Works that experiment with the medium of celluloid itself, playing with its form and context, bringing new meaning into already existing narratives.

19:00-20:00
NARRATIVE SHORTS
Stories on celluloid filmed across different times, places and spaces.
Detailed Schedule
Saturday, 19th Dec 2020
11:00-11:30
EK MINUTE *)
Pao
Directed by: Nefertiti Chakraborty
Workspace
Directed by: Sujay Iyer
Static Bombay
Directed by: Savyasachi Anju Prabir
Elevated
Directed by: Aditi Mediratta
How to Disappear Completely
Directed by: Shelton D'Souza
Intellectual Masturbation
Directed by: Michaela Talwar
Udd Gayi
Directed by: Sheba Alexander
Selfie
Directed by: Aanchal Saxena
Jenga
Directed by: Sharmistha Saha
A Mute Point
Directed by: Yamini Nibhanupudi, Aayush Chaturvedi
16:00-18:00
IDENTITY *) Short film Screenings + QnA
Artemis
Directed by: Jack Warren
Hayes struggles to fit in with his sword-swinging, live action roleplaying friends, but his discovery of a sparkling blue dress transforms a game of pretend into a journey of gender discovery.
130
Directed by: EJ Nussbaum
A silent film series, 130 represents the artist's break-up with her eating disorder. The number 130 is re-signified from a target weight and toxic ideal into a number of performed, concrete actions. 130 is a celebration of agency, embodiment, and transformation.
Glugga
Directed by: Omar Lopex
Set in no strict period, Glugga is inspired by the cold brutality of both Nordic reality & myth. The film follows a young blind & deaf woman abandoned in the Icelandic wilderness as she walks the very same steps in the stone forge of Thingevellier that many did on their way to the Drekkingarhylur (Drowning Pool) during Iceland's dark era of Reformation. The voiceover is taken entirely from the world of Icelandic romantic-era women poets.
Saeda
Directed by: Indeana Underhill, Stas Bondarenko
An Egyptian boy grows up outside an apartment building on the streets of Cairo. As he gets older, surrounded by his family and religion- he searches for happiness in the small space they reside in on the streets of Cairo.
Becoming
Directed by: Alex Morelli
As the Us ramps up border enforcement, a formerly undocumented activist prepares for her naturalisation test with her partner, documenting and playfully interrogating the paradoxes of citizenship.
Medusa and the Abyss
Directed by: Felicity Palma
Notions of belonging and the ethics of travel are questioned through female rite and ritual, pointing at the pervasive and contradictory presence of history and myth in present-day Sicily.
18:30-20:30
THE PERSISTENCE OF MEMORY *) Short film screening + QnA
The Bearer of Memories
Directed by: Miglė Križinauskaitė-Bernotienė
With every moment - one more memory. But memory sometimes goes blind and what is left becomes hazy.
The Resistance of Amnesia
Directed by: Shile Feng
Shot with a 16mm camera, the footage captures the artist's journey back to her native country of China. In between memory and oblivion, dreams and reality, the film translates into a group of metaphoric montages to resist amnesia, questioning the very definition of home.
Florian's Last Climb
Directed by: Harold Chapman
In 1909, Austrian mountaineer Florian Frederick Graf von Liechtenstein left his estate near Innsbruck and travelled to Corsica for a climbing expedition. He was never seen again. Ninety years later his grandson Otto employs two film makers to help him uncover the mystery of the disappearance.
Sunday, 20th Dec 2020
14:00-15:30
MEDIUM MANIPULATION *) Screening + QnA
Crumbs
Directed by: Jack Wormell
The third in a series of 16mm called Crumbs, the film explores and experiments with different techniques and textures. The image and sound are paired parodically, with no connection to each other. The dog is the Monster, and his kingdom is a beach in south-west Ireland.
Infusion No.1
Directed by: Lauren Henschel
The film lays bare a reckoning between what is felt, seen and apprehended while living in our bodies, especially one that needs to be modified to function. This film brings consciousness around this "condition," of residing in the temporary shelter of a body and of the impermanent and illusory concept of being well.
How
Directed by: Vasilios Papaioannu
Shot in 16mm and Super 8 film, the film is a music video for Leo Crandall's "How", as it experiments with techniques.
For All Audiences
Directed by: Josh Weissbach
A trailer of an experiment searches for meaning in a moldy montage. The detritus of the movie industry swims in organic material. Emulsion and its cracks, its crumbles, and its fades. Is it ready for all the audiences?
Traces
Directed by: Carleen Maur
The film retraces the space between human movements and climaxes, through electric bills and coastal walks.
Past Life
Directed by: Charles Cadkin
Ruminations on nostalgia, 16mm has had a long history of home movies and nonprofessional filmmaking. The film acts as a document, representing time and memories the way they were when they were originally made- fleeting moments that pass by before one can properly register them- as six months of the artist's life elapse on the screen in a blur.
Eidolon
Directed by: Mike Rollo
The seer passes beneath branches, crosses fields, observes the quiet corners of creation. Bright and dark take turns showing their faces, a two-sided phantasm, one energy shape-shifting through time. The seer makes note, gleans eidolons.
19:00-20:00
NARRATIVE SHORTS

Respiration
Directed by: Sasha Waters Freyer
River naiads and backyard deities; nothing noticed is lonely. From inspiration to expiration, breathing is the only work to be enacted now. A 16mm film collage of original and found/archival footage.
Field Resistance
Directed by: Emily Drummer
Field Resistance blurs the boundaries between documentary filmmaking and science fiction to investigate overlooked environmental devastation in the overlooked state of Iowa. Footage collected from disparate locations interlocks to evoke a narrative of present danger and future disaster.
Richard Nixon: Getaway Driver
Directed by: Kevin Daniel Lonano
Drunk on power and tripping on LSD, President Richard Nixon recounts his role as the getaway driver for JFK's second shooter. Is he confessing to save his soul, or is it all just a bad trip?
Lines to Colour With
Directed by: Matthew Wolkow
On the outskirts of the metropolitan highway, a Mediterranean fig tree stands. This tree is the work of a 60-year-old Montrealer of Argentine origin. The miracle of a backyard where three regions of the world meet, this is the story of an observation.
Red Dunes
Directed by: Dalia Glazman
Somewhere in a future we cannot explain, there live five women, a family of sorts. No one knows how to reach this world, and the women collect objects and rely on each other to sustain their livelihood. Sillisa, the youngest, often would run far distances and play in her own universes. When her family suddenly disappears one afternoon and she is left to fend for herself, she begins to leans on the found object for clues.