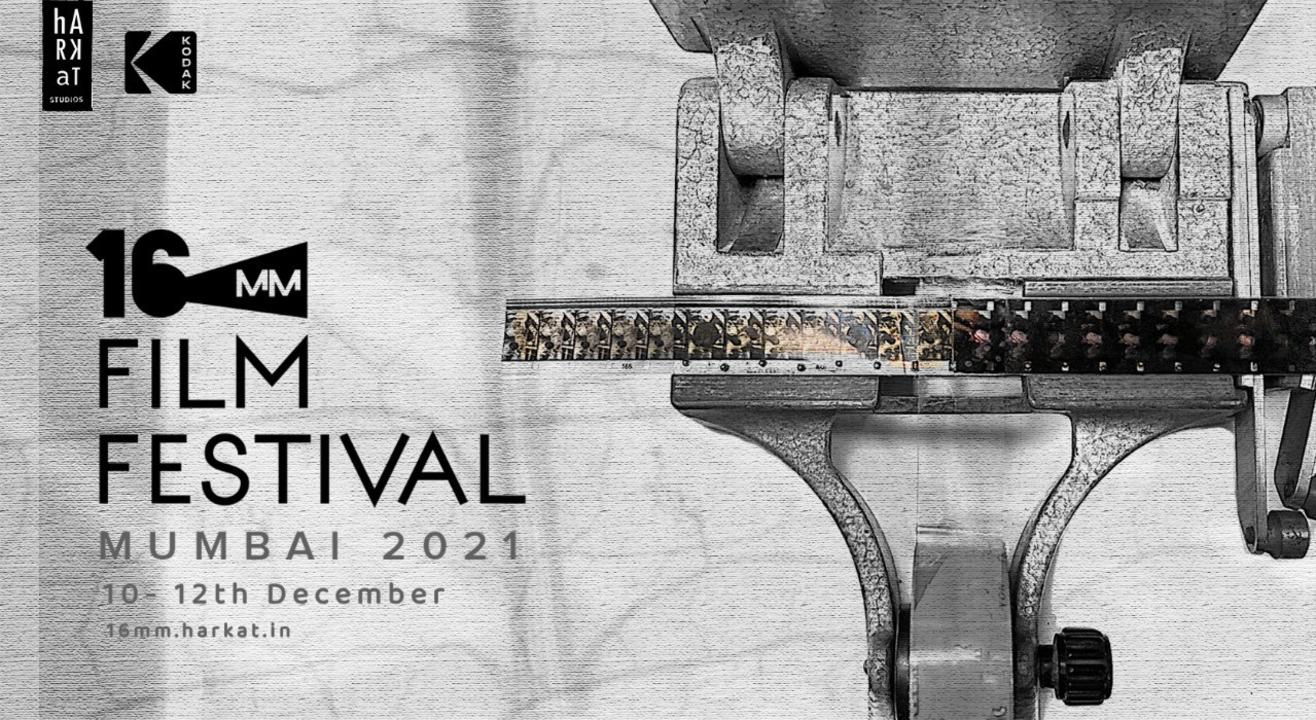 December 10 | 6:30PM - December 12 | 9:30PM
Step out and enjoy this event
Invite your friends
and enjoy a shared experience
December 10 | 6:30PM - December 12 | 9:30PM
Step out and enjoy this event
Invite your friends
and enjoy a shared experience
Covid 19 Safety Measures
This event adheres to the following

Health & safety measures
Social Distancing
Face Masks Required
Limited Capacity
Organisers wear masks
Invite your friends
and enjoy a shared experience
Covid 19 Safety Measures
This event adheres to the following

Health & safety measures
Social Distancing
Face Masks Required
Limited Capacity
Organisers wear masks
The 16mm Film Festival is back, and in full swing! Every film in this festival is made on physical film, where a mechanical device captures 24 images every second, as an eye looks through a flickering viewfinder and a shutter makes anxious rotations, cutting out as much light as it's letting in.
Most of us who have had the opportunity of befriending celluloid remember holding up the first piece of film we saw against a light, noticing the details in the frame. And like with any medium, our perceptions and approach change the more we get to know it, but we never end up where we started.
Just like our own personal histories of learning, this year's curatorial takes you on a journey, or as we like to think of it — a conceptual album of celluloid films. We're set to take the screen with an opening program that truly reveals the nature and possibilities of working on celluloid. These are visuals and experiments that are unique to the medium, a perfect introduction to the world of analog film. As we traverse through this sphere, the following screenings are more structured, as we get more attuned to its instruments, we take steps with intention, sounds and feelings become familiar, and it all boils down to light and time. With the introduction of our film lab this year and all it has taught us, it felt right to close our festival with a glimpse into Harkat's present film endeavours; a continued journey, but it's where this one ends.
This year we are also pleased to invite the Rennes-based Labo K as our festival guests. They will be showcasing their work as well as some collaborative films we have been working on together, for the very first time. We're also excited to partner with the folks at Straight-8 once again, screening their Top-8 and India entries! So come join us for a three day celebration of celluloid, screening over 50 very special films from around the world.
Note: Screenings will take place online and offline this year. Offline screenings will be held at our studio in Versova, Mumbai.
Please find a brief program below, and the full festival schedule at 16mm.harkat.in
Festival Schedule:
Friday, 10th December: Opening
Rebirth from an archive | 6:30 - 7:30 PM
Films that draw from the old; derived from archives of found footage, fragments collaged and spliced into new forms. This program will culminate in an interactive session around found footage, using a 16mm projector.
Notes on experimental form | 8:00 - 9:30 PM
A selection of films that break the boundaries of making and viewing film. You can find here playful approaches, handworking techniques, camera and projection interventions, and other experimental methods.
*This screening will be followed by a Q&A with the filmmakers.
Saturday, 11th December:
Sweet morning Chai | 10:00 - 10:30 AM
Join us for a screening of some sweet slice of life shorts over breakfast and chai!
Ek-minute Competition 2021 films | 10:30 - 11:00 AM *Q&A
Films by the five winning entries of the Ek-Minute Film Competition 2021. These films were made at the Harkat Lab a week prior to the festival and will be screened for the first time.
*This screening will be followed by a Q&A with the filmmakers.
The Labo-K Showcase | 11:30 - 12:30 PM
A live showcase of the films and work of our guest lab, Labo K.
Labo K is a collective lab of filmmakers based in Rennes, France, since 2014. Labo K's artists create films, performances, installations and set up training workshops around the practice of film in super8 and 16mm. The lab is akin to a playground.
Of other realms | 4:00 - 5:00 PM
Dream-like fiction that inhabits both grounded personal histories and fantasy worlds.
Straight 8 2021: Top 9 | 6:00 - 7:30 PM
A screening of the Top 8 films of the 2021 Straight-8 competition + 4 entries by Indian makers.
Founded in London, 1999, straight8 is a global one-super-8-cartridge-no-editing short film competition. The films you will see were edited as they were shot, with no retakes and no colour grading.
*This screening will be followed by a Q&A with the filmmakers and the Straight-8 team.
A late night show of hybrid realities | 9:00 - 11:00 PM
Experimental documentaries of keen observations, friendships, gatherings, music, the climate, hovering feelings, birds and trees; changing landscapes.
Sunday, 12th December:
Journeys through light and time
Making meaning and visual explorations specific to a medium, these are filmic dances of light and time.
*This screening will be followed by a Q&A with the filmmakers.
Evening feature: Autumnal Sleeps | Michael Higgins | 5:00 - 6:15 PM
A solo viewing of Autumnal Sleeps, a film photographed on expired 35mm film with a 50 year old Soviet camera. Autumnal Sleeps takes inspiration from early silent cinema. The character and nature of the performance resemble those from a roadshow attraction while highlighting the illusory power of voyeurism and exhibitions. This film is accompanied by a haunting industrial score broken up with poetic interludes that examine deeper emotions.
Join us on the terrace! | 7:00 - 9:00 PM
The Harkat Lab Showcase | 7:00 - 7:30 PM
Although we've been making handmade films for a while, the physical Harkat Lab only came into being at the start of 2021, with the support of the Gujral Foundation. This collection of films is our first oeuvre as a film lab, distilling a lot of our ideas surrounding the notion of 'India on film' and cinema of prayog.
Filmic Letters: Harkat Lab x Labo K | 8:00 - 9:00 PM
Brewing in secrecy for the past few months, the Harkat Lab and Labo-K (France) have collaborated on a film project, an exchange of films as letters. There were no pre-decided themes or rules, just a film and a response. The last film in this section was conceived and filmed together during Labo K's time at the Harkat Lab in conjunction with the festival.
*This screening will be followed by a discussion between the Harkat Lab and Labo K collective.
Harkat Studios
Bungalow No. 17, JP Rd, Aram Nagar Part 2, Machlimar, Versova, Andheri West, Mumbai, Maharashtra 400061, India
GET DIRECTIONS
December 10 | 6:30PM - December 12 | 9:30PM
Step out and enjoy this event
Invite your friends
and enjoy a shared experience