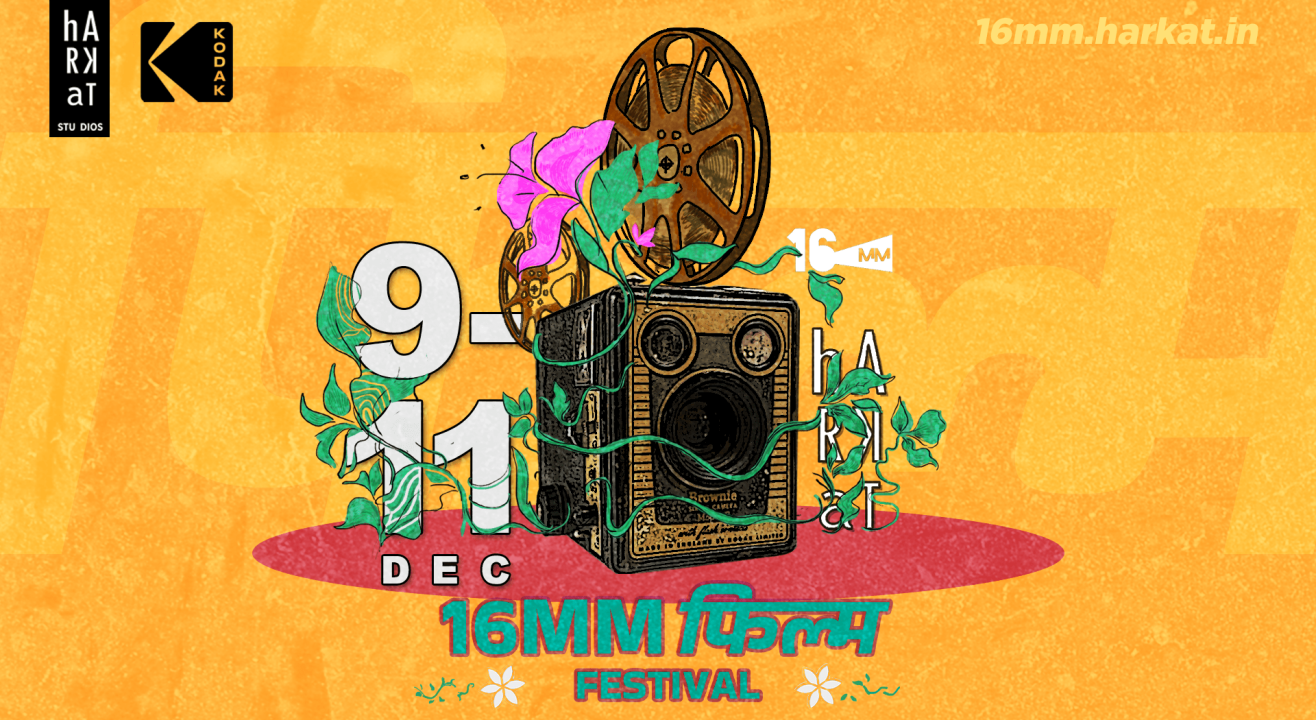 December 9, 10 & 11 | 7 PM Onwards
Step out and enjoy this event
Event Guide
Live Performance
Enjoy a unique experience
Invite your friends
and enjoy a shared experience
December 9, 10 & 11 | 7 PM Onwards
Step out and enjoy this event
Event Guide
Live Performance
Enjoy a unique experience
Invite your friends
and enjoy a shared experience
Event Guide
Live Performance
Enjoy a unique experience
Invite your friends
and enjoy a shared experience
As we enter our sixth year of hosting the 16mm film festival, we recognize what makes the photochemical medium so special to us — it is rooted in play. It is an impression of flowers; a dance with light. It constantly merges the art and craft of making. Its tangibility makes room for deeply personal impressions. Its slowness changes time.
Alluding to several films that have made it to our festival, and the qualities of the medium akin to flora, our programs this year are named after flowers (or notions of them). Fragile, tangible, photosensitive, seasonal, growth, windswept, of/for love & death, archiving - touch.
This year we will be screening more than 50 films from over 10 countries, including five newly produced Ek-minute competition films, all the Indian submissions to straight8 2022, and an expanded cinema film performance by Harkat's own. We also have veteran experimental filmmakers Richard and Diana Tuohy, all the way from Nanolab (Australia) visiting us and showcasing their analog works. So come join us for some incredible films and experiences!
Note: the festival will take place in-person at Harkat Studios in Mumbai.
Dates: 9-11 December, 2022
Day Pass: 250/-
Festival Pass: 600/-
SCHEDULE:
Opening Night
7 PM | Short Film Program: Eden
Light-logues of flowers and women
Films:
Blooming Fire, Burning Flowers, Bright as Sun | Kristen Williams
Petal to the Metal | Emily Pelstring
This Little Light of Mine | Malo Sutra Fish
Dans les cieux et sur la terre | Erin Weisgerber
INNESTI NERI E BIANCHI (White and Black Grafts) | Federica Foglia
Fair winds and following seas | Alina Tretinjak
Deepest Darkness, Flaming Sun | Ella Morton
7:45 PM | 16mm Film Festival Introduction
8 - 9 PM | Feature film
Terra Femme | Courtney Stephens
DAY 2
11:00 AM - 12:00 PM | Feature film
Vulture | Phil Hoffman
12:30 - 1:45 PM | Short Film Program: Ankur (a seedling)
to plant a seed in your mind, of all that can bloom from the celluloid medium
Films:
Inventario Churubusco | Elena Pardo
Reptilian Freeze Reflex | Anna Hogg, Lindsey Arturo, Rachel Lane
Intricate Domestication | Eduardo Gutierrez Carrera
Black Hole Space Debt, or A Basic Guide to Syncing Sound and Image | Stephen Wardell
perf dance | Steven Woloshen
Pinhole Park | Alex MacKenzie
Shield | Taravat Khalili
purgatory is the side of the road | Mireya Martinez
they rise, these sponge fortresses | Guillaume Vallée
A Small Lie | Ethan Berry
Un-Tidal | Masha Vlasova
Black Gold | Michael Higgins
PRESS(ED) | Senne Driesen
4:30 PM - 5:30 PM | Short Film Program: Dear Daisy
shared dreams, pressed like flowers, blue interludes, reminiscent of lost letters
Films:
I Was a Free Dog | Yuula Benivolski
"Time is a loop", I wish | Yue Hua
16 One | Holden Treadway
16mm Letters| Claudie Lévesque, Ilyaa Ghafouri
Bleue | Anne-Marie Bouchard
Water Notebook | Felipe Rodríguez Cerda
6:00 PM - 7:30 PM | Spotlight: Richard Tuohy and Dianna Barrie
A showcase by and of the work of experimental filmmakers Richard Tuohy and Dianna Barrie. Together they established Nanolab, which is a hand-processing lab for super-8 black-and-white and colour reversal film in Australia.
8:00 PM - 9:00 PM | Short Film Program: Datura floating
tidal shorts to accompany you into the night
Films:
Disparition(s) | Camille Pueyo
Upwards Tide | Daniela Zahlner
ENEZ | Emmanuel Piton
DAY 3
12:00 - 1:00 PM | Short Film Program: Roses and Dandelions
a mixed bunch: of people and places
Films:
2gether | Kim Ekberg
Ground Control | Thor Zing Lodberg
How to Build a House out of Wreckage and Rags | Bernd Lützeler
Frankston | Patrick Anthony Tarrant
3:00 PM - 4:00 PM | Short Film Program: the paradox of a marigold
films of love & death, joy & grief, longing & time
Films:
The impasse of two angels | Clara Lazare
Before | Cecilia Araneda
600 Moons | Cindy Stillwell
How a Sprig of Fir Would Replace a Feather | Anna Kipervaser
That I Have Broken into Two | Ellery Bryan
LIMBO | Mathieu Peteul
4:30 PM - 5:00 PM | Ek-Minute Film Competition 2022 films
5:00 - 6:00 PM | Straight8 x India 2022 films
6:30 PM - 7:30 PM | 'Cinema of Prayoga' with Amrit Gangar | Lecture
Join us for a talk with Amrit Gangar, film theorist, scholar, curator, and provocateur- the very source of Cinema of Prayog and the proposition it brings with it.
8:00 PM onwards | Ladies Log
An expanded cinema film performance by members of Harkat, followed by a closing-night open house!
Harkat Studios
Bungalow No. 17, JP Rd, Aram Nagar Part 2, Machlimar, Versova, Andheri West, Mumbai, Maharashtra 400061, India
GET DIRECTIONS
December 9, 10 & 11 | 7 PM Onwards
Step out and enjoy this event
Event Guide
Live Performance
Enjoy a unique experience
Invite your friends
and enjoy a shared experience