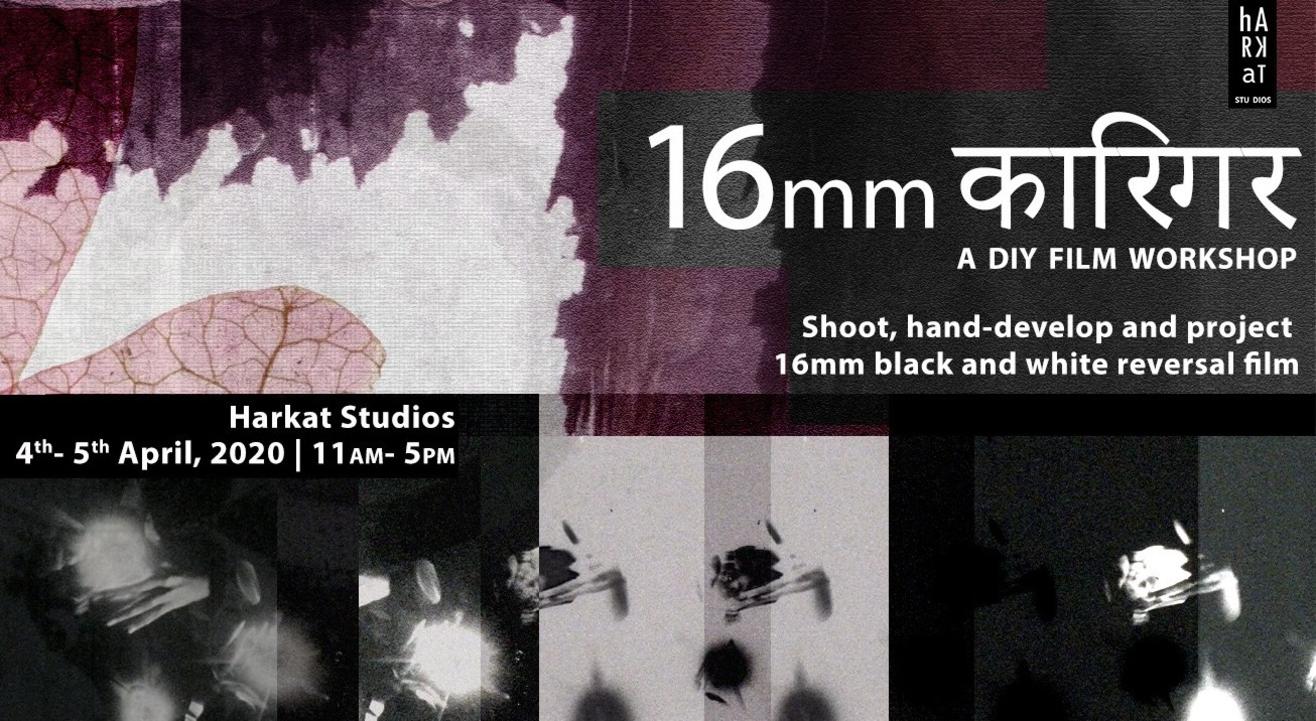 DIY
16mm Karigar- A DIY Film Workshop
Harkat Studios, Versova, Mumbai
About
About:
As we develop our 'film' programs for this year, here is presenting our star workshop, something we haven't done in 2 years. Come join us for a chance to shoot, develop and project 16mm black and white film in our '16mm Kaarigar' workshop.
Spread over two days, the workshop will delve into:
- the workings of the medium of 16mm black and white reversal film,
- working with a Krasnogorsk K3 16mm film camera (loading and filming)
- developing film using easily found chemicals in a darkroom
- working and handling a 16mm film projector
The second day of the workshop will be a hands-on experience of developing your very own piece of film in a darkroom, using easily found chemicals. Additionally, we will also be exploring alternate, eco-friendly DIY options for developing reversal film.
The workshop is designed to be with a small ground of 12 participants and will be personal and intimate in nature. The ideal participant is a maker, artist, filmmaker or a creative individual who sees himself/herself working with the medium of film in the future. It is a process driven workshop with a larger view of creating a community of makers working on film.
The workshop has limited seats, so we'd like you to RSVP as soon as possible so that we can share the application form with you.
Date & Time:
4th and 5th April | 11am- 5pm
Workshop fee: 5000/-
Last Date to Register: 25th March 2020
Location:
Harkat Studios, Bungalow #94, First Floor, Aram Nagar 2 (just behind Mata Mandir), Versova, Andheri West.
KINDLY NOTE OUR NEW LOCATION IS ON THE 1ST FLOOR AND NOT WHEELCHAIR ACCESSIBLE!!! WE'RE WORKING ON FINDING A SOLUTION.
*********
About Harkat:
Harkat is an international boutique arts studio with a passion for film, new media, community art spaces and contemporary art. Based in Mumbai & Berlin, Harkat takes many forms and identities across disciplines & related creative industries. As an alternative performance & arts space, we have hosted more than 150 shows in the past year in the mediums of theatre, film, music, community projects & contemporary art. We support the new, unheard, upcoming, exciting, cutting edge, the political, the forgotten, nostalgic, melancholic, soul stirring, the beautiful & more. And that's what Harkat is. Harkat
Venue
Harkat Studios, Versova, Mumbai
HARKAT STUDIOS, BUNGALOW 94, FIRST FLOOR, ARAM NAGAR 2, VERSOVA, ANDHERI WEST, 400061-MUMBAI
GET DIRECTIONS