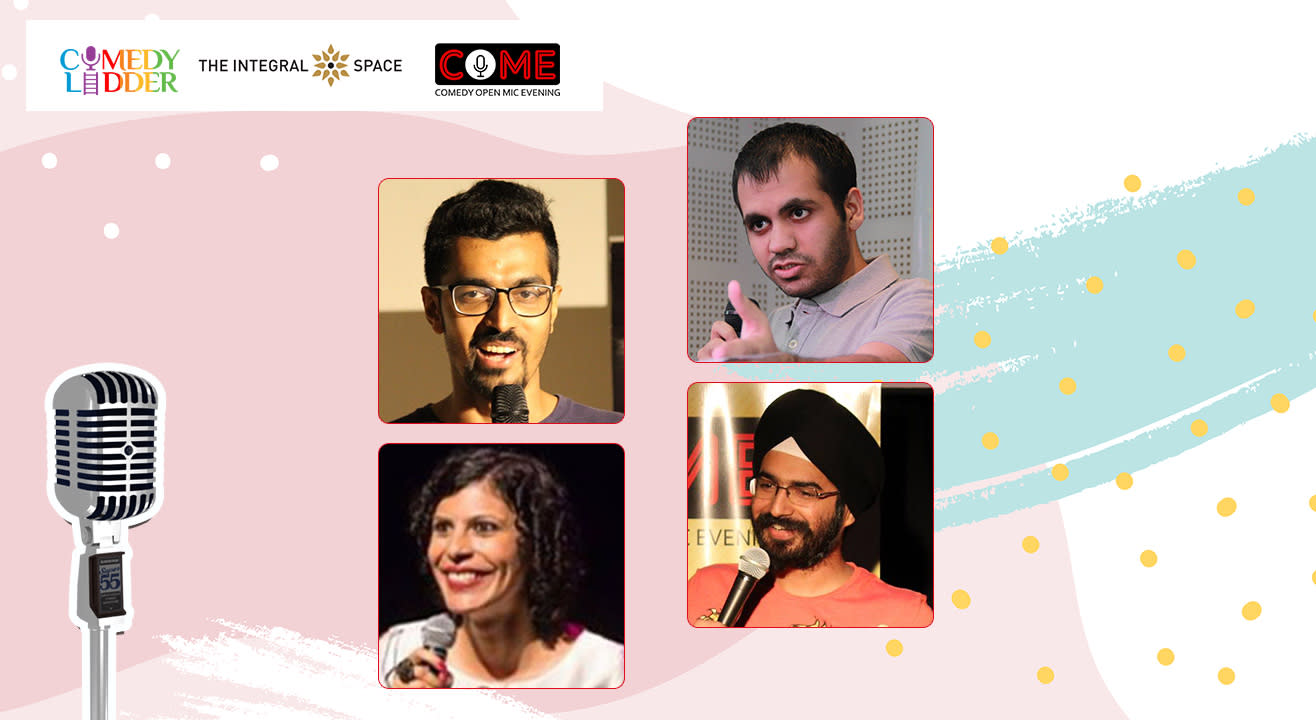 Comedy
175 COME Ft. Angad Singh Ranyal, Anu Menon & Azeem
The Integral Space, Lower Parel
About
COME: Comedy open mic evening. Comedy is the only thing keeping people alive these days. COME spend your evening with Our Host Bhavish Ailani and 8 new comics who you have never seen before but will enjoy. If you like comedy come to support someone's first time! A great way to spend your Tuesday evening. Doing open spots would be Angad Singh Ranyal, Anu Menon & Azeem Banatwala
Host Bhavish Ailani
Open Spots
Angad Singh Ranyal
Anu Menon
Azeem Banatwala
Artists info
Angad Singh Ranyal
The thinnest sardar alive, born and brought up in Libya, and hence culturally confused. He also holds the world record for being the millionth Indian to opt for MBA after completing his engineering. A marketing major who keeps his sanity intact by making fun of everything and anything, including himself. Sarcasm runs in his blood, that's Angad Singh Ranyal for you.
Anu Menon
Anuradha Menon is an Indian film director and actress. She is a Silver Medalist from Stella Maris College in Chennai. Following her exposure to theatre, she went to London to join Essex University`s East 15 Drama School. Theatre has been the focal point of her life. She has been a part of plays such as, Rage`s One on One and The Bureaucrat, Raell Padamsee`s Noises Off and Lillete Dubey`s Sammy, to name a few. She is also an Indian television actress. She grew up in Chennai and was associated with the theatre group, The Madras Players for some years. She gained recognition as a governess with a heavy Malayali accent in the play, The Verdict. This helped her bag the role of Lola Kutty on Channel V, which consequently made her extremely popular among the masses. Anu appears at many of her public outings dressed as Lola Kutty. She has also been a part of well-known theatrical works such as Zen Katha and Sammy!
Azeem Banatwala
Azeem Banatwala, is a popular stand-up comedian and has performed at many stand-up events and shows. Prolific standup comedian, he has gained popularity throughout India for his intelligent and observational English standup. Since he began his comedic career, he has scored two standup specials, Out of My System and Cometh the Hour.
Venue
The Integral Space, Lower Parel
14, Janata Estate , Opp. Palladium Mall, Lower Parel West, Lower Parel, Mumbai, Maharashtra 400013