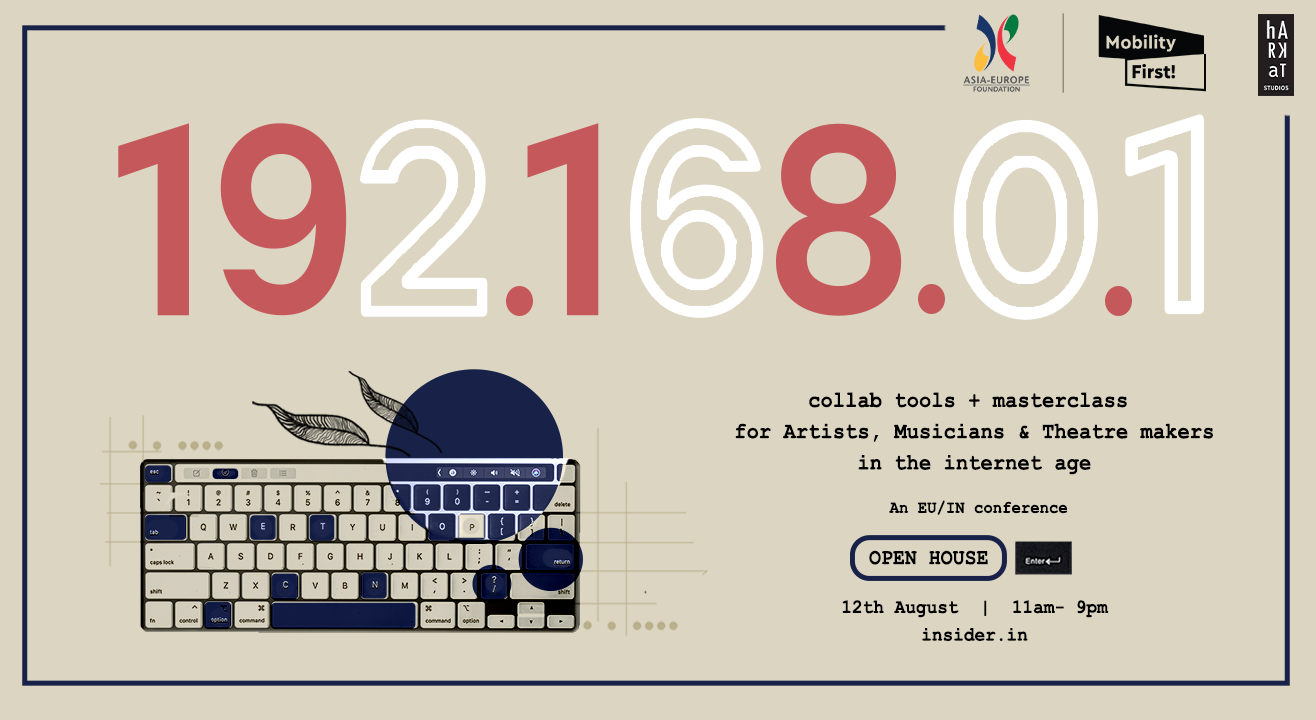 192.168.0.1 - Collaboration Tools in the Internet Age
Event Guide
For Age(s)
Family Friendly
Interactive show
Be a part of the show
Invite your friends
and enjoy a shared experience
192.168.0.1 - Collaboration Tools in the Internet Age
Event Guide
For Age(s)
Family Friendly
Interactive show
Be a part of the show
Invite your friends
and enjoy a shared experience
Event Guide
For Age(s)
Family Friendly
Interactive show
Be a part of the show
Invite your friends
and enjoy a shared experience
The past two years have been a pull in both directions- while there is a persisting desperate need to become physical and more local, avenues of off-shore collaboration have multiplied and audiences have come multifold. Not only has this created more ways of sustainability, but also given way for art makers to develop newer ideas to permeate into local art spheres. This conference will be a reflection of this phenomenon.
A Harkat International Open House, 192.168.0.1 will be a digital collaboration, supported by Asia Europe Foundation / Mobility First; where Artists, Musicians and Theatre Makers from Europe and India come to share their experiences. It is a conference on using the internet and online mediums to collaborate, create and mount performative works. Participants will get to be a part of discussions revolving around innovative tools and strategies, and reflect on their practise in the digital age. The day will include a masterclass, fireside chats, presentations and conversations. Art makers will share workflows, learnings and collaboration methods from their experience of working online- perhaps even find newer ways to adapt their work into more hybrid forms!
This is an online event- free and open to everyone.
Date: 12th August, Thursday
Time: 11am - 9pm
TO ATTEND ANY SESSION, JUST SIGN UP FOR THIS AND WE WILL SEND YOU THE LOGIN LINK BY 9AM ON 12TH AUGUST.
SCHEDULE:
11am:
Show + Tell - mise-en-screen master class by Mahesh Dattani
Masterclass
Celebrated Indian playwright Mahesh Dattani has not been sitting idle through the lockdowns but created highly engaging theatre pieces with groups in India and abroad - from scratch.
In this master class, he will be sharing technical tips and tricks such as lighting, sound and direction of remote actors as well as DOs and DON'Ts.
Duration: 60mins
For: Theatre-makers, especially performers, directors, dancers and musicians
What to Expect: DOs and DON'Ts, practical tips on how to create the magic of theatre on a 2D screen and increase production value way beyond a zoom window while using little resources.
1pm:
From 3D to 2D - theatre on the screen; A conversation between Anurupa Roy and Schaubude
Anurupa Roy is an award-winning puppeteer recently turned film-maker due to the global lockdown. Schaubude is a extraordinary theatre in Berlin, Germany, which focuses on storytelling for children mainly through the use of puppets and objects. Together they have turned the initially 'physical' performance for the theatre festival in Hamm into an online performance for both Indian and German audiences.
In a vivid exchange both companies will share their experience of the past 2 years of perpetual lockdowns, and how they engaged with young audiences, followed by a Q&A.
Duration: 75 mins
For: Theatre-makers, pedagogues, stage performers. theatre groups and performance spaces
What to Expect: Learnings of what to avoid and what to do in order to keep audiences engaged and even increase visibility of one's work - both technologically and content-wise, tools to foster collaboration and innovations in audience engagement.
4.30pm:
Arts & Code with Abhinay Khoparzi
Performance, Conversation + Q&A
Abhinay Khoparzi is a multidisciplinary creative technologist who maintains a practice across film, music and web technologies and has had a long relationship with the experimental electronic music scene in Mumbai. He co-founded the pioneering artist collective, Netlabel, and publishing company 3rd Thought Entertainment in the early 2000's. He now organises/conducts live coding workshops in collaboration with various artist collectives across India.
In conversation with a few collaborators, this will be a fireside chat around Creative Coding and the Algorave.
Duration: 90mins
For: musical artists who dabble in overlapping technology and performance, coders, AI enthusiasts
6.00pm:
Online Collaboration Tools for Musicians with Matthias Strobel
Presentation
In this session several platforms for online collaborations between musical artists will be presented. They are tools which enable musicians to collaborate - without ever having to meet physically.
By Matthias Strobel of Music Tech Germany
Total Duration: 45mins (incl Q&A)
For: Musicians, Dancers, Music Directors, Composers
What to Expect:
A great overview of what's possible, ideas for future collaborations and concrete tools that enable artists in the music industry from different parts of the country, or even the world, to create art together
7 pm:
Demystifying Analogue - Celluloid making from anywhere
(moderated) Conversation
A conversation with Vassily Bourikas, a Greek filmmaker and curator for festivals like Oberhausen, a celluloid film artist and activist, and Karan Suri Talwar from Harkat Studios on how to spread the magic of celluloid filmmaking hands-on when workshop labs are unavailable.
Duration: 90mins
For: Anyone interested in analogue film making (or even photography), film artists (amateur and professional), film students and teachers
What to Expect:
Concrete tools and practices to keep up, continue, and evolve artisan film practice. How to make without access to facilities and larger setups.
192.168.0.1 - Collaboration Tools in the Internet Age
Event Guide
For Age(s)
Family Friendly
Interactive show
Be a part of the show
Invite your friends
and enjoy a shared experience