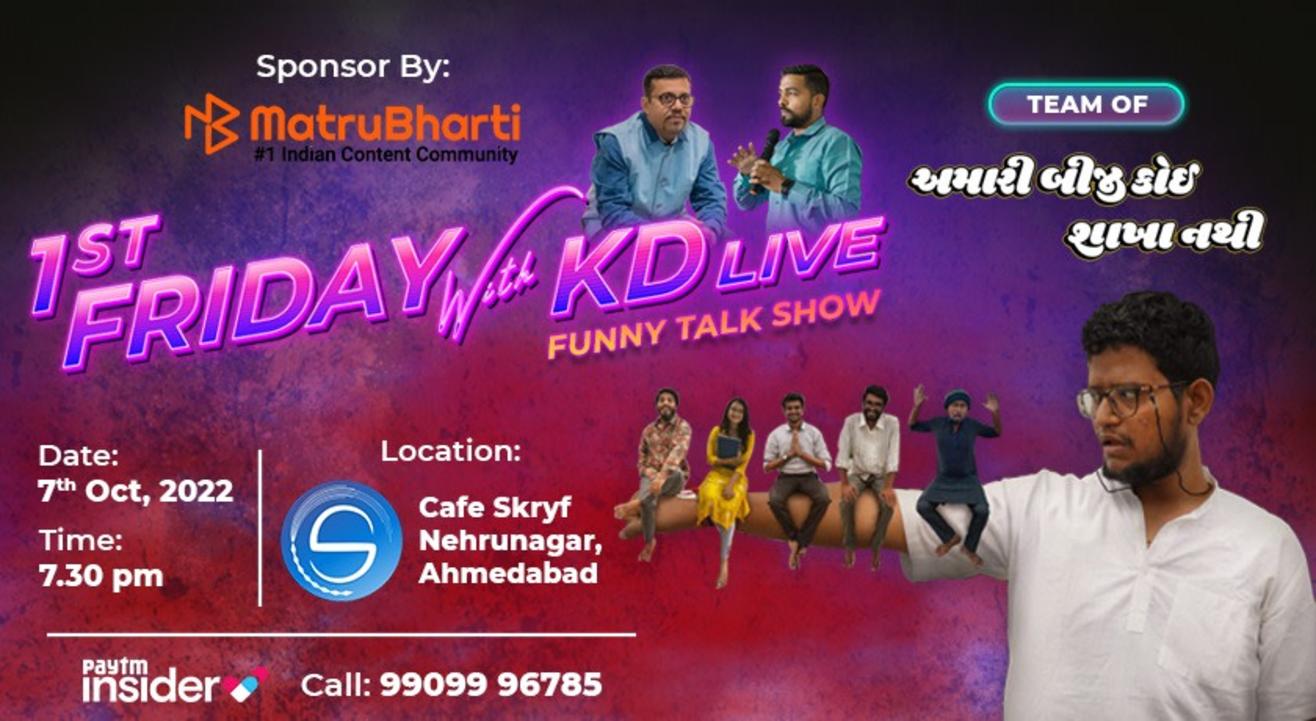 Skryf Library - Your Doorstep Library, Ahmedabad
Step out and enjoy this event
Event Guide
For Age(s)
Family Friendly
Live Performance
Enjoy a unique experience
Invite your friends
and enjoy a shared experience
Skryf Library - Your Doorstep Library, Ahmedabad
Step out and enjoy this event
Event Guide
For Age(s)
Family Friendly
Live Performance
Enjoy a unique experience
Invite your friends
and enjoy a shared experience
Event Guide
For Age(s)
Family Friendly
Live Performance
Enjoy a unique experience
Invite your friends
and enjoy a shared experience
Matrubharti Presents, 1ST Friday with KDLIVE
Funny Talk Show
In this episode Guest are a Team of
Amari Biji Koi Shaka Nathi
A Comedy Family Gujarati Drama
Meet Hashmukh, Girish and Payal in our Show with Writer/Direct Pradeep Vaghela
Also meet two super duper comedy actor in our Show.
October 7, 2022
7.30 pm onwards
Cafe Skryf, Nr. Nehrunagar, Ahmedbaad.
We are recording the show for Matrubharti and so please enjoy the live show and live shoot.
About the Drama:
આવી છે અમારી Dysfunctional ફેમિલી. પણ આમનો ઝઘડો હોય કે પ્રેમ, તમને મળશે ફક્ત એન્ટરટેઇન્મેન્ટ. આ નાટક કરતાં વધારે એક ઘર ની વાત છે, એક બાપ અને દીકરી ની વાત, અને એનાથી પણ વધારે દીકરી અને એની સ્વર્ગીય મમ્મી ની વાત. અમારે અહિયાં બાપ અને દીકરીનો સંબંધ થોડો અલગ છે, એ બંને સામ સામે વાત કરવા આવે ને એટલે ગરમ તેમ માં રઈ પડી હોય ને એવું થાય. અને જ્યારે ગરમ તેલ માં રઈ પડશે તો એ કોને અને કેટલું દાજડશે..... ખબર નહી.....
Writer and Director:- Pradeep vaghela
Cast:- Deep khatri, Dhruvin mewada, Priyanka singh, Hardik kumar, Aatman shah, Smit joja
Next Dama Performance date:- 25-09-2022(Sunday)
Time:- 9 PM
Venue:- @spaceforperformance
Enjoy the live moment, unscripted Q&A, Improv Round and more.
1st Friday with KDLIVE - Recent SHOW
Skryf Library - Your Doorstep Library
Prasad Tower, 120 Feet Ring Rd, Patel Colony, Ambawadi, Ahmedabad, Gujarat 380006, India
GET DIRECTIONS
Skryf Library - Your Doorstep Library, Ahmedabad
Step out and enjoy this event
Event Guide
For Age(s)
Family Friendly
Live Performance
Enjoy a unique experience
Invite your friends
and enjoy a shared experience