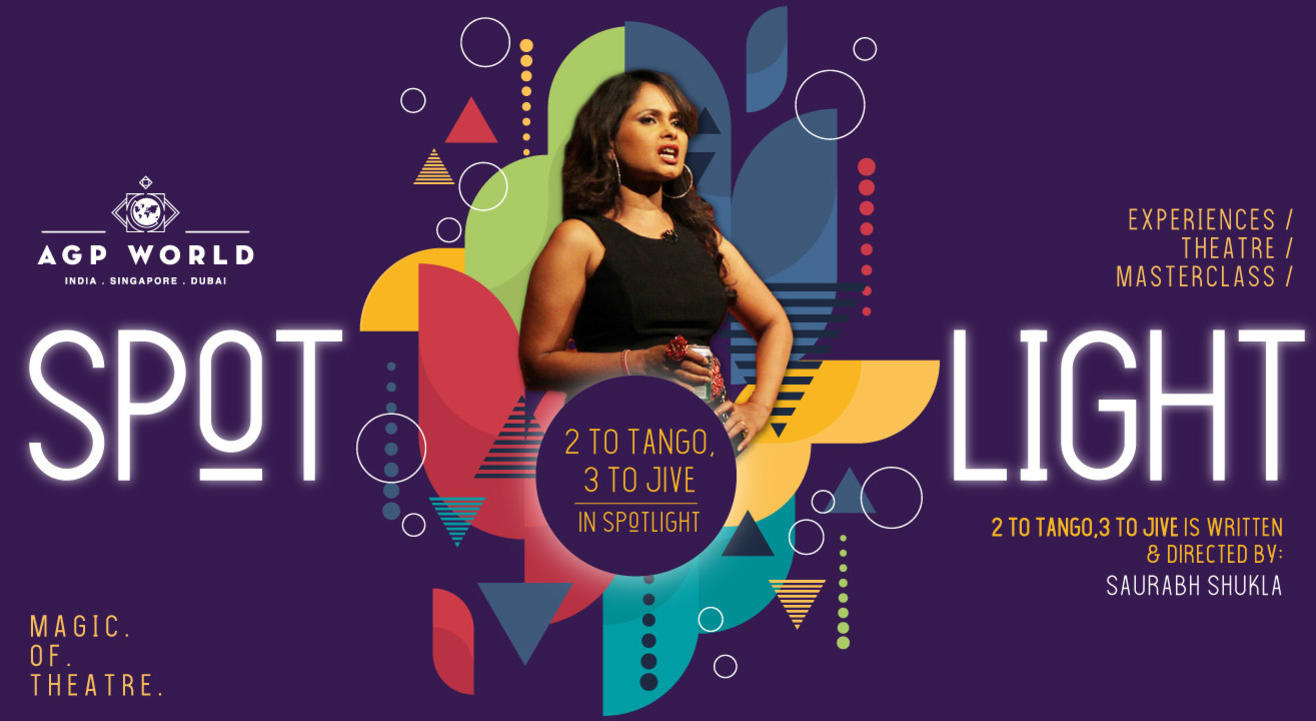 Drama
2 To Tango, 3 To Jive
The Royal Opera House, Mumbai
About
A true celebration of the performing arts! AGP World's 'Spotlight' is a celebration showcasing some of the best productions from one of India's premiere theatre production house, AGP World. Theatre buffs and first-timers alike can experience fantastic performances, cutting across comedies, thrillers, musicals and dramatic productions : all in one venue within a short span of time. This also includes up close and personal tête-à-têtes and workshops with some of the industry's best-known names.
Directed By: Saurabh Shukla
Cast: Saurabh Shukla, Achint Kaur, Sadiya Siddiqui, Preeti Mamgain

What happens when the proverbial midlife crises knocks and then barges through the doors of Parminder Singh Sethi's mundane existence? Caught between continuing with his monotonous life and the enticing prospect of turning things around; this comedy drama play chronicles Parminder's journey as it ebbs and flows with practical, comic, ambivalent, confusing and passionate tides on a stage.

Each of us has a different way of dealing with a crisis. But how does Parminder, tangled in the web of mixed emotions and vexed choices, deal with his midlife crisis? And what happens when three women enter the picture... complications galore or does his life take another twist? For better or for worse!

What's guaranteed is that these flaming personalities on stage when thrown together in the cauldron of life turn up the heat... leaving things more complex than ever... truly it takes... 2 To Tango 3 To Jive.
"The best comes out of Siddiqui, who is spunky, thus doing justice to the best written lines in the play." - Times of India

"Director Saurabh Shukla couldn't have done better. Casting himself as Parminder Sethi, he showcases what a fine actor he is with impeccable timing and repartee. The three actresses are in themselves a study of perfect casting." - Mumbai Theatre Guide

"Saurabh Shukla hits a century with his play" - DNA
2 To Tango 3 to Jive | AGP World