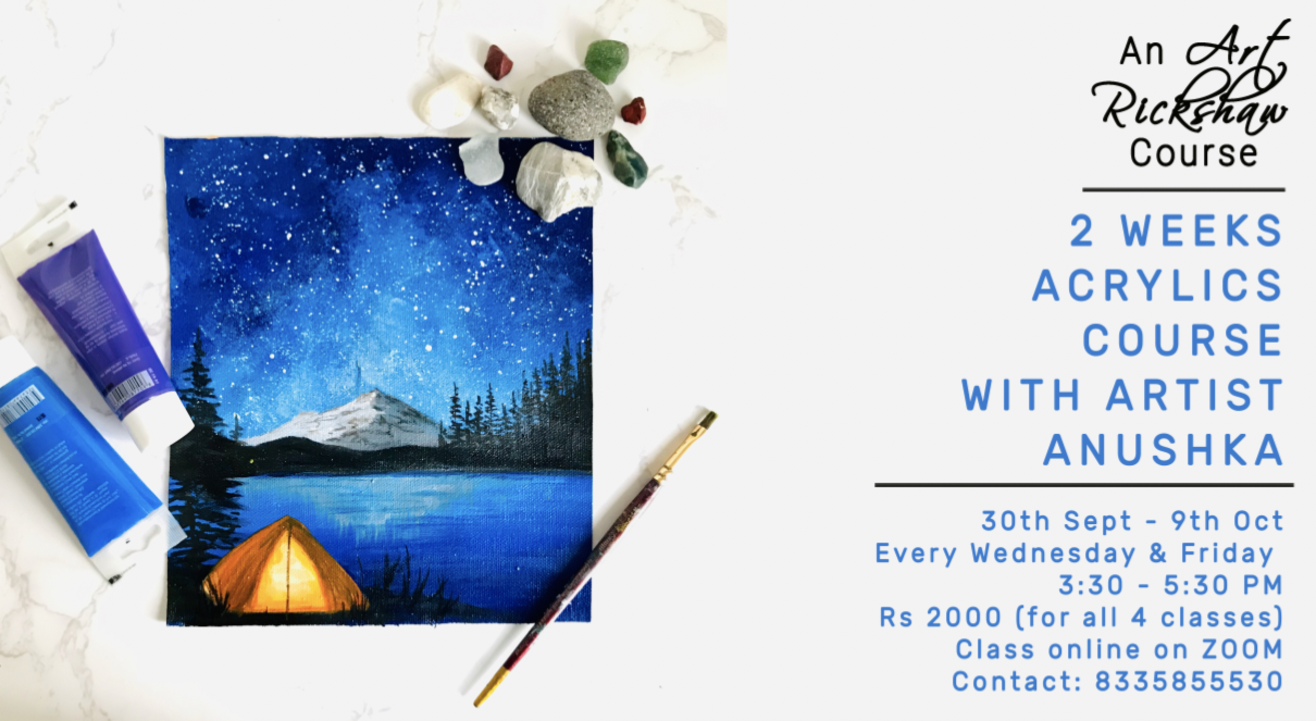 2 Weeks Acrylics Course with Art Rickshaw
September 30 | 7:16PM - November 13 | 9:16PM
Event Guide
Digital Event
Watch on Zoom
For Age(s)
Family Friendly
Masterclass
Learn from an expert
Invite your friends
and enjoy a shared experience
Event Guide
Digital Event
Watch on Zoom
For Age(s)
Family Friendly
Masterclass
Learn from an expert
Invite your friends
and enjoy a shared experience
About the Event
2 weeks Acrylics Course with Artist Anushka Nayak
Dates: Class 1 - 30th September (Wednesday)
Class 2 – 2nd October (Friday)
Class 3 – 7th October (Wednesday)
Class 4 - 9th October (Friday)
Time: 3:30 PM – 5:30 PM
Fees: Rs. 2000 per head (for all 4 classes)
Level: Beginner
Age group: Ideal for ages 12 and above
Structure:
In this course, we will be covering all the aspects of Acrylic Painting in detail. This beginner-friendly course will take place over a span of 4 days. In each session, we will be exploring the different techniques of acrylic painting and by the end of the course, the participants will have completed 4 beautiful paintings. This will be an ideal class for those who are new to this versatile medium, and for those who are looking to further develop their painting skills.
1. Week 1: Camping under the stars- In our first session, the participants will be introduced to the different types of Acrylic Paint, how this medium works, the various surfaces it can be used on, different brands which are available in the market and the various types of brushes & tools that can be used. We will be using synthetic brushes and sponge to create a beautiful galaxy-themed painting.
2. Week 2: European Harbour- In this class, we will learn how to draw buildings in perspective and create the illusion of distance. We will advance into blending techniques using brushes and the participants will also be introduced to palette knives which will be used to add texture to a painting.
3. Week 3: Seascape- This week, we will be transported to the beach. This seascape painting will encourage the participants to try some more advanced techniques and also how to add a realistic feel to their paintings through the use of shadows and highlights. We will continue with our use of palette knives to create waves crashing on the seashore.
4. Week 4: Snowy Mountains- In our final session, we will be exploring the various aspects that are quintessential to a nature-themed painting; blueskies, mountains, trees and lakes. We will incorporate all the techniques that have been taught in the previous sessions to create a slightly more challenging and detailed painting.
Materials Required:
• 4 Canvas Panels/Canvas Sheet or 300GSM Watercolour Paper (Ideal size: 10" by 12")
• Synthetic Brushes: Flat Brush No. 8, 6, 2 & Round Brush No. 4, 2, 0
• Palette Knife (size 3 or 2)
• Acrylic Paints:
Shades-White, Prussian or Dark Blue, Sky or Light Blue, Crimson or Red , Lemon or Chrome Yellow, Cadmium Orange or Vermillion , Sap Green or Olive Green, Burnt Sienna or Brown, Black (Shade names can differ between brands)
Brands that can be used: Camel/Faber Castell/Fevicryl
• Few pieces of Sponge
• Palette
• Water Container
• Rag Cloth
• Pencil & Eraser
Materials can be delivered to your doorstep at MRP + delivery charge (depending on location)
Please note:
• One has to register for all 4 classes. Class will be taken online on ZOOM. Link to be shared before the class.
• Once registered money cannot be refunded (can be adjusted with another class)
• In case one cannot attend a particular session a recording of the same can be provided
• Dates and timings cannot be changed