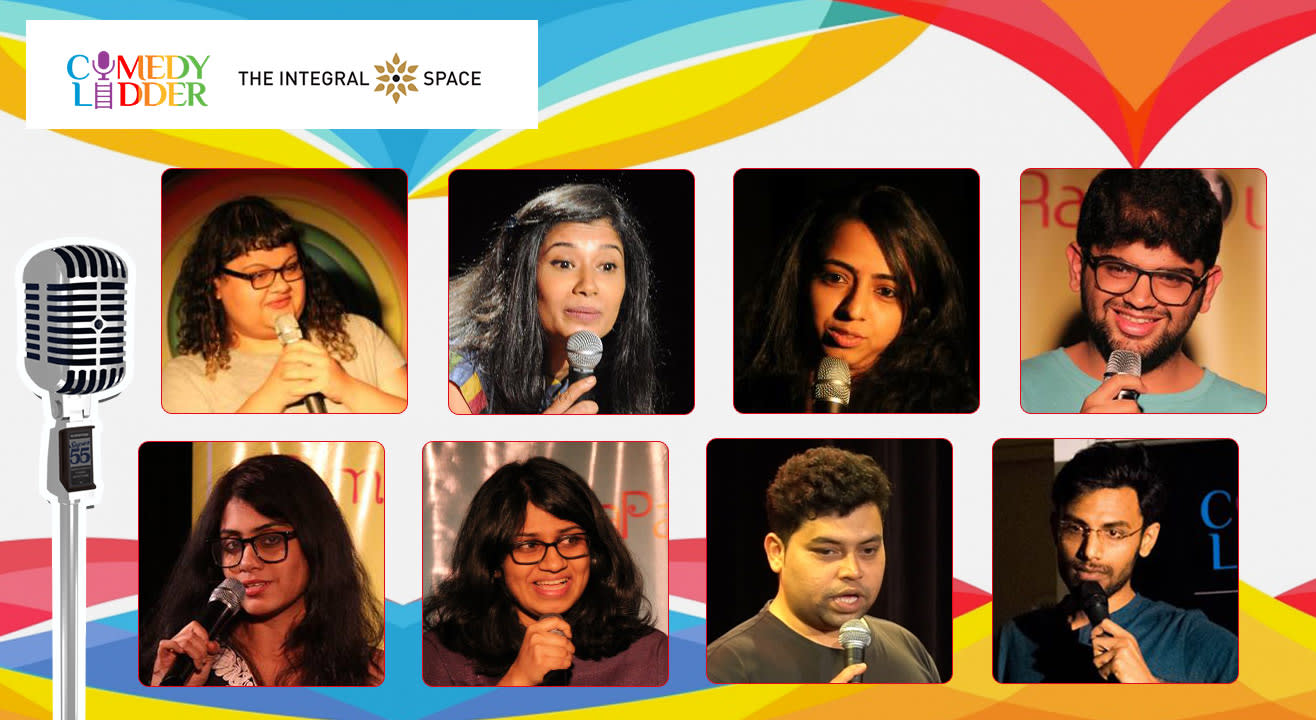 Step out and enjoy this event
Invite your friends
and enjoy a shared experience
Invite your friends
and enjoy a shared experience
About the Event
200 Open mics is a mark that we would like to celebrate, come watch some of your best comics in this special edition of the 200th COMEDY OPEN MIC EVENING. a cake may be part of the show.
Line-Up
Host Jeeya Sethi
Comics
Prashasti Singh
Pavitra Shetty
Supriya Joshi
Navin Noronah
Sonali Thakker
Siddharth Dudeja
Biswa Kalyan Rath
Artist Info
Jeeya Sethi
Jeeya believes if you are fat once (by fat she means FAAAAT) you are fat forever, mentally you never become thin even after losing all the weight. An event manager turned stand-up comedian, improviser and actor, she has made entertainment her new life's mission since nothing else is going for her!
Prashasti Singh
Prashasti Singh is yet another IIM graduate searching for meaning outside academic excellence and material achievement. She is one-tenth of the choir group 'The Etceteras' and has already won several stand-up competitions on the Mumbai circuit. Between stand-up and Improv she has found space for expressing her small-town sensibilities amidst big town hustle. In the end, it may just turn out to be another Amethi to Andheri story but at least we had some good laughs along the way.
Pavitra Shetty
Pavitra Shetty is an undiscovered singer, upcoming stand-up artist and reportedly also a girl. To prove this, she has recently started a tag-team called The Sidechicks providing a disturbing look at what girls with unlimited WiFi connections can do. The biggest inspirations for her stand-up are her Mom, random aunts who keep visiting her place and her very own weighing scale. Already featured multiple times on television and radio, Pavvy is also part of hit Chalta Hai shows Dame Funny and Undateable. And she has an unnaturally high number of best friends who insisted that a new bio was written for her.
Supriya Joshi
Supriya Joshi aka Supaarwoman is a writer, comic and caped crusader battling the pointlessness of life, one meme at a time. Supaar covers a wide variety of topics from PCOD to why Govinda might actually be the second coming of Christ. After killing is on Facebook, Twitter and Instagram, Supriya has found a new weapon of choice in the microphone and she is coming to a stage near you.
Navin Noronha
Indias first openly gay comedian, Navin Noronha was born and raised in suburban Mumbai. Touted as the ideal kid everything went sideways when he got into comedy, or so his mom believes. He draws on these experiences in his stand up solo show, The Good Child. He also owns up to his queer male identity in his show Homos Odyssey alongside comedian Nick Pillow.
Sonali Thakker
Part-time stock-broker, a dance enthusiast and a full-time Gujju who performs comedy on the weekends, Sonali Thakker is an exciting new comedy talent in the town.
Talking about grave topics like traveling, shopping, and chaprigiri in her sets, Sonali's has performed on the biggest of stages including Canvas Laugh Club and NCPA. In 2017, she took her special 'Almost There' to stage across the country.
Siddharth Dudeja
Siddharth Dudeja is a 23-year-old graduate on a perpetual sabbatical. Between writing projects and trips to space, Duds also delivers flashes of brilliance on stage. Having performed at major festivals and also as a part of 'The best in Stand-up' he is trying to figure out what to do with the rest of his sabbatical. Siddharth talks about how school and vegetarians ruined his childhood and sometimes he talks about world peace.
Biswa Kalyan Rath
Remember the Pretentious Movie Reviews on YouTube? Good. Now forget them. That was just a warm-up to comic Biswa Kalyan Raths full comedy prowess. The comedian has moved up a few notches since his YouTube glory days and is using his IIT-Bombay education, along with his knowledge of mathematics, language and life, to make jokes that have never been cracked before. He recently released his comedy special, Biswa Mast Aadmi, to rave reviews, with which he toured every pocket in India.
Soon after, he released 'Laakhon Mein Ek', a surprisingly dark web-series on the IIT coaching industry. One of the most-followed comedians in the country, Biswas angry rant-styled delivery and his unique perspective turns every topic he touches into comedy gold, making audiences crack up instantly. The stand-up comedian, writer, actor, size-zero enthusiast and blogger, has done countless shows across all sorts of venues in the country and has managed to garner 14+ million views on YouTube. Need we say more?
The Cuckoo Club, Mumbai
5AA, Pali Hill Road, Next to Candies, Bandra West, Mumbai, India 400050
GET DIRECTIONS