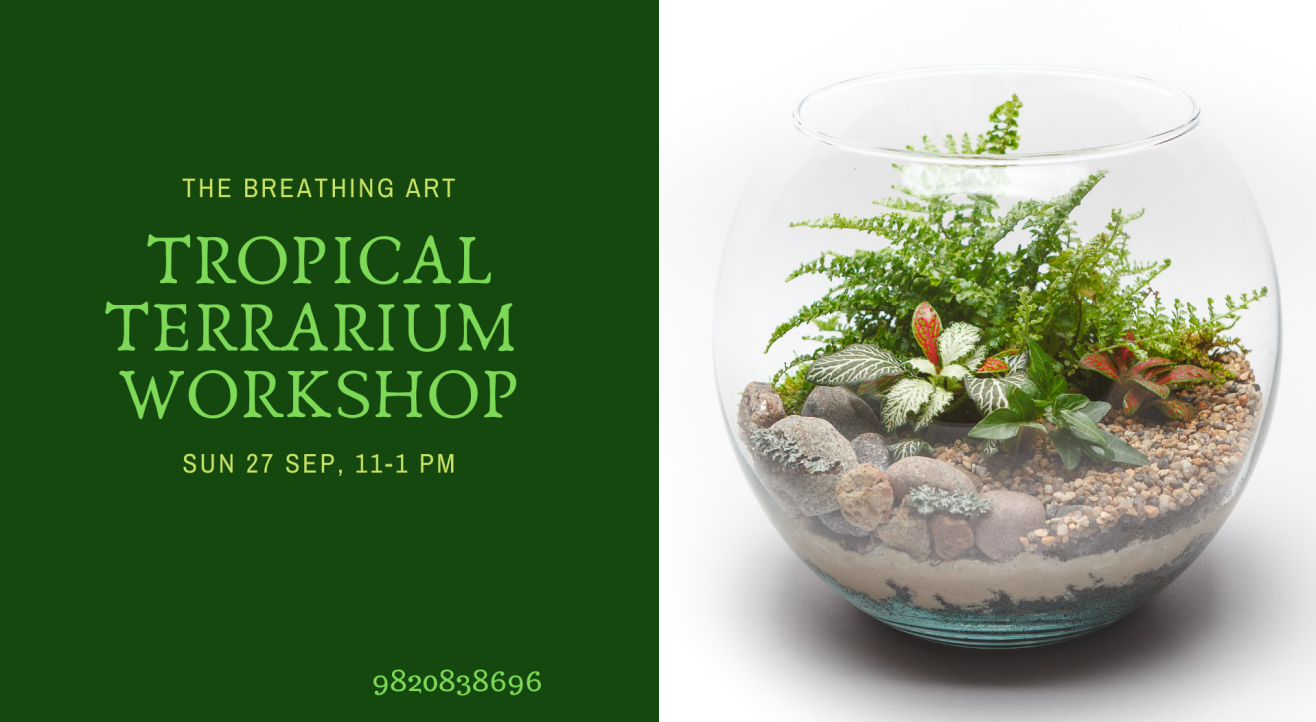 27th Sept Online Tropical Terrarium Workshop
Invite your friends
and enjoy a shared experience
Invite your friends
and enjoy a shared experience
About the Event
Do you wish to learn how to create these magical green terrariums? That can grow for many years with maintenance as low as watering once a month?
We have conducted workshops for thousands of people in Mumbai and now anyone staying anywhere in the world can join us at our online workshops!
Learn from our expert Deepti Pitre as she guides you in to each step explaining basic concepts with real life examples, loads of tips and tricks, science of how terrariums work, inner layers, design tips etc. She will also show a live demonstration on how to create a beautiful terrarium with all layers and decorations!
Online workshop includes:
---- Basic concept on how tropical terrariums work
---- Explanation of materials used, inner layers
----- Plant selection
----- How to create terrarium soil
---- Design tips
---- Open and closed terrariums
---- Tips on how to procure materials
----- Demonstration - Tropical Terrarium
---- Tips & Tricks
---- Do's and Don'ts
---- Maintenance
----- Q & A
----- E Notes which we will email you after the session
No prior gardening experience required.
Date: Sun, 27th Sept
Time: 11:00 am -1:00 pm
Fees: 800/- only
Please note: Materials are not included in the fees.
This is how it works:
We have very flexible options:
You can either procure materials before the workshop and create along with us during the workshop (we can send you list of materials once you register or you can order a kit from us too) or procure them after the workshop and participate in another online event (short one - only for creation - free of charge) to create along with us (if you wish) or create on your own. During the workshop, we will explain how to procure materials, or any materials from your home can be used etc.
Workshop flow:
We will provide all info+demo+notes.
Prior registration mandatory!
For any queries, please contact us on 9820838696/7304399024