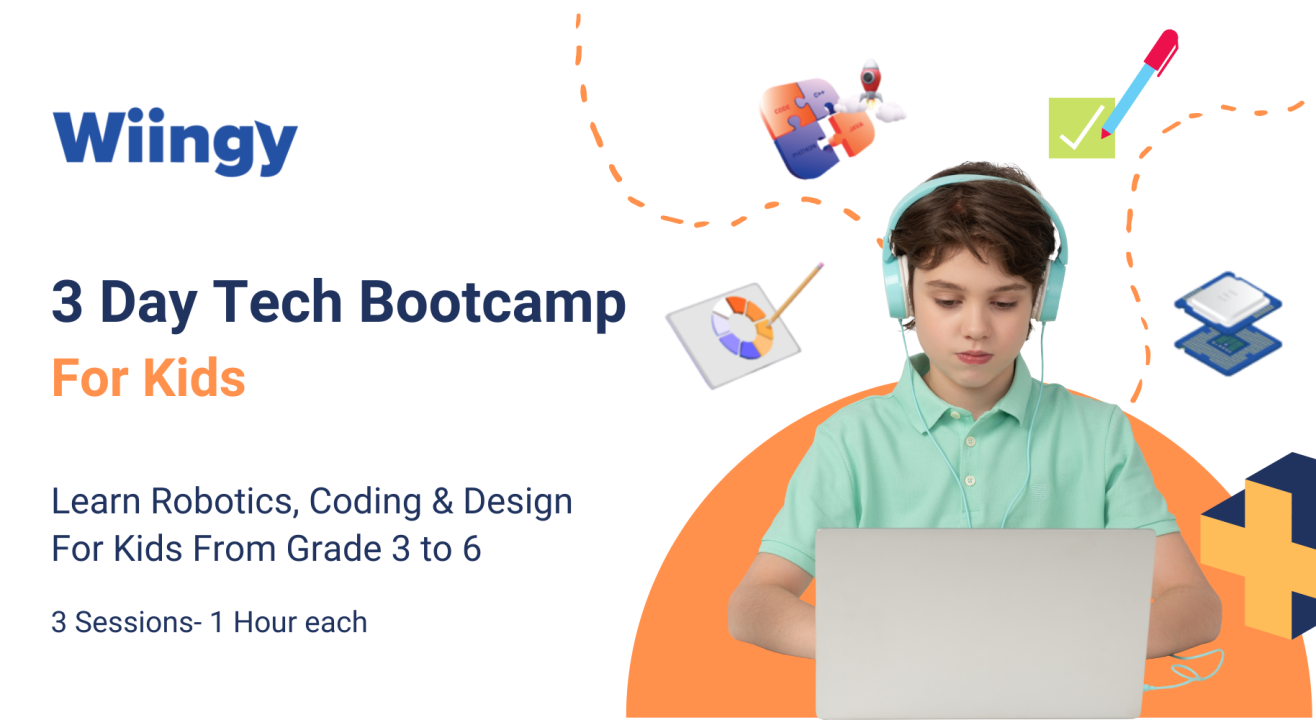 3 Day Tech Bootcamp for kids
September 19 | 7PM - September 28 | 8PM
Enjoy this event from your home
Event Guide
Masterclass
Learn from an expert
Invite your friends
and enjoy a shared experience
3 Day Tech Bootcamp for kids
September 19 | 7PM - September 28 | 8PM
Enjoy this event from your home
Event Guide
Masterclass
Learn from an expert
Invite your friends
and enjoy a shared experience
Event Guide
Masterclass
Learn from an expert
Invite your friends
and enjoy a shared experience
3 Day Tech Bootcamp for kids
An online technology education program for kids of grade 3 to 6.
3 Day Bootcamp: Code games, design graphics & build robots
Innovative curriculum: Robotics | Coding | Design
Top instructors: Consistently rated 4.8/5 and above by parents
Course Structure:
3 Days | Thursday, Friday, Saturday
1 hour session each
7 PM to 8 PM
Online sessions on Zoom
Course Overview:
Day 1: Robotics using TinkerCad:
You will be introduced to Robotics using TinkerCad. You will learn about Circuits, the flow of electricity, batteries, and switching on a Bulb using the Tinkercad Simulation tool.
Day 2: Coding using Scratch:
In this class, you will make a Duck Jumping Game using block based coding on Scratch. You will learn about Algorithm design & Playing Characters of Games like Sprites.
Day 3: Design using Canva:
In this class, you will learn Basic Elements of Art like Line, Color, Shape, Form, Space, Texture, Value, and Color. You will also learn how to make posters using Canva.
This bootcamp includes:
3 sessions: One hour each session on Robotics, Coding & Design.
Learning resources: You will receive free study material on how to get started with robotics, coding, and design.
Access to Studio: Free access to Wiingy Studio platform where you can make interactive stories, games, animations, and much more.
Completion Certificate: Obtain a completion certificate to showcase your skills build credibility.
Requirements for the Bootcamp:
Laptop or Desktop
Stable internet connection
Benefits of this Bootcamp:
Spark Creativity: Our design session is set up such that children will use their creativity to independently bring ideas to life.
Build Collaboration: Participation in small groups enables children to learn how to work together for a common objective.
Develop Critical Thinking: Coding and robotics sessions help build critical thinking skills and higher levels of analytical abilities in your child.
Sharpen Communication: In each session, we teach kids how to efficiently convey ideas, demonstrate the projects they create and enhance their communication skills.


Learnings from the Bootcamp:
Exposure to leading tools: kids will be initiated on Scratch for coding, Minecraft for game development and TinkerCad for robotics.
Real learning: This is an intensive power packed bootcamp where fundamental concepts such as loops, circuit design, game design.
Experiential Learning: Kids will learn to create games, animations, stories & even real robots.


Who is it for?
Interested in beyond school learning: Our boot camps are appropriate for parents who are continuously looking for after-school activities and games that will interest their children, keep them away from the TV/iPad, and teach them something new.
Targeting new skills: Our Bootcamps are designed for kids who wish to participate in a fun and informative mix of activities, experiences, and challenges to discover their passions, learn new skills, and gain confidence.
Studying between grades 3 to 6: Children typically pick up new abilities quickly while they are young. Our boot camps are appropriate for students studying in grades 3 to 6.
Looking for exposure to STEM topics: Our Bootcamp gives a flavor of robotics, coding and design so post the camp kids can decide for themselves which is their area of interest.


Post registration you will be added to a WhatsApp group where all the communication related to the bootcamp will be shared.
Other than WhatsApp, class details will be shared through Email as well.
3 Day Tech Bootcamp for kids
September 19 | 7PM - September 28 | 8PM
Enjoy this event from your home
Event Guide
Masterclass
Learn from an expert
Invite your friends
and enjoy a shared experience