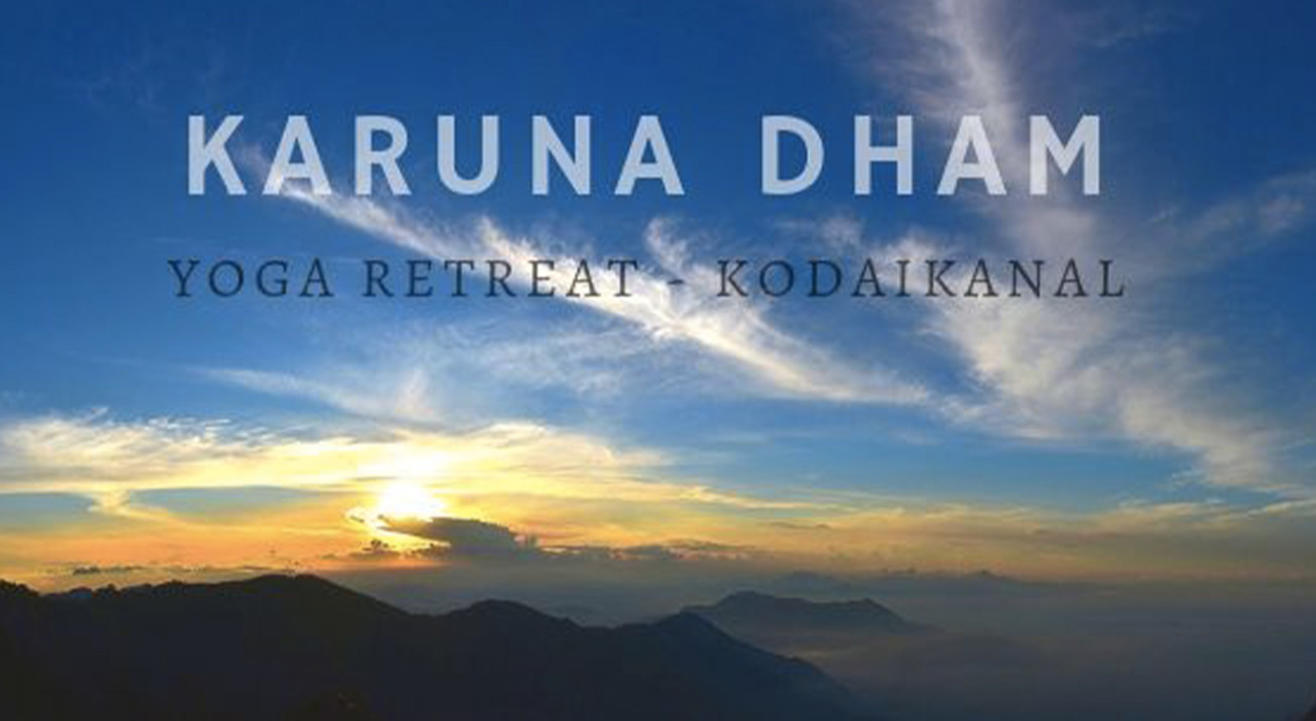 Adventure
3 Days Yoga Retreat At Karuna Dham - Kodaikanal
About
Karuna is a organic Farm Spread over 49 acres of Lush Green Forest called Audukkam in Kodaikanal also Know as Princess of Hills.
At Karuna Life is Harmonised with nature, taking care of your Mind Body & Soul without Compromising on Basic Amenities & Comfort. Karuna is a alternate way of living and it is also and life changing experience
This is the core purpose of Karuna. The ultimate purpose of all our activity is to fine tune the body & mind to relish the nectar of our true nature, i.e. Eternity, knowledge and bliss. Self sufficiency in food, energy and housing to keep the body going and for happiness we 'dig in', so a perfect balance of material and spiritual needs is maintained.
Imagine Your Self Staying in a beautiful Mountain house , Watching the Sunrise from your Bed, Doing Yoga near a Waterfall, Eating Satvik food, Learning Organic Farming, Picking Fresh Fruits grown on the farm, Trekking to Mountain Peaks, Singing Bhajans in the eve by the fire under Magical Skies of Kodaikanal.
All the rooms are ideally situated, clean and comfortable. Every room has solar lights, room heater and bathroom with ample water. Some travelers are tired of eating restaurant food, and relish cooking to their own taste, for which every room is provided with a fully equipped kitchen.
* No alcohol
* No non veg food
* Includes BF, Lunch, Evening Snacks & Dinner
* Please no loud music. We expect minimal noise after 10pm.
* On cloudy days there may be no power other than for lights. That means even cellphone charging may not be possible.
Highlights
Pranayama and meditation sessions
Daily yoga classes and asana workshops
Guidance and support of experienced yoga teachers
Lesson on Permaculture & Organic Farming
Simple Satvik food
Bhajans by the Fire
Last But not the least a Breath Taking View from your Rooms


Sample Daily Schedule
06:30 Pranayama or Asanas
08:30 Breakfast and free time
09:30 Theory, yoga philosophy, guided meditation, Permaculture
13:00 Lunch and free time
16:00 Asanas (yoga posture corrections), pranayama, and practices
18:40 Walk Around The Farm
19:40 Bhajans (Monday / Friday)
20:00 Dinner
Where will it take place?
Karuna Farms, Kodaikanal, Tamil Nadu
Getting There
By Train
Nearest stations are Madurai, Coimbatore, Kodai Road.
By Air
Nearest airports are:
Madurai: 150Km
Coimbatore 250Km
Bangalore 600Km
By Bus
The best option from Bangalore or Chennai is a sleeper bus.
As the Farm is located in Deep Jungle , Regular cars & other commercial vehicles cannot reach the interiors. There is a Special Pick up and Drop for all Participants from Kodaikanal Main city to the farm via a 4x4 Jeep.
Participants travelling by personal Vehicles,There is arrangement for parking in Kodaikanal City and then they can take the Jeep
Reporting Time - 10am - 20th September, Sunday
Location - Astoria Veg Restaurant - Kodaikanal Main City