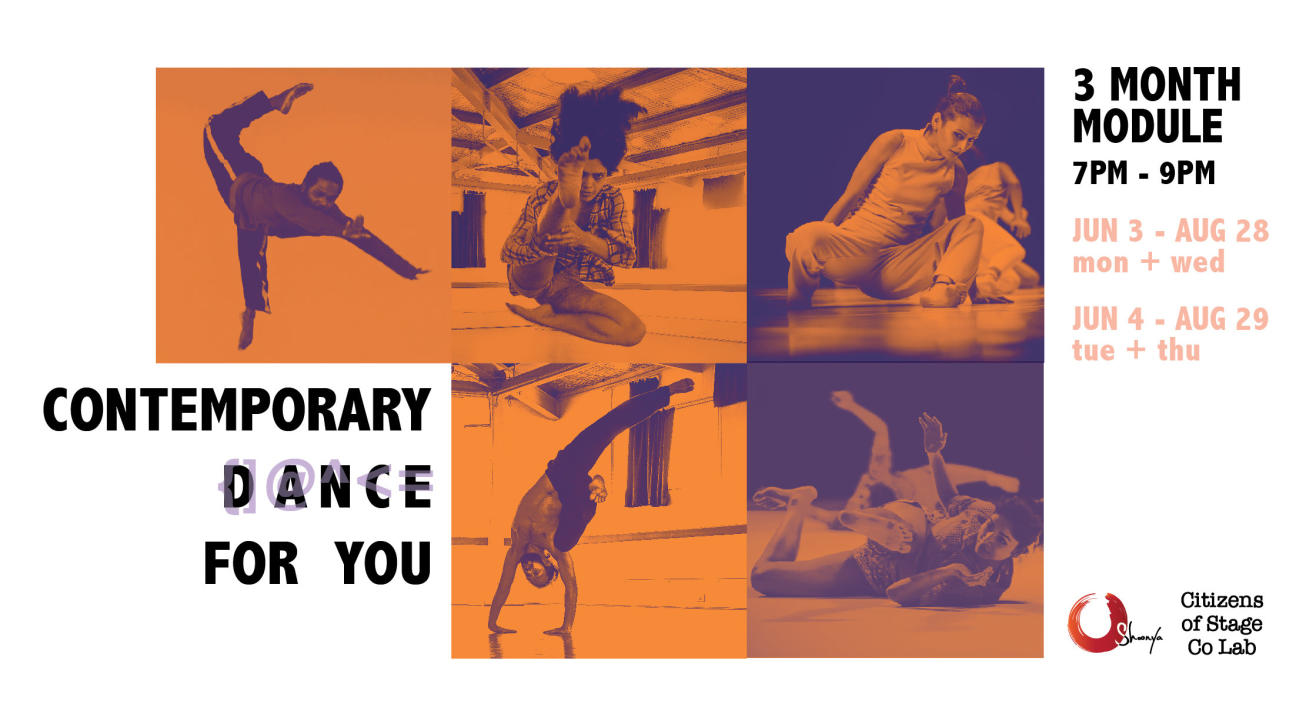 Dance
3 Month Contemporary Dance Module
Shoonya - Centre for Art and Somatic Practices, Bangalore
About
Have you been looking for a great way to get fit? Something post college or work hours? Look no further. Come learn dance from some of the very best dance teachers Bangalore has to offer. You can dive in without any prior experience, or continue your dance journey from any level. Get fit and strong in a super fun way, without breaking the bank or moving around your current schedule.
This is a contemporary class module led by some of the best teachers and performers in the city - 3 consistent months of training, 2, 3 or 4 times a week. The timing is designed to suit your office hours or college commitments.
Sign up for two days / week or pick any 3 days, or attend all 4 days. Classes are designed for beginners as well as trained dancers.
Mon & Wed led by Ajeesh, Snigdha, Rick over the course of 3 months.
Tue & Thu led by Snigdha, Ronita and Anindita over the course of 3 months.
Details:
Time: 7PM - 9PM
2-days/week = rs 2,900 / 1 month, rs 5,250 / 2 months, rs 7,500 / 3 months
3-days/week = rs 3,900 / 1 month, rs 7,000 / 2 months, rs 9,900 / 3 months
4-days/week = rs 4,500 / 1 month, rs 8,000 / 2 months, rs 10,900 / 3 months
Please note: We do not issue certificates for this course. It is about learning and forming a new relationship with your body through a new skill. The reward is inherent in the practise and validation will come - internally and externally. But, we can issue an official signed Letter of Attendance.
About Citizens of Stage Co Lab:
Citizens of Stage Co Lab is a collective of versatile, independent dancers who strive to share movement and dance with working professionals, students, artists, sportspeople, home makers, and the community at large. Based out of the state-of-the-art studios at Shoonya, Bangalore, it offers classes, workshops, and performances that combine technical skill, somatic awareness, and creativity. Ranging from mid-career artists to more recent entrants to the field, it is bound by the belief – Minds Evolve When Bodies Dance.
Venue
Shoonya - Centre for Art and Somatic Practices, Bangalore
4th Floor, Rear Wing, Brahmananda Court, #37 Lal Bagh Road, Bangalore
GET DIRECTIONS