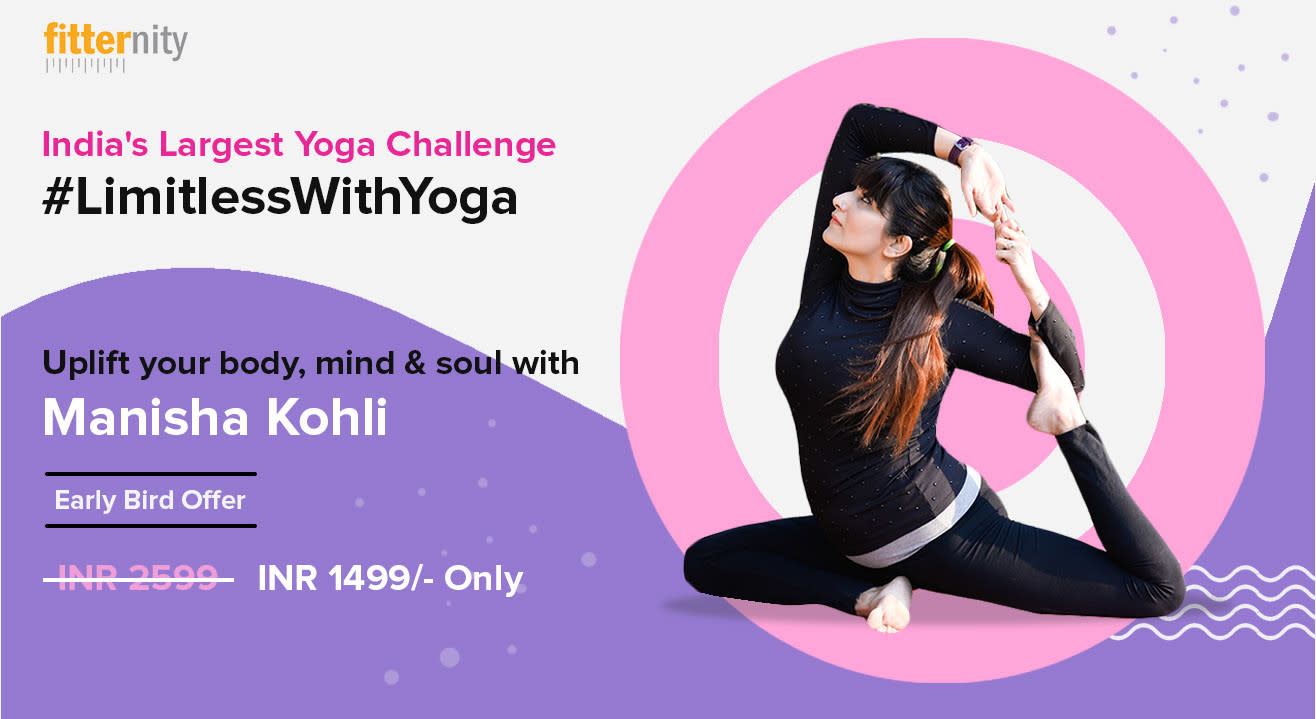 30 DAYS YOGA CHALLENGE With Manisha Kohli | Fitternity
Invite your friends
and enjoy a shared experience
Invite your friends
and enjoy a shared experience
About the Event
Introducing India's Largest Yoga Challenge!
Uplift your body, mind & soul with Manisha Kohli! Cultivate a healthy body, mind, and spirit. Feel rejuvenated after every session in this online 30 Days Yoga Challenge.
Get Live Workouts, Nutrition Guidance, Tracking & Support, Self Evolution and much more!
Free your true self and engage each part of your body!
About Manisha Kohli:
Manisha is a 200 RYT, Hatha Yoga Certified Instructor with experience in Vinyasa Yoga training & an Animal Flow Level 1 Certified Instructor, who likes to experiment with her flows and keep her practice dynamic yet injury-free. She is training with Aerial Physique for Aerial Silks and excelling in Meditation as a Level 4, Kriya Yoga student to undergo her initiation this month.
Know More About The Challenge:
#LimitlessWithYoga with Manisha Kohli is the perfect way to commit to your mat!
You will learn to build a strong foundation in Yoga and a variety of Flows, beautifully designed with easy variations for beginners or even participants with any prior injuries. This challenge will empower you with immense strength, balance, flexibility, & bring more mindfulness in your life leaving you feeling rejuvenated after every workout.
We assure you that you will be able to chart the difference in your happiness level, strength, and mind at the end of this challenge!
What You Get:
Live Classes: Embrace yourself with Manisha Kohli and commit to your mat for LIVE workout sessions in two batches daily (9.15 AM and 7.30 PM), so you can workout with constant supervision with no room for error.
Nutrition Guidance: A detailed diet plan that covers all daily meals, with 80+ recipes developed for veg and non-veg, will be provided along with any assistance required for Intermittent Fasting and Keto. All nutrition guidance will be anchored by Celebrity Dietician, Karena Adnani.
24x7 Tracking & Support: Consistently track your progress with an exclusive and Closed Group Chat with 24*7 support by top trainers and nutritionists, so you can solve every doubt along the way
Self-Evolution: Find your true self and by the end of this challenge, you will be able to clearly chart your happiness level, strength level, and mind.
How It Works:
#1 Enroll into the challenge and book your spot (limited participants in each challenge)
#2 Post enrollment, you will be added to an exclusive WhatsApp group where you will get daily workouts, coach support and meal plans
#3 Track yourself everyday & be part of the community with other participants to achieve the best version of yourself over these 30 days!