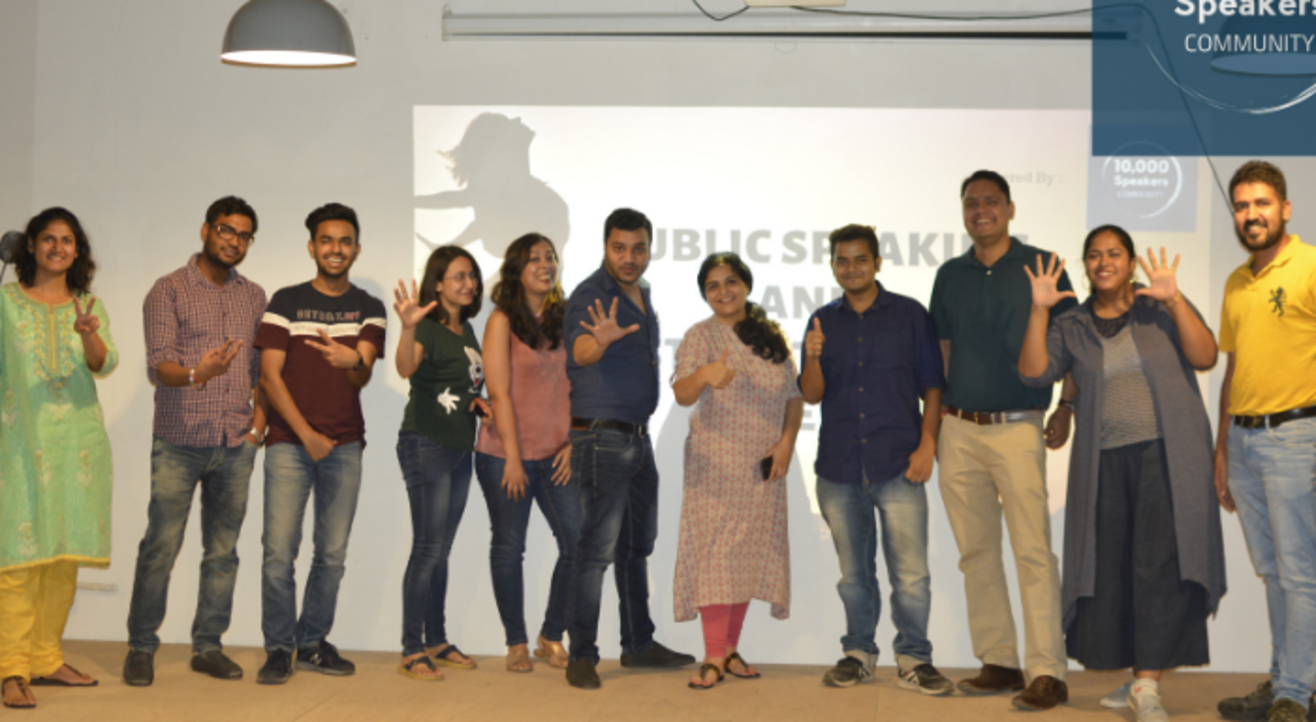 Self Improvement
35 Public Speaking and Storytelling Meetup
91springboard Udyog Vihar
About
Do you know your ideas can change someone's life?
Do you ever wish to be heard?
Do you know your experiences can be a turning point to someone's life?
Yes, it is true we have seen it happen at our community.
10,000 Speakers Community is public speaking and a storytelling community which help you bring out the awesome stories within you.
In short, the community with stories worth sharing.
What do we do?
We are nurturing a community where people get a chance to speak, express and connect with other amazing humans around in form of meetups and events. We are joined by people like you who are given an opportunity to speak and share their thoughts in front of a supportive audience .. a rare thing nowadays!
What happens at the meetup?
In an average duration of 2 hours, we follow an easy format where each participant gets a chance to speak and express their thoughts. Themes of the meetup range from Education, Career, Life , Relationships, Nation, Self, Environment, .. and many other topics which concern human society today.
Format of the meetup :
S- Say Hiiii! (Introduction round)
P- Put together your creativity (Story building session)
E- Express as a Speaker (Individual speeches)
A- Ask, answer and get Feedbacks (Feedback to your performance)
K- KaBoooooooom !!! - Food and Networking
Who joins our meetup?
We are joined by souls ranging from most uninteresting people to people having bone-chilling stories. We have categorized some of them as below. Look and see if someone of your kind visited us recently.
Enthusiastic Teachers
Eager Students :D
Calculating CAs
Dramatic Doctors
Only Engineers
ManmaujiFreelancers
Rock strongMountaineers
Thoughtful Business owners
Sarcastic Standup Comedians
Soothing Musician
Aalsi Artists
Bachco ko peetne waliHousewives
Lost Explorers
Ocean-deepThinkers
Unrestrained Blabbers
Problem-solving Moms
Dabangg Fighters
Rising Rockstars
Late-lateef Souls
Inquisitive Journalists
Timeless Trekkers
THE Public Speakers
Moving Motivators
Unconventional Youtubers
Jaan Se Pyaare Soldiers
Always-HighPilots
Deewane Dancers
Phew! That's a lot na ! .. we know. But many more are yet to be discovered
We are waiting for you. to see if you are someone from above or a completely new to our community.
Note: If you are interested to participate but you are not able to pay for the event - you can drop us a line and we will look into it.
So now you have read all about us - come join our upcoming meet up with your friends and share your story with the community.
Note: We have limited seats per meetups and tickets get sold out very quickly so hurry !!
Looking forward to seeing you :)
Happy life :D
Venue
91springboard Udyog Vihar
90B, Delhi - Jaipur Expy, Udyog Vihar, Sector 18, Gurugram, Haryana 122008
GET DIRECTIONS