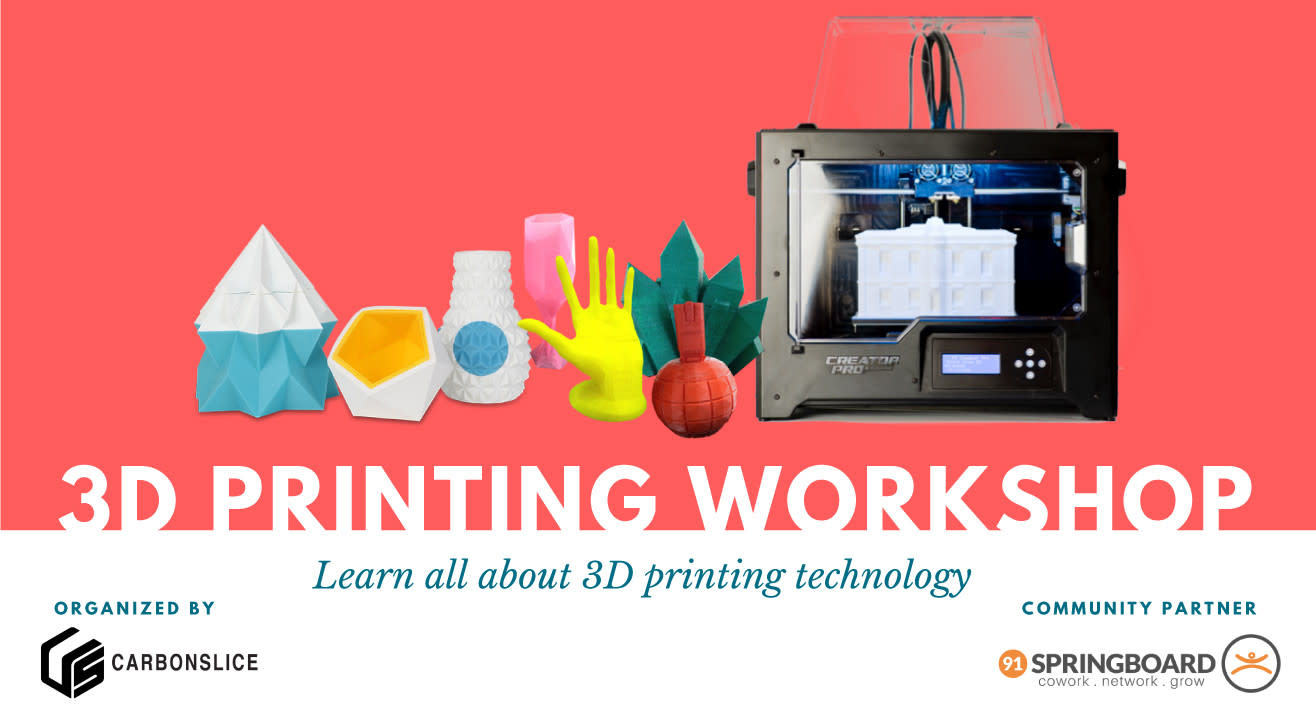 Learn
About
"If a picture is worth a thousand words, what's a 3D Print worth?"
Learn all about 3D printing with a certified workshop where you can learn about the highly disruptive technology that is blurring the limits of design and manufacturing possibilities. With hands on experience, attendees will be provided with the essential skills and knowledge required to successfully operate a 3D printer.
Participants also get to keep the part they 3D printed.
Who should attend?
Anyone with an open mind and a basic knowledge of operating a computer. 3D printing can be applied to almost all fields of study such as but not limited to engineering, medical, architectural, fashion, food technology, jewellery design, art and manufacturing.
This workshop will help you unlock new possibilities in your field.
Major outcomes:
1. Understand designing process for 3D printing
2. Best practices for 3D printing
3. Setting up a 3D print
4. Explore related career/entrepreneurial opportunities
5. Learn how to use a slicing software - Cura
6. Understand G-Code
7. Certificate on successful completion
Agenda:
1. Additive manufacturing and its advantages over traditional manufacturing
2. Case studies of applications ranging from prototyping to edible food printing
3. Brief dialog on various existing 3D printing technologies such as SLS and SLA
4. In depth discussion of FDM technology
5. Anatomy of a 3D printer with detailed discussion of printing processes
6. Design your 3D model, prepare it for printing using a slicing software
7. Learn how to setup the printer hardware
8. Print your 3D model and learn post processing techniques
9. Discussion of the future of 3D printing and career prospects
10. Q&A session with the attendees
What should you bring?
A laptop (Windows/Mac) and a mouse
A notebook and pen will be provided for you to take notes, if required. All software and other materials will be provided during the workshop.
NOTE: Lunch and refreshments will be provided at the venue free of charge.
About the Organisers:
"Carbonslice has taken an initiative to equip creative individuals with the knowledge of 3D modelling and 3D printing technology. Founded by mechanical engineers from University of Guelph and BITS Pilani, Carbonslice is helping individuals explore the disruption caused by 3D printing and the endless possibilities it brings. We intend to foster creativity and design aptitude by letting individuals work through the entire design process – concept to a tangible product."