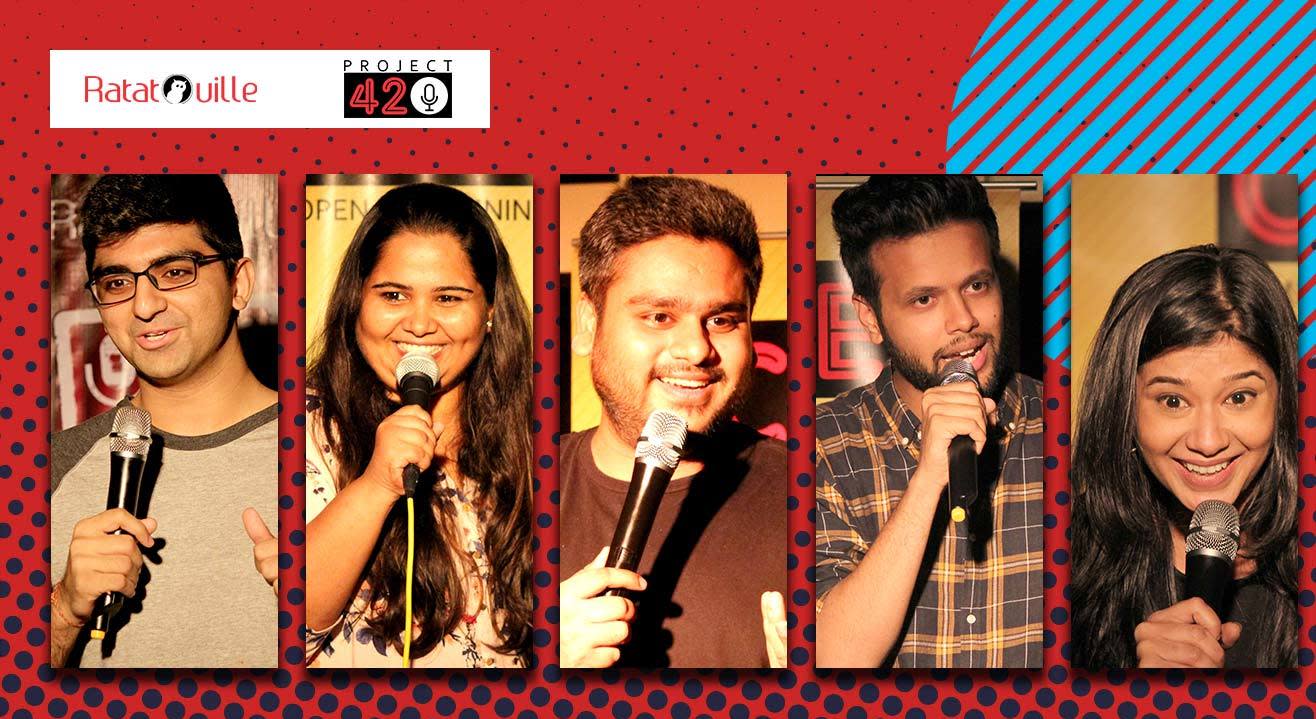 Comedy
About
420 Project presented by Ratatouille is where 4 stand-up comics make you laugh for 20 mins each. What better way to end your weekend? Get your friends or your colleagues or better still your boss and enjoy an evening filled with good vibes and laughter.
Artists info
Jeeya Sethi
Jeeya believes if you are fat once (by fat she means FAAAAT) you are fat forever, mentally you never become thin even after losing all the weight. An event manager turned stand-up comedian, improviser and actor, she has made entertainment her new life's mission since nothing else is going for her!
Sumukhi Suresh
The self-proclaimed Queen Latifah of India, Sumukhi Suresh is an Indian business development manager, theatre actress, sketch, comedian and improvisational actress from Bangalore. She is also a trained Kathak dancer. She is a motormouth Hindi speaking tamalayali. Since shaadi.com has rejected her profile, she is doing stand-up to hunt for a suitable groom. Rumour has it that she claims to cook well for strangers and then call them her friends. She derives her humor from her absence in the Gym and a previously mundane corporate.
Vaibhav Sethia
Vaibhav was cast out by the Marwari community after he decided to quit his high paying job, to do comedy. He admits he misses it. For the food. The people, not so much. Most of his jokes are renderings of what he calls ''bookmark moments'' from his life. That includes 5 ​of architecture in an IIT, the only girl he managed to talk to, and the 7 jobs he quit in the last two years.
Sapan Verma
Sapan Verma is one of India's youngest professional comedians, having done over 300 shows in the last three years. He has not only performed all across India, but also in Barcelona, Singapore and China. As one of the founding members of India's busiest comedy company East India Comedy, Sapan has regularly performed at various auditoriums, college festivals and corporate events.
Raunaq Rajani
Raunaq Rajani is a known comic artist. He has done many stand-up shows. A few to name are Open Mic + New Stuff, Best in Stand-up with Rahul Subramanian, Raunaq Rajani, Vinay Sharma and Andy Reghu, The Leftovers: Sindhi Quota, Best In Stand-Up with Tushar Singh, A Culture Shoq Stand-Up Guys Show With Raunaq Rajani, Navin Noronha and Vinay Sharma, A Culture Shoq Stand-Up Guys Show with Raunaq Rajani, Abbas Momin and Naveen Polishetty, Culture shoq's 18+ College Humour, Comedy on the Big Mic with Raunaq Rajani and Best in Stand-Up with Raunaq Rajani.
Venue
Studio Mojo
102 Kane Plaza, Chincholi Bunder Rd, Ram Nagar, Malad West, Mumbai, Maharashtra, Ram Nagar, Malad West, Mumbai, Maharashtra 400064