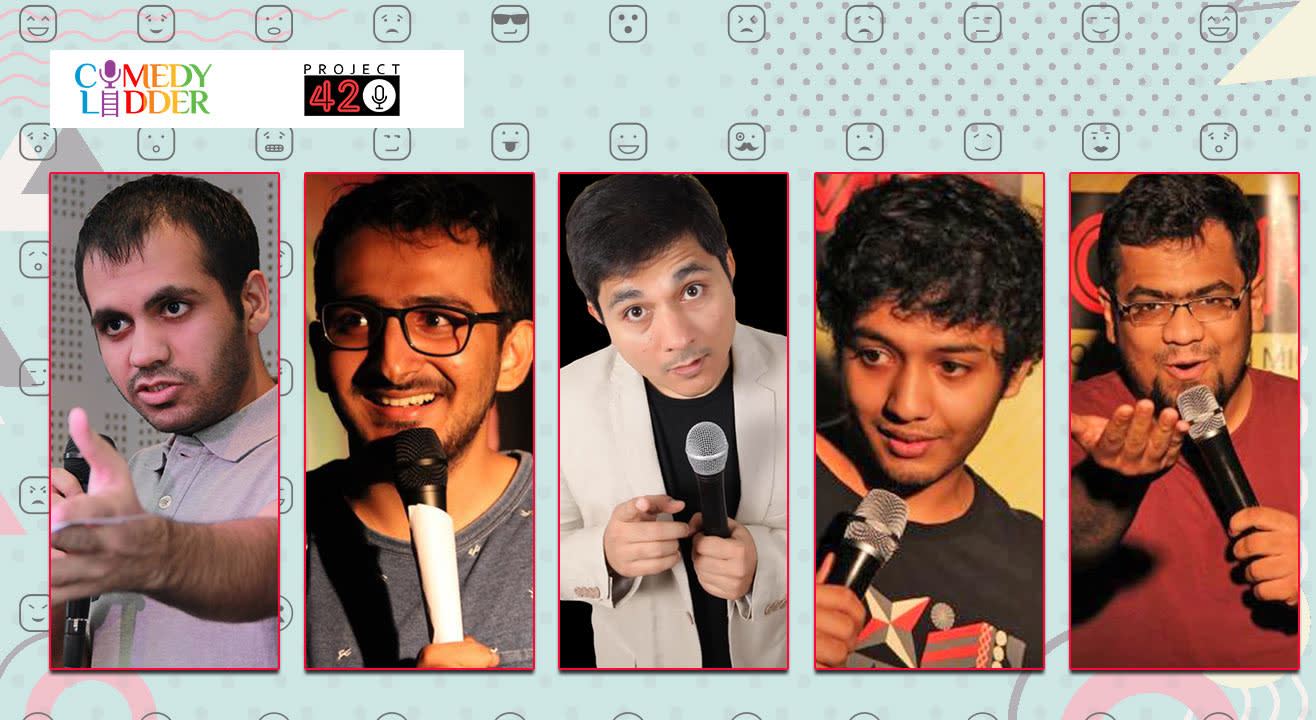 Comedy
420 Project
The Integral Space, Lower Parel
About
420 Project, presented by Comedy Ladder, is where four stand-up comics make you laugh for 20 minutes each.


With such funny comics, ending your week has never been better! What more can you ask for?


Come and bring all your friends for this fun experience of constant laughter!
Christopher Baretto
Christopher is an upcoming stand-up comic who is set to entertain you with misfortunate happenings in his life and jokes about them.

Kamlesh Dayalani
KD was born & raised in a middle class Sindhi family in a state which is known for people eating theplas in steel containers. He is Sindhi by name, Gujju by accent & Nepali by face; and with that, he takes the audience on a path to a laughter riot.
By mistake, he has an engineering degree from Mumbai University, and has ended up working in insurance (not an LIC agent, hold the stereotypes!).
He loves to make people laugh with his observations, his middle class stories and current affairs. There is no language for comedy but his specialty is Hinglish.
KD has performed on various stages in Dubai and Mumbai. He has opened comedy shows to some of India's best comics like Amit Tandon, Sahil Shah, Angad Singh Ranyal, Manan Desai, etc. He has done corporate comedy shows as well as family events in Dubai.

Bhavis Ailani
Bhavish Ailani is Sindhi by birth and funny by profession. Being an MBA like almost everyone else, Bhavish does not rely too much on his education to make a living. Instead he uses observational comedy and self-deprecating humour to make life bearable. Veteran of over one hundred ridiculous shows, most of which he has hosted himself, this is pretty much the only thing he is good at. Like most comics on the circuit, Bhavish has recently gone through a break-up. So please show him some love and assume everything said here is true.

Rueben Kaduskar
Rueben is a Maharashtrian with a Jewish name who drives a Tata Nano. A former mixologist, he's pretty sober for a comedian. His alter ego, Raju the waiter, has enthralled people and waiters all over the world.

Masoom Rajwani
Masoom Rajwani is one the youngest and most promising stand-up acts on the scene and one of the few Sindhis who refuses to do a Sindhi joke.
Comedy Ladder is the mothership to everything comedy! They organize events such as COME, (Comedy Open Mic Evening) FemaPalooza and Project 420.
Located in Lower Parel, The Integral Space is an ecosystem of integration, creation and well being. They believe in holistic health, wellness and self-healing with a spectrum of classes, workshops and events that fits the needs of body and mind.
Venue
The Integral Space, Lower Parel
The Integral Space, Opp Palladium Mall High Street Phoenix, 14 Janata Estate,, Senapati Bapat Marg, Lower Parel, Mumbai, Maharashtra 400013