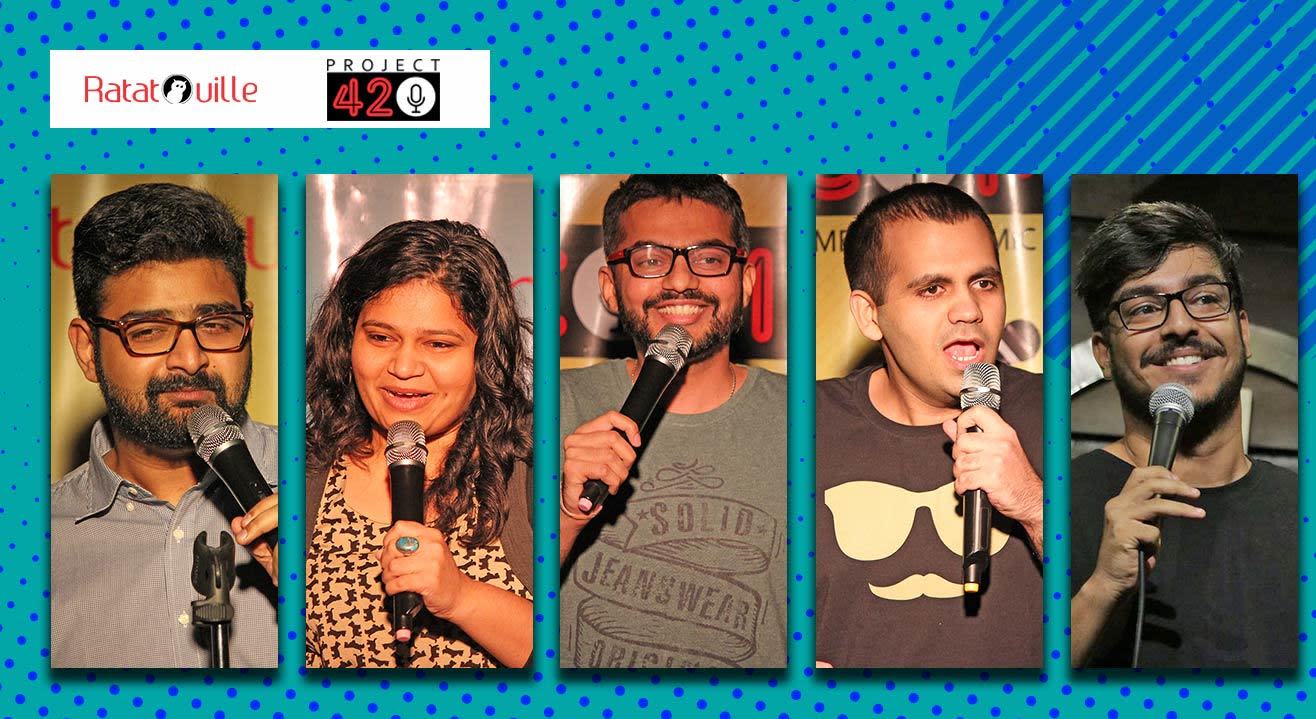 Step out and enjoy this event
Invite your friends
and enjoy a shared experience
Step out and enjoy this event
Invite your friends
and enjoy a shared experience
Invite your friends
and enjoy a shared experience
Artists info:
Kabir Chandra
Sales head for one of the country's leading music labels, Kabir also has been a radio jockey in his past avatars and responsible for being and honing some of India's very best on-air talent. He has been a theatre artist since his teens and a college stage sensation having won multiple awards for street plays from an early age. He is now among the most emerging voices in stand-up comedy in the city and a seasoned improviser.
Bhavish Ailani
Bhavish Ailani is Sindhi by birth and funny by profession. Being an MBA like almost everyone else, Bhavish does not rely too much on his education to make a living. Instead he uses observational comedy and self-deprecating humor to make life bearable. Veteran of over one hundred ridiculous shows, most of which he has hosted himself, this is pretty much the only thing he is good at. Like most comics on the circuit, Bhavish has recently gone through a break-up. So please show him some love and assume everything we've said here is true.
Mikhal Almeida
Mikhail is a writer, stand-up comedian, improviser and a 21 year-old student who has taken four years to get to the third year of his degree. When he's not making bad decisions regarding life he's busy being a mass consumer of Chicken Tikka. He now seeks validation by making strangers laugh.
Trupti Khamkar
Actor, comic and full-time single person Trupti Khamkar is a an established name in serious theatre and Marathi Television. But if you take life too seriously, you will never come out alive. Which is why after hit plays such as Piya Behrupiya that has played around the world and cult hits such as Fu Bai Fu, Trupti is stepping on to the stand-up stage. And she has already won every competition there is to win on the circuit. It gives her a much-needed break from the make-up and she can ham unapologetically. Trupti Khamkar ladies and gentlemen.
Kunal Rao
Kunal Rao is a retired Chartered Accountant who quit(!) his job during the recession to pursue his passion for comedy. Since he started in 2009, Kunal has quickly risen to the top 10 comedians of India, performing in 18 cities in India. His international career includes Nepal, Sri Lanka, Dubai and his aunt's living room in south Mumbai.
Studio Mojo
102 Kane Plaza, Chincholi Bunder Rd, Ram Nagar, Malad West, Mumbai, Maharashtra, Ram Nagar, Malad West, Mumbai, Maharashtra 400064
GET DIRECTIONS
Step out and enjoy this event
Invite your friends
and enjoy a shared experience