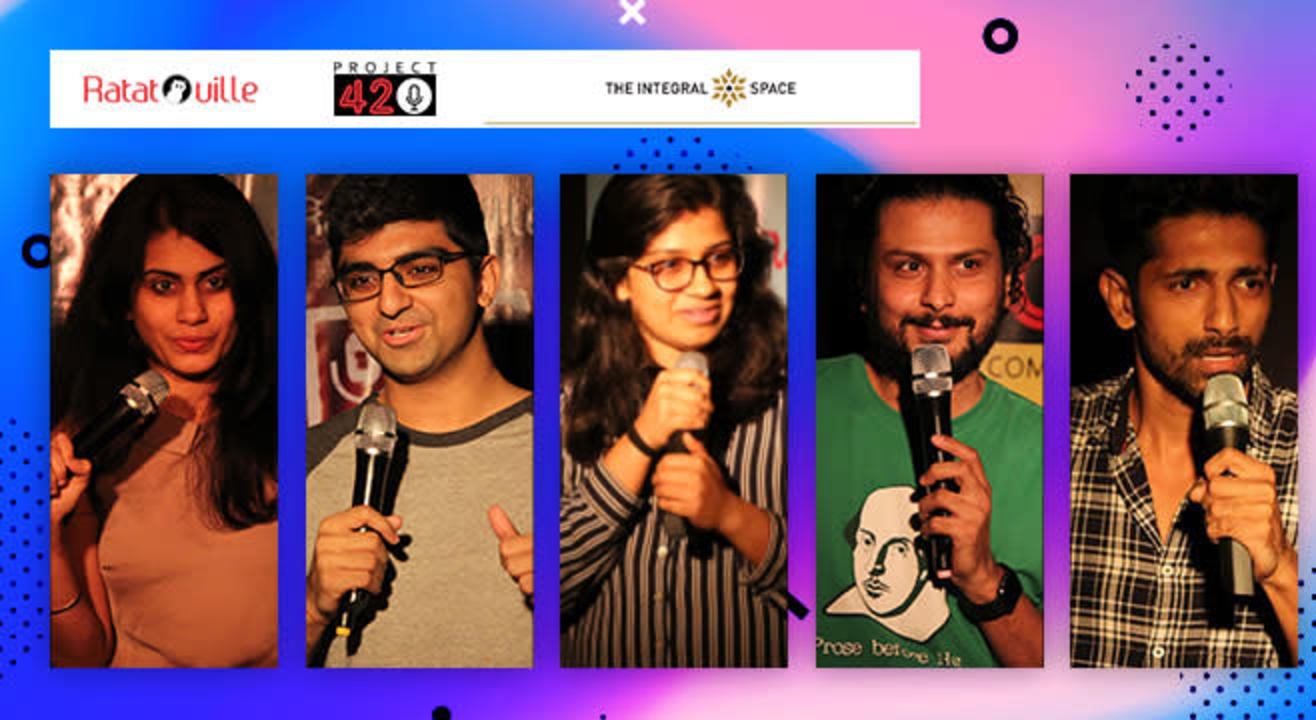 Comedy
420 Project
The Integral Space, Lower Parel
About
420 Project presented by Ratatouille, is where four stand-up comics make you laugh for 20 mins each. With such funny comics ending your week has never been better, what more can you ask for! Come and bring all your friends for this fun experience of constant laughter.
Artists info
Raunaq Rajani
Raunaq Rajani is a known comic artist. He has done many stand-up shows. A few to name are Open Mic + New Stuff, Best in Stand-up with Rahul Subramanian, Raunaq Rajani, Vinay Sharma and Andy Reghu, The Leftovers: Sindhi Quota, Best In Stand-Up with Tushar Singh, A Culture Shoq Stand-Up Guys Show With Raunaq Rajani, Navin Noronha and Vinay Sharma, A Culture Shoq Stand-Up Guys Show with Raunaq Rajani, Abbas Momin and Naveen Polishetty, Culture shoq's 18+ College Humour, Comedy on the Big Mic with Raunaq Rajani and Best in Stand-Up with Raunaq Rajani.
Prashasti Singh
Prashasti Singh is yet another IIM graduate searching for meaning outside academic excellence and material achievement. She is one-tenth of the choir group 'The Etceteras' and has already won several stand-up competitions on the Mumbai circuit. Between stand-up and Improv she has found space for expressing her small-town sensibilities amidst big town hustle. In the end, it may just turn out to be another Amethi to Andheri story but at least we had some good laughs along the way.
Pavitra Shetty
Pavitra Shetty is an undiscovered singer, upcoming stand-up artist and reportedly also a girl. To prove this, she has recently started a tag-team called The Sidechicks providing a disturbing look at what girls with unlimited WiFi connections can do. The biggest inspirations for her stand-up are her Mom, random aunts who keep visiting her place and her very own weighing scale. Already featured multiple times on television and radio, Pavvy is also part of hit Chalta Hai shows Dame Funny and Undateable. And she has an unnaturally high number of best friends who insisted that a new bio was written for her.
Shaurya Tyagi
Shaurya Tyagi is a stage actor and a freelance writer. Like the majority of the unambitious Indian population he too has an MBA degree, which may not promise him a job but would definitely get him a good marriage proposal.
Neville Shah
Neville Shah is a writer and one of India's most popular comics. A regular at the Canvas Laugh Club, he has performed both in India and abroad. He is half-Parsi and half-Gujarati, making him very confused and very angry. Often deprecating, Neville has a unique (read: strange) view on life. His insightful wit, conversational delivery and honest angst make his humor relatable and sometimes, oddly poignant. He also insists that he is his mother's son.
Venue
The Integral Space, Lower Parel
14, Janata Estate , Opp. Palladium Mall, Lower Parel West, Lower Parel, Mumbai, Maharashtra 400013