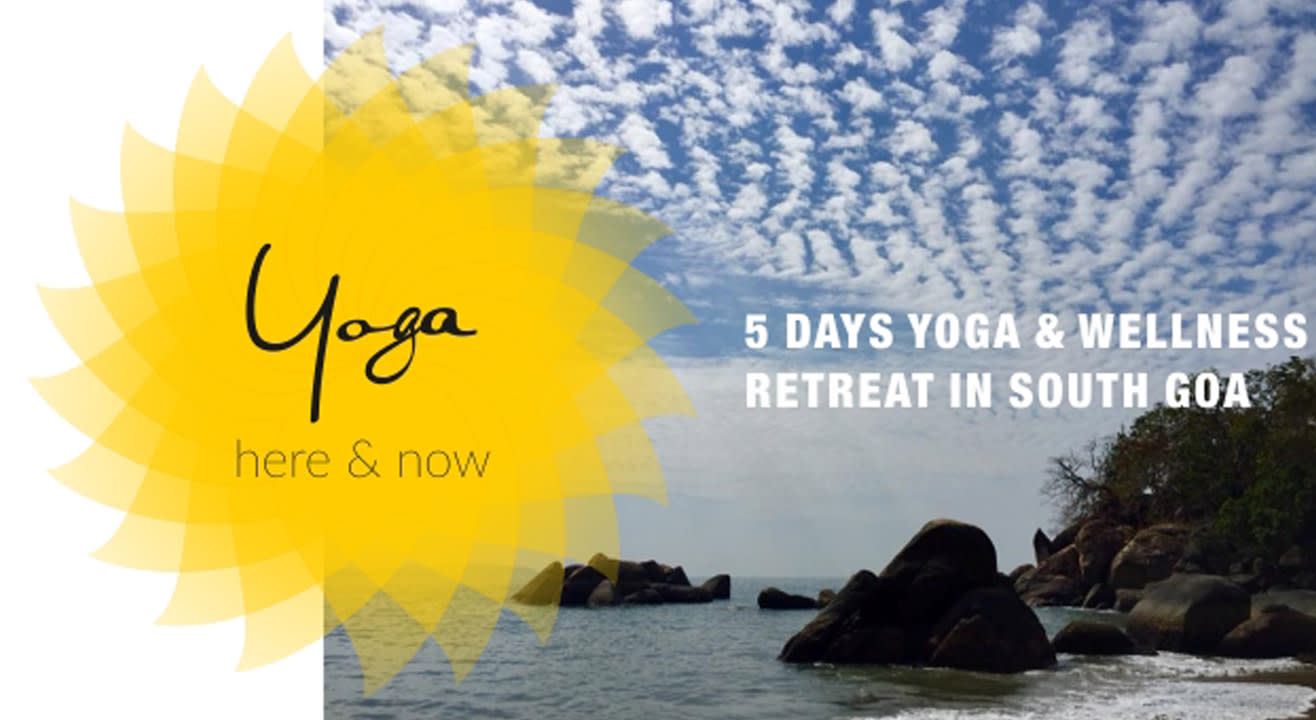 Self Improvement
5 Days Yoga & Wellness Retreat In South Goa
About
A perfect combination of Yoga and holiday in Goa. This four nights & five days retreat includes learning and experiencing different aspects of Yoga at a beautiful beach resort in South Goa. Start your day with beach meditation and every day explore a new activity to relax your mind and energize your soul. You will be served fresh vegetarian food made from the local produce which includes breakfast, lunch and afternoon tea. The evening, you have completely to yourself. Take a stroll on the beach, indulge in some retail therapy or try out a new restaurant. Enjoy as you unwind each day and feel the transformation to a happier you.
4 Nights stay on 2 persons/room sharing basis
Breakfast, lunch & afternoon tea + snacks
Yoga, Pranayama & Meditation sessions
Special session on Yogis Aahar
Charges to all activities mentioned in the itinerary
The retreat includes accommodation at a beautiful beach resort, on sharing basis for two persons in each room. The yoga studio is in the premises. Rooms are clean and spacious with AC.

Meals (included in the itinerary will be served at the beach restaurant with the beautiful view of the ocean. Breakfast, lunch and afternoon tea are included within in the programme. Food will be a fixed menu prepared by the best gourmet chefs in South Goa.
Morning & evening Asana & Pranayama sessions.
Boat rides to exotic beaches & backwaters.
Nature walks & treks. Beach Meditation.
Special class on Tai Chi Yoga
Stay at a beautiful beach resort.
Vegetarian meals prepared by best gourmet chefs in South Goa.
All sessions conducted by certified Yoga teachers and experts.
You begin your journey within, with the greatest teachers of all - 'Nature'. Settle in after introductions and orientation. Get ready for five days of exploring, transforming and adventure that will enhance your living to a more happier you.
Stay at one of the most famous beach resorts at Agonda beach in South Goa. Accommodation- 2 persons/ room (with AC) sharing basis. For separate room, charges as per the hotel tariff. Breakfast & lunch served, will be fixed menu. Restaurant charges applicable if you order anything extra.
Pickup & drop from airport can be arranged at 1500/- for small car and
2500/- for bigger vehicle. Amount to be paid directly to the driver.
Goa in April is hot & humid. Come prepared mentally and with all forms of sun protection.
Smoking & drinking during Yoga sessions & activities is strictly prohibited.
When outdoors, during activities or otherwise, please ensure to keep the surrounding clean. Carry (if any) plastic bags or bottles with you and throw in trash can only.
Get a nice massage or even better learn some massage techniques from a certified therapist.
Hire a bicycle and explore the small town of Agonda
Try out surfing or do paddle boarding on the waves
If you love animals, head out to the 'Animal Shelter' close by
Get creative and get your hands messy in a 'Charcoal Painting workshop'
Visit other beaches in South Goa
Indulge in some Goan shopping
Location & The Yoga Studio
Goa is about beautiful sunny beaches and it is also about lush green forests and hillocks spread across. The venue is located at one such paradise beach of Agonda in South Goa which has all there. Dunhill beach resort is one of the oldest and most famous resorts in South Goa. Come away to connect with your inner self through yoga and absorb in the beautiful surroundings.

Yoga practices won't be restricted to studio space. They are spread across multiple spots - on the beach, forest, backwaters, forest to get you more and more closer and in tune with the nature.