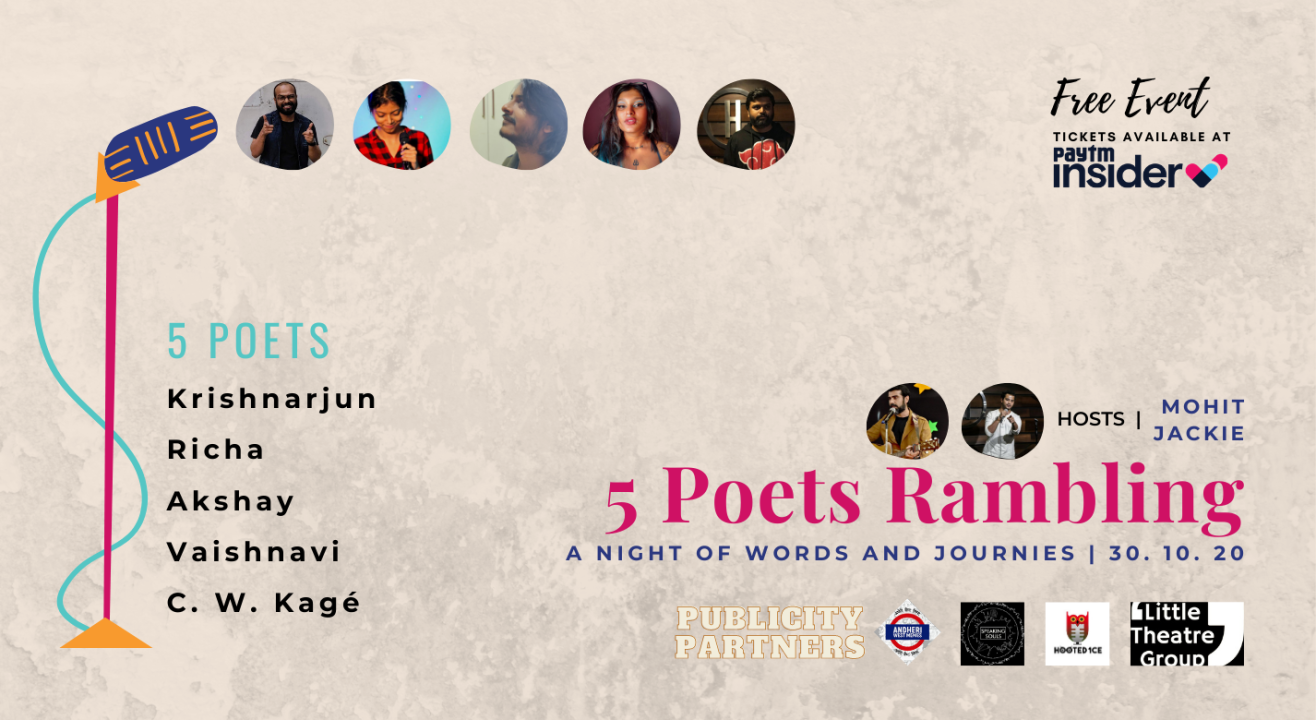 October 30 | 11PM - October 31 | 12AM
Enjoy this event from your home
Invite your friends
and enjoy a shared experience
Invite your friends
and enjoy a shared experience
About the Event
Prepare yourself for a night full of journeys.
An ensemble of poets will gently hold your hand and take you across the shades and contrasts of the world through their words.
Their ramblings will tell you stories, ask you questions, shed light on realities and leave you with a stimulated mind full of ideas and musings.
Poets
Krishnarjun: Author of the Tantric Trilogy and a fantasy/fiction writer who brings the same magic into his poetry.
Richa: Author of Rose-Tinted Glasses. She may sound like a simple girl lost in a big world, but really, she is the big world talking about the simple girl.
"Plastic flowers
basking in the sun—
sometimes they can melt."
Akshay: A script-writer and a poet looking for answers in the cement of culture and society.
"जब दिल ही खाली है, फिर
मेरे बाहर क्या, मेरे अंदर क्या।
जब प्यास बुझती ही नही,
फिर दरिया क्या समुन्दर क्या।"
Vaishnavi: Writer of the words i can't speak
"I collect fridge magnets and post cards
as souvenirs of the cities I find myself in,
and the cities collect my smiles"
C. W. Kagé: Author of Hikari, Kage is a script-writer and poet, identifying the mechanics of the world as he oscillates between what is and what isn't.
"Several time broken and put back together is fine.
Perfection is an illusion, and so is time!"
Hosted by the very talented Jackie Thakkar & Mohit Kumaram the evening is a fun bomb waiting to explode.