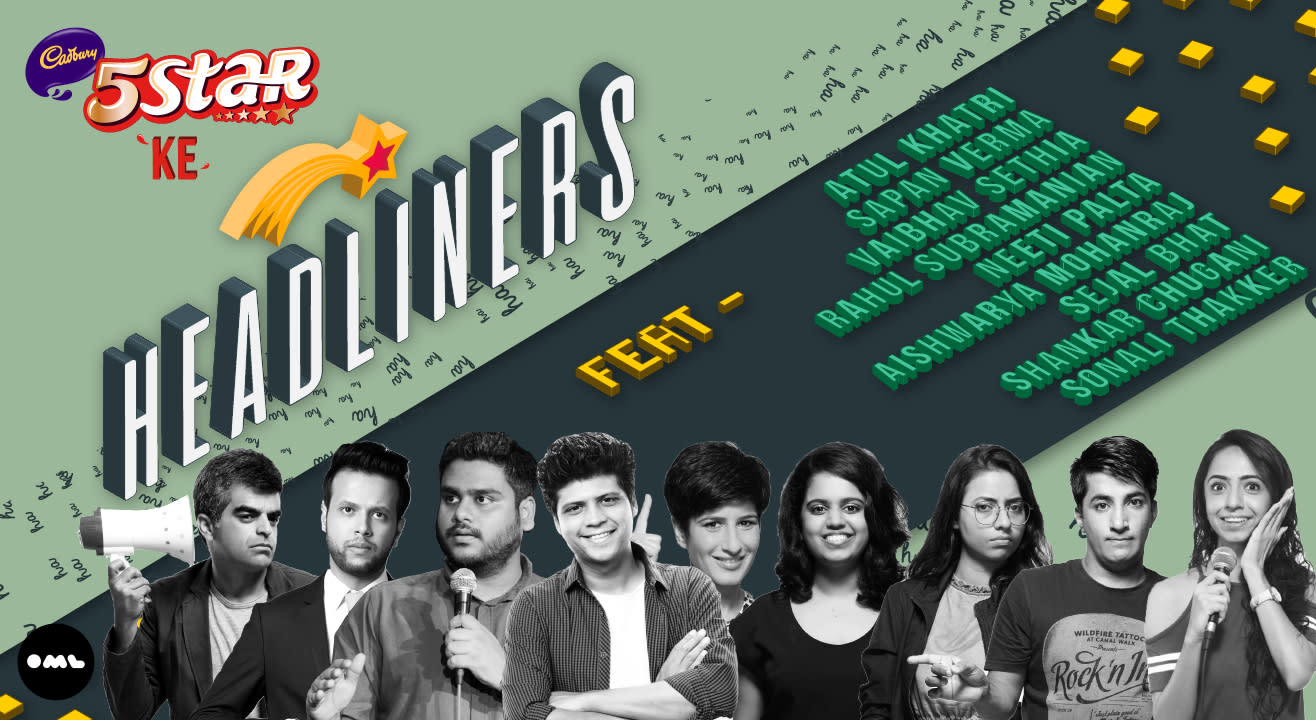 Comedy
5 Star ke Headliners Ft Aishwarya, Atul, Neeti, Rahul, Sapan, Shankar, Sejal, Sonali, Vaibhav
Sri Shanmukhananda Chandrasekarendra Saraswathi Auditorium, Sion
About
This is the ultimate in comedy! One night, nine top comics. It's a breathless evening of laughter. As soon as you're done ROFLing over one set, comes some LOLs from the next. It's a glorious celebration of some of the biggest names in comedy, all under one roof... A roof that is constantly in danger of falling down because of all the laughter that ensues.
5 lucky buyers will get to meet and greet the lineup of Headliners!
10 Minutes
Aishwarya Mohanraj is a standup comedian and writer. Aishwarya was one of the top 10 contestants in Comicstaan and since then has written for shows like Son of Abish, Behti Naak and On Air with AIB. She has performed in various comedy venues such as Canvas Laugh Club and NCPA. Also, she can recite the alphabet backwards.
15 Minutes
Can businessmen be funny? Yes. Meet Atul Khatri, a middle-aged businessman-turned-comedian who now makes a living making people laugh harder than they ever have. A former member of one of the country's leading comedy collectives, East India Comedy, Atul has often been spotted on their YouTube series like EIC Outrage, and specials such as EIC vs Bollywood. Bringing his 40+-year-old perspective with every show, he performs regularly at comedy clubs and does private shows in India and abroad. The comedian has showcased his skills at the prestigious Utrecht International Comedy Festival in the Netherlands and Belgium, and at the 8th Annual Hong Kong International Comedy Festival in 2014. CNN-IBN recently rated him as one of the Top 20 Comedians in India to Watch Out For, post winning the competition CEOs Got Talent.
15 Minutes
Neeti brings to the English stand-up comedy scene in India what it sorely lacks – A FEMALE PERSPECTIVE. Her comedy has a universal appeal across borders, cultures and age groups. Being part of the English comedy scene since its inception in India, she is a homegrown talent who enjoys the reputation of bexing "that cheeky girl". Drawing influences from real life, humans and our innate Indian-ness, Neeti's comedy is an honest and clean account of her experiences and feelings.
15 Minutes
Sapan Verma is one of India's most popular English stand-up comedians and also the co-founder of the East India Comedy, one of India's leading comedy collectives. He has done over 700 live shows in the last five years, in all over India and also in New York, Paris, Barcelona, Dubai, Singapore and China. He was also a regular presenter on NDTV Prime's news comedy show The Bottom Line. In 2016, he released his Amazon Prime Video comedy special, Obsessive Comedic Disorder, and can often be spotted making puns. #thatsright.
10 Minutes
As a kid, Shankar Chugani was distressingly short and easily intimidated. Now, he's still short, but less easily intimidated, and busy making people laugh. Over the last 5 years, Shankar's high energy performances have entertained people across the country - from small open mics to massive audiences in Mumbai, Bangalore, Chennai and Pune. Come join them to find out what it feels like to be a small town boy forced to dance as a girl, amongst other stories
10 Minutes
Sejal Bhat is a stand-up comedian from Bangalore who uses comedy to fill the void where her soul should be. She was a top 10 finalist in Amazon Prime Video's comicstaan and has performed all over India. A former Analyst and editor, she firmly believes in having no concrete beliefs.
10 Minutes
Part-time stock-broker, a dance enthusiast and a full-time Gujju who performs comedy on the weekends, Sonali Thakker is an exciting new comedy talent in the town. Talking about grave topics like travelling, shopping and chaprigiri in her sets, Sonali's has performed on the biggest of stages including Canvas Laugh Club and NCPA. In 2017, she took her special 'Almost There' to stage across the country.
10 Minutes
"V for Vaibhav, V for variety. From smokers, suicide and solitude, and design of cockroaches and humans, and cats, to vegetarians, pilots and bikers, comedian Vaibhav Sethia's stand-up sets cover all possible topics with his jokes and stories. He is an ex-Marwari who was banished from the community for being too funny (their stomachs were hurting too much from laughing 24*7). The comedian has performed at all the popular comedy haunts, like the Canvas Laugh Club, and has won popular contests like the Pajama Fest Open-Mic in 2014. Vaibhav released his one hour special ""Don't"" in 2018 on Amazon Prime Video which has been well recieved. The Kolkata-raised, IIT-Rourkee graduate has previously worked as a writer and an assistant director, after he quit his money-minting oil company job. He co-founded Comedified in 2014, with fellow comedian Anirban Dasgupta, Kolkata's most popular comedy group, and was instrumental in starting a comedy scene in the city, leading to as many five open-mics every week, when there were none.
15 minutes
Rahul Subramanian is a brand-manager-turned-comedian who realised a little too late in life that he was too redundant for the corporate world. Since this realisation, he has been a regular at all the leading comedy venues not only within the country but also abroad in cities like Melbourne, Hong Kong and Singapore. If you are someone who enjoys humour with a message then Rahul's comedy is made just for you, only disclaimer being you've to come up with a message of your own as Rahul has none to offer. This Mumbai-based comedian has been performing since 2014, as he broke into the scene by winning stand up competitions like Virgin Pants and Canvas Laugh Club (All India open-mics) and also the first ever YouTube Comedy Hunt (sketch video competition) along with his friend Kumar Varun for their channel Random Chikibum He has also released his one hour stand up special Kal Main Udega on Amazon Prime Video which received critical acclaim.When he is not doing stand up, or acting in videos by Random Chikibum or All India Bakchod, you will see him pursuing his hobbies which include seeing, waiting, and getting stuck in traffic, all things that help him write better jokes and sketches that make you go "that's happened to me too!"
Venue
Sri Shanmukhananda Chandrasekarendra Saraswathi Auditorium, Sion
Plot No 292, Comrade Harbanslal Marg, Sion East, Mumbai, Maharashtra 400037