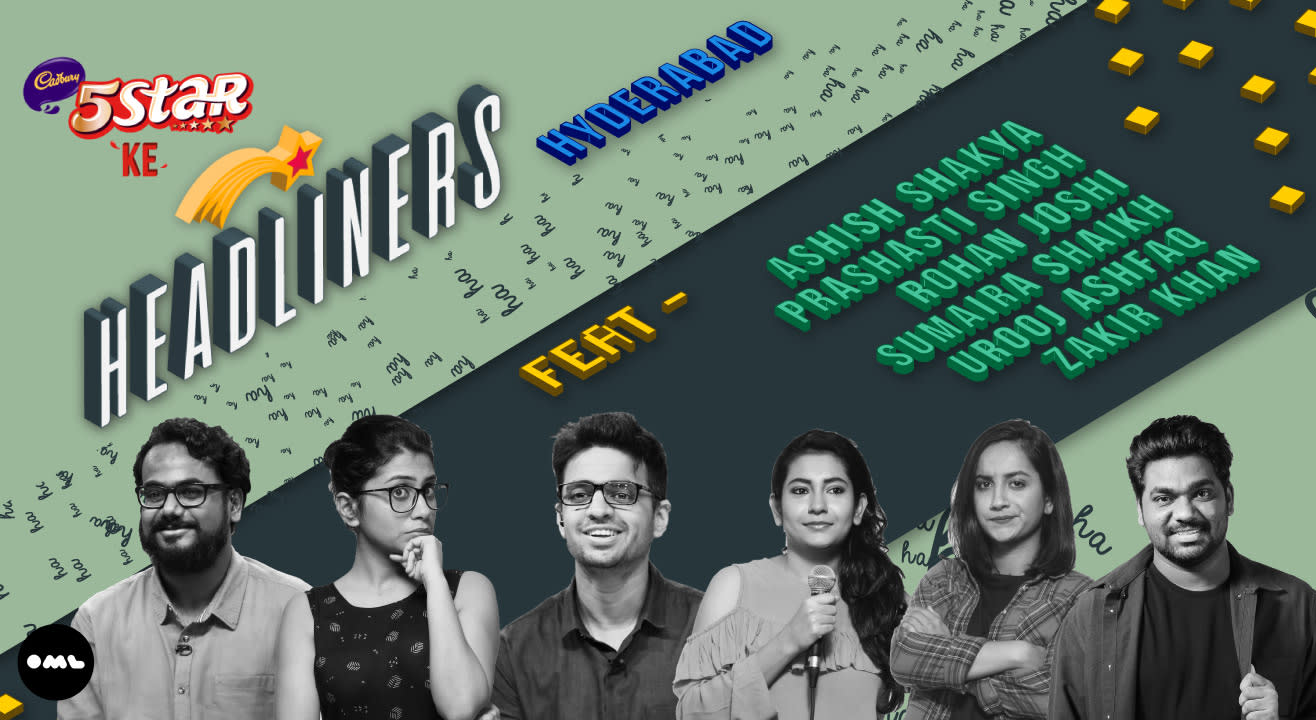 5 Star Ke Headliners, Hyd. ft. Ashish, Prashasti, Rohan, Sumaira, Urooj, Zakir
Shilpakala Vedika, Hyderabad
Step out and enjoy this event
Invite your friends
and enjoy a shared experience
5 Star Ke Headliners, Hyd. ft. Ashish, Prashasti, Rohan, Sumaira, Urooj, Zakir
Shilpakala Vedika, Hyderabad
Step out and enjoy this event
Invite your friends
and enjoy a shared experience
Invite your friends
and enjoy a shared experience
This is the ultimate in comedy! One night, Six top comics. It's a breathless evening of laughter. As soon as you're done ROFLing over one set, comes some LOLs from the next. It's a glorious celebration of some of the biggest names in comedy, all under one roof... A roof that is constantly in danger of falling down because of all the laughter that ensues.
In 2006, Ashish Shakya discarded his freshly-minted engineering degree and became a full-time comedy writer – a favour for which the science community is still grateful. Stand-up followed soon after because the instant approval of strangers was amazing and also pants are optional. As a member of AIB, India's most well-known comedy collective, Ashish has been part of ambitious projects such as AIB Knockout - India's first ever comedy roast featuring Bollywood A-listers like Karan Johar, Arjun Kapoor and Ranveer Singh. He's also co-helmed two seasons of On Air With AIB, an acclaimed news comedy show telecast on primetime TV and Hotstar. His weekly humour column in The Hindustan Times also earned a devoted following during its six-year-run. As a stand-up comic with hundreds of shows under his belt, he has brought the house down in venues across India, Singapore, Dubai, Australia and the UK, and is currently seeking his next big stage thrill.
Prashasti Singh is a stand-up comic, writer, actor and improviser, who you've most recently seen in Amazon Prime Video's Comicstaan. She has been active in the Mumbai comedy circuit since 2015. She has 3 years of experience in improv comedy and 2 years in stand-up, performing across venues like Canvas Laugh Club, NCPA and the Cuckoo Club. Prior to comedy she has dabbled with theater and has performed at venues like Kamani auditorium in Delhi and Rangamandira in Bangalore. Prashasti has a degree in engineering from Delhi university and MBA from IIM Lucknow. She has worked with a Television Broadcast company for 4 years understanding and creating content for the heartland consumer.Modesty is clearly not her forte.
Rohan Joshi is a member of popular comedy collective AIB. As part of AIB, he has been a part of the collective's ambitious projects such as AIB Knockout (India's first ever comedy roast), AIB Diwas (a full-day open-air comedy show), On Air with AIB (the satirical news show telecast on primetime television and Hotstar), and AIB Presents Royal Turds (a Bollywood-themed spoof award show). One of the earliest stand-up comics in the country, he was on the Times of India's list of top ten comedians in India in 2012, with over 250 shows at premier venues in India and internationally. He performs regularly for corporate clients across India. Rohan has co-written the prestigious Filmfare awards. Excitingly for fans, he has returned to the stand-up stage in 2017, and is trying out new material.
Sumaira Shaikh is a Dongri-bred psychology graduate who gave up being a counsellor and decided to focus all her energies on Stand up comedy and content creation. Along with hitting open mics she has worked with AIB and as a writer on Son of Abish. She then joined Sumukhi Suresh to write Amazon Prime Exclusive- Pushpavalli, HotStar Exclusive- Beauty and the Feast and is currently working on multiple titles with her. She is also script supervisor for Sumukhi's YouTube series Behti Naak. When she isn't writing content or performing she watches wildlife documentaries and takes her mother's fabulous cooking for granted.
Urooj Ashfaq is one of the most sought after young talent, among the new generation of comics taking the scene by the storm. Urooj is a 22 year old girl from Bombay, who found her first claim to fame through the TLC show, Queens of Comedy, where she was one of the finalists and a comedy force to reckon with. After the success of the show, Urooj has travelled across the country with her stand up act and performed along side some of the stalwarts, like Kanan Gill, Kenny Sebastian & Biswa Kalyan Rath. Apart from stand up comdey, Urooj has also worked on numerous projects as a comedy writer and put her wits to best use, in both fiction & non-fiction formats. She has also acted in multiple comedy properties (AIB's If Apps were people, When some is sick sketches).
Zakir Khan is one of the the brightest comedians in the country, as proven by the massive success of his recent Haq Se Single tour, and the Amazon Prime special of the same name. Zakir created waves in 2016 with his appearance on AIB Diwas, as he swiftly went on to become what AIB founder Tanmay Bhat describes as "The biggest stand-up comedy act in India. Period". A writer by profession, this 'Confused Desi' serves his take on modern India, with a hard-to-resist style of humour that'll have you nodding your heads and clapping as you'll relate to everything he says. One of the few comedians to consistently sell out venues across the country with his hard-to-resist rustic humor, Zakir Khan's phenomenal rise as one of the most popular comedians in the country is nothing short of extraordinary. Over the last year, he has sold 50,000 tickets with over 100 shows in clubs, colleges and arenas. Called a pioneer of storytelling in Indian comedy, his take on modern India will have you nodding and clapping repeatedly. One of the few comics to India to do stand-up almost entirely in Hindi, Zakir is indeed a unique act, and it's easy to see why. Zakir is currently hopping from one city to another while performing his stand up special called Kaksha Gyarvi. At the same time, he is also featuring on a stand up showcase with fellow comedian Abish Mathew called Special Showcase.
Shilpakala Vedika
Hi Tech City Main Road, Near Cyber Towers, Madhapur, Jubilee Enclave, HITEC City, Hyderabad, Telangana 500081
GET DIRECTIONS
5 Star Ke Headliners, Hyd. ft. Ashish, Prashasti, Rohan, Sumaira, Urooj, Zakir
Shilpakala Vedika, Hyderabad
Step out and enjoy this event
Invite your friends
and enjoy a shared experience