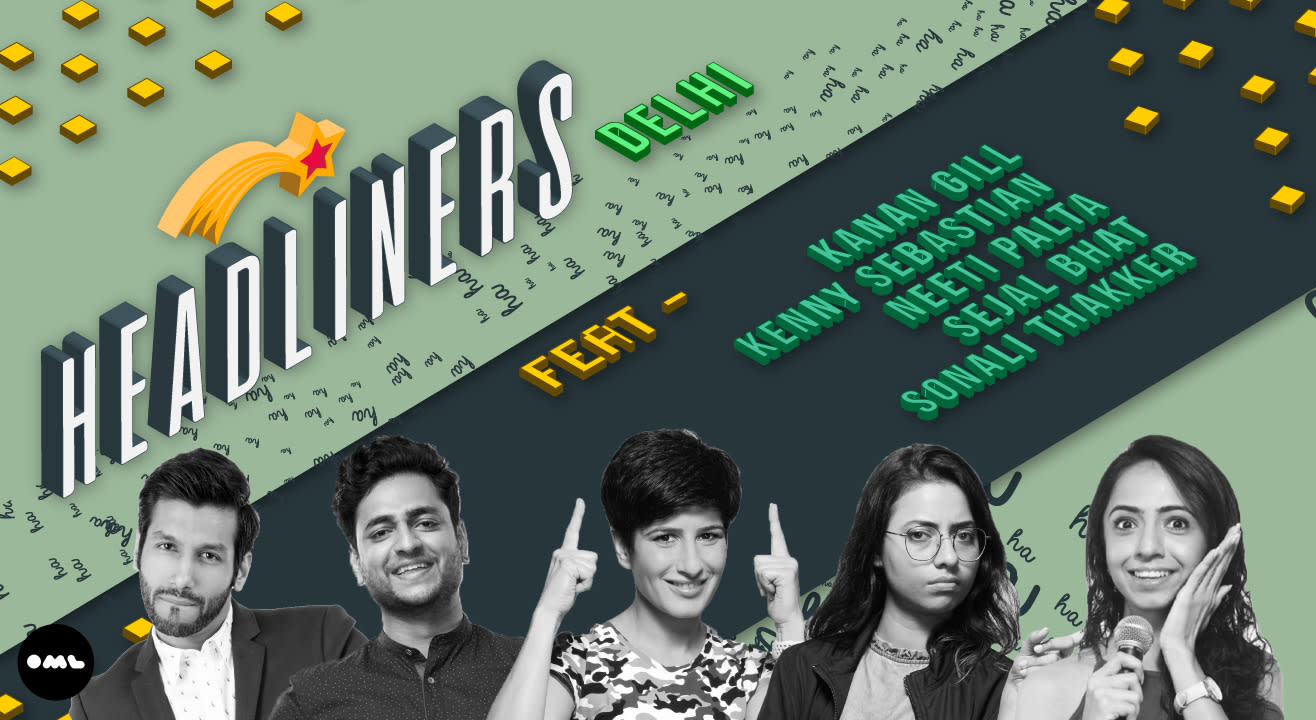 Headliners Ft Kanan Gill, Kenny Sebastian, Neeti Palta,Sejal Bhat, Sonali Thakker
Siri Fort Auditorium, Delhi
Step out and enjoy this event
Invite your friends
and enjoy a shared experience
Headliners Ft Kanan Gill, Kenny Sebastian, Neeti Palta,Sejal Bhat, Sonali Thakker
Siri Fort Auditorium, Delhi
Step out and enjoy this event
Invite your friends
and enjoy a shared experience
Invite your friends
and enjoy a shared experience
This is the ultimate in comedy! One night, 5 top comics. It's a breathless evening of laughter. As soon as you're done ROFLing over one set, comes some LOLs from the next. It's a glorious celebration of some of the biggest names in comedy, all under one roof... A roof that is constantly in danger of falling down because of all the laughter that ensues.
20 Minutes
With his razor-sharp wit, Kanan is one of India's most popular sketch and stand-up comedians in the country. The Mumbai-based comic has performed over a 1000 shows around the world and his recent comedy special, Keep It Real, was received with rave reviews. The man (who was only a boy back then) shot to fame with the hit Pretentious Movie Reviews series, with fellow comedian Biswa Kalyan Rath. He also dabbles in sketch comedy (acted in How Insensitive! and the acclaimed mockumentary Better Life Foundation by Them Boxer Shorts) and stand-up (toured India with two hour-long shows: Feeling with Kanan, and All Correct Opinions). He made his Bollywood debut with the 2017 release, Noor.
20 Minutes
With a great sense of humour touching on everyday topics, a singing voice and a rare ability to make the stiffest faces smirk, Kenny Sebastian has the world at his feet. The Bangalore-based stand-up comedian is arguably one of the biggest comedy acts in the country, creating content fit for both the Internet and the stage. When not directing short films, the comedian is performing at leading venues like Canvas Laugh Factory (Mumbai) and has delivered over 1000 shows around the world. Kenny is one of the forefront members of Bangalore's comedy group- The Polished Bottoms, with comedians Sundeep Rao, Sanjay Manaktala and Praveen Kumar. His Internet prowess is seen in his Amazon special, Don't be That Guy, along with the sci-fi comedy web series Starboyz, and Comedy Central's The Living Room. This year, Kenny premiered a new show named 'Die Trying' on Amazon Video and is on the panel of judges for Comicstaan, a nine episode series, to mentor and find India's next comic sensation! And finally, he has an adoring female fan base as well!
20 Minutes
Neeti brings to the English stand-up comedy scene in India what it sorely lacks – A FEMALE PERSPECTIVE. Her comedy has a universal appeal across borders, cultures and age groups. Being part of the English comedy scene since its inception in India, she is a homegrown talent who enjoys the reputation of bexing "that cheeky girl". Drawing influences from real life, humans and our innate Indian-ness, Neeti's comedy is an honest and clean account of her experiences and feelings.
20 Minutes
Sejal Bhat is a stand-up comedian from Bangalore who uses comedy to fill the void where her soul should be. She was a top 10 finalist in Amazon Prime Video's comicstaan and has performed all over India. A former Analyst and editor, she firmly believes in having no concrete beliefs.
20 Minutes
Part-time stock-broker, a dance enthusiast and a full-time Gujju who performs comedy on the weekends, Sonali Thakker is an exciting new comedy talent in the town. Talking about grave topics like travelling, shopping and chaprigiri in her sets, Sonali's has performed on the biggest of stages including Canvas Laugh Club and NCPA.
Siri Fort Auditorium
August Kranti Marg, Siri Institutional Area, Siri Fort Institutional Area, Siri Fort, New Delhi, Delhi 110049
GET DIRECTIONS
Headliners Ft Kanan Gill, Kenny Sebastian, Neeti Palta,Sejal Bhat, Sonali Thakker
Siri Fort Auditorium, Delhi
Step out and enjoy this event
Invite your friends
and enjoy a shared experience