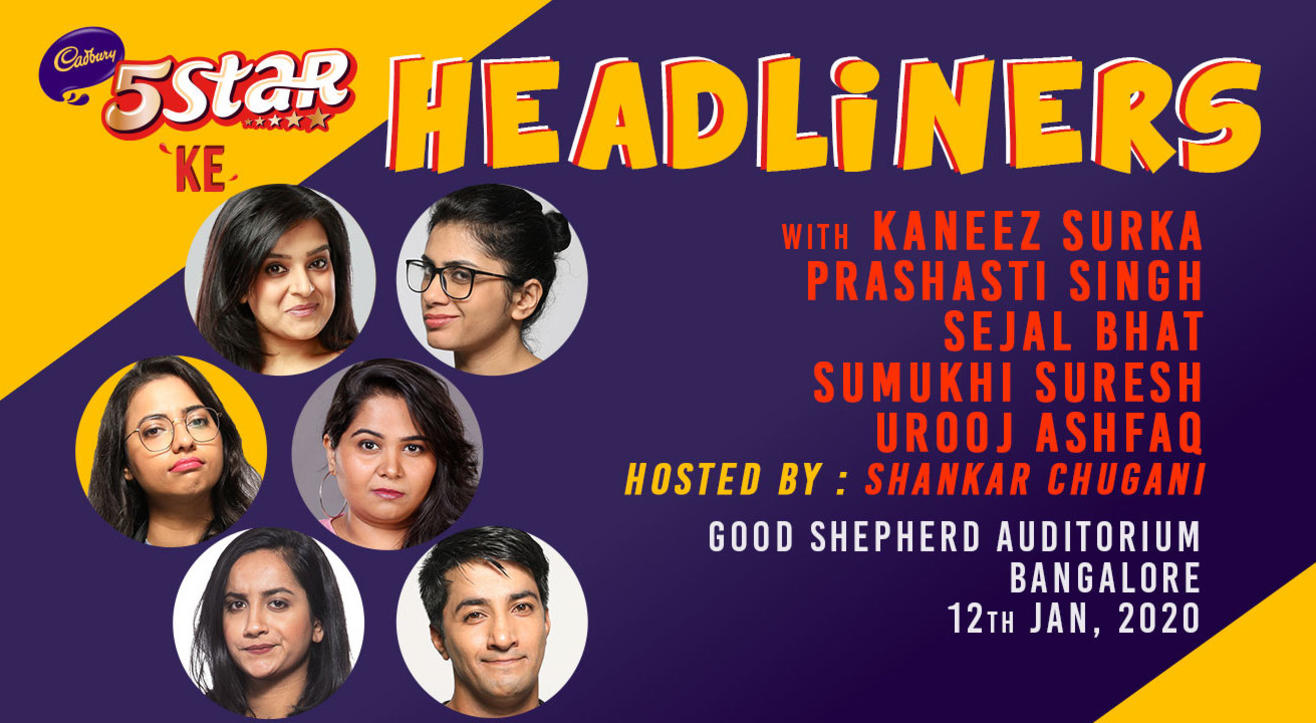 Comedy
5 Star Ke Headliners ft Kaneez, Prashasti, Sejal, Sumukhi , Urooj and Shankar | Bangalore
Good Shepherd Auditorium, Bangalore
About
This is the ultimate in comedy! One night, Six top comics. It's a breathless evening of laughter. As soon as you're done ROFLing over one set, comes some LOLs from the next. It's a glorious celebration of some of the biggest names in comedy, all under one roof... A roof that is constantly in danger of falling down because of all the laughter that ensues.
Artist Line-up and their description:
Kaneez Surka
Kaneez Surka is an improviser, comedy actor, sketch artist and stand-up comedian. She is India's first female improviser and has been associated with The Improvisers collective since 2009, along with comedians Abish Mathew, Kanan Gill and Kenny Sebastian. She's been invited to four international Improv Festivals, ones in Amsterdam, Berlin, Seattle and Toronto. Currently, she hosts a game-show called The General Fun Game Show, which has featured popular comics Kanan Gill, Biswa Kalyan Rath, Tanmay Bhat, Rohan Joshi, Abish Mathew, Zakir Khan and several others. In 2014,Kaneez began conducting improv workshops all around the country, expanding the improv scene in India. She is also a part of the popular TV segment The Week That Wasn't with Cyrus Broacha on CNN IBN. Presently, Kaneez also hosts the Improv All Stars: Games Night on Amazon Video.
Prashasti Singh
Prashasti Singh is a stand-up comic, writer, actor and improviser, who you've most recently seen in Amazon Prime Video's Comicstaan. She has been active in the Mumbai comedy circuit since 2015. She has 3 years of experience in improv comedy and 2 years in stand-up, performing across venues like Canvas Laugh Club, NCPA and the Cuckoo Club. Prior to comedy she has dabbled with theater and has performed at venues like Kamani auditorium in Delhi and Rangamandira in Bangalore. Prashasti has a degree in engineering from Delhi university and MBA from IIM Lucknow. She has worked with a Television Broadcast company for 4 years understanding and creating content for the heartland consumer.Modesty is clearly not her forte.
Sumukhi Suresh
Actor, writer, sketch comedy artiste, improviser and stand-up comedian Sumukhi Suresh is amongst the most exciting talents in the comedy industry. A motormouth Hindi speaking Tamilian; Sumukhi first rose to prominence through YouTube sketches and the mockumentary web series "Better Life Foundation", and subsequently created and starred in the titular role in the acclaimed Amazon Prime Video show "Pushpavalli" with a sequel coming soon! Go Straight Take Left, co-written with comedian Naveen Richard is another feather to her cap of portraying characters with finesse! Notable among the actress' feature film credits is the 2018 Kannada satirical comedy "Humble Politician Nograj".
Sejal Bhat
Sejal Bhat is a stand-up comedian from Bangalore who uses comedy to fill the void where her soul should be. She was a top 10 finalist in Amazon Prime Video's comicstaan and has performed all over India. A former Analyst and editor, she firmly believes in having no concrete beliefs.
Urooj Ashfaq
"Urooj Ashfaq is one of the most sought after young talent, among the new generation of comics taking the scene by the storm. Urooj is a 22 year old girl from Bombay, who found her first claim to fame through the TLC show, Queens of Comedy, where she was one of the finalists and a comedy force to reckon with. After the success of the show, Urooj has travelled across the country with her stand up act and performed along side some of the stalwarts, like Kanan Gill, Kenny Sebastian & Biswa Kalyan Rath. Apart from stand up comdey, Urooj has also worked on numerous projects as a comedy writer and put her wits to best use, in both fiction & non-fiction formats. She has also acted in multiple comedy properties (AIB's If Apps were people, When some is sick sketches). "
Shankar Chugani
Shankar Chugani is a stand up comic based in Bangalore. He has been performing across the country for the last 5 years. You can watch him on Amazon Prime's Comicstaan or catch him live at a comedy show. As a kid, Shankar Chugani was distressingly short and easily intimidated. Now, he's still short, but less easily intimidated, and busy making people laugh. Over the last 5 years, Shankar's high energy performances have entertained people across the country - from small open mics to massive audiences in Mumbai, Bangalore, Chennai and Pune. Come join them to find out what it feels like to be a small town boy forced to dance as a girl, amongst other stories
Venue
Good Shepherd Auditorium, Bangalore
Museum Rd, Opp Patricks Church, Richmond Town, Bengaluru, Karnataka 560025