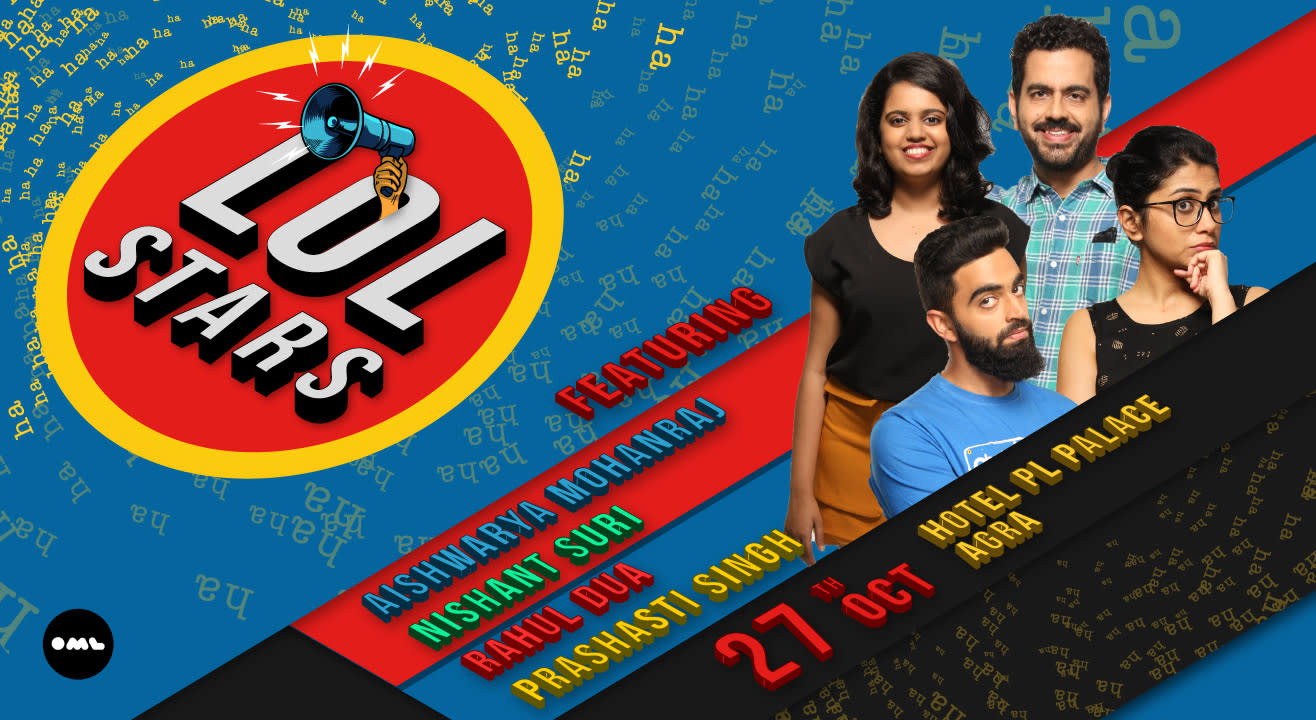 Comedy
LOLStars feat Aishwarya Mohanraj, Nishant Suri, Prashasti Singh and Rahul Dua, Agra
P L Palace Lords Inn Agra
About
A LOLStars Comedy night promises you an evening of the finest comics giving you new comedy, which is guaranteed to leave you red in the face and give your abs a good workout. You will see one of the top comics on tour, supported by a rising star who has recently brought comedy club audiences to its collective knees. Keep checking this page because more and more shows will keep getting announced - and more cities as well. There could be a few surprises in there as well!


Aishwarya Mohanraj

Aishwarya Mohanraj is a standup comedian and writer. Aishwarya was one of the top 10 contestants in Comicstaan and since then has written for shows like Son of Abish, Behti Naak and On Air with AIB. She has performed in various comedy venues such as Canvas Laugh Club and NCPA. Also, she can recite the alphabet backwards. You've seen her most recently seen in Amazon Prime Video's Comicstaan.
Nishant Suri

An engineer -turned- banker -turned- wedding photographer -turned- stand up comedian, Nishant clearly knows what he wants to do in life. He's been doing stand up for a couple of years now, and in this while has won competitions at IIT Delhi, Vir Das's Pajamafest, Radio One Delhi and Comedy Central's Chuckle Hunt. He's loud, he's almost always angry and is said to have the one of the most weirdly animated hands on the circuit.


Prashasti Singh

Prashasti Singh is a stand-up comic, writer, actor and improviser.Prashasti has been active in the Mumbai comedy circuit since 2015. She has 3 years of experience in improv comedy and 2 years in stand-up, performing across venues like Canvas Laugh Club, NCPA and the Cuckoo Club. Prior to comedy she has dabbled with theater and has performed at venues like Kamani auditorium in Delhi and Rangamandira in Bangalore. Prashasti has a degree in engineering from Delhi university and MBA from IIM Lucknow. She has worked with a Television Broadcast company for 4 years understanding and creating content for the heartland consumer. Modesty is clearly not her forte.
Rahul Dua

Talk about an average human being and Rahul fits the bill just right, barring a win at Comedy Central's Chuckle Hunt, NDTV's Rising Stars of Comedy 2016, Host at NDTV's Chuppa Rustam and Actor at Hyundai's Grandi10 digital campaign. He manages to be insecure, under- confident and loud at the same time.
His jokes are as bad as his financial state of affairs and comedy career as unsuccessful as his Engineering and MBA stints. He exploits his life, family and failed relationships for jokes (or lack thereof). He likes Mango Shake and Harlem Shake.


Venue
P L Palace Lords Inn Agra
Mahatma Gandhi Road, Sanjay Place, Sanjay Palace, Sanjay Place, Civil Lines, Agra, Uttar Pradesh 282002