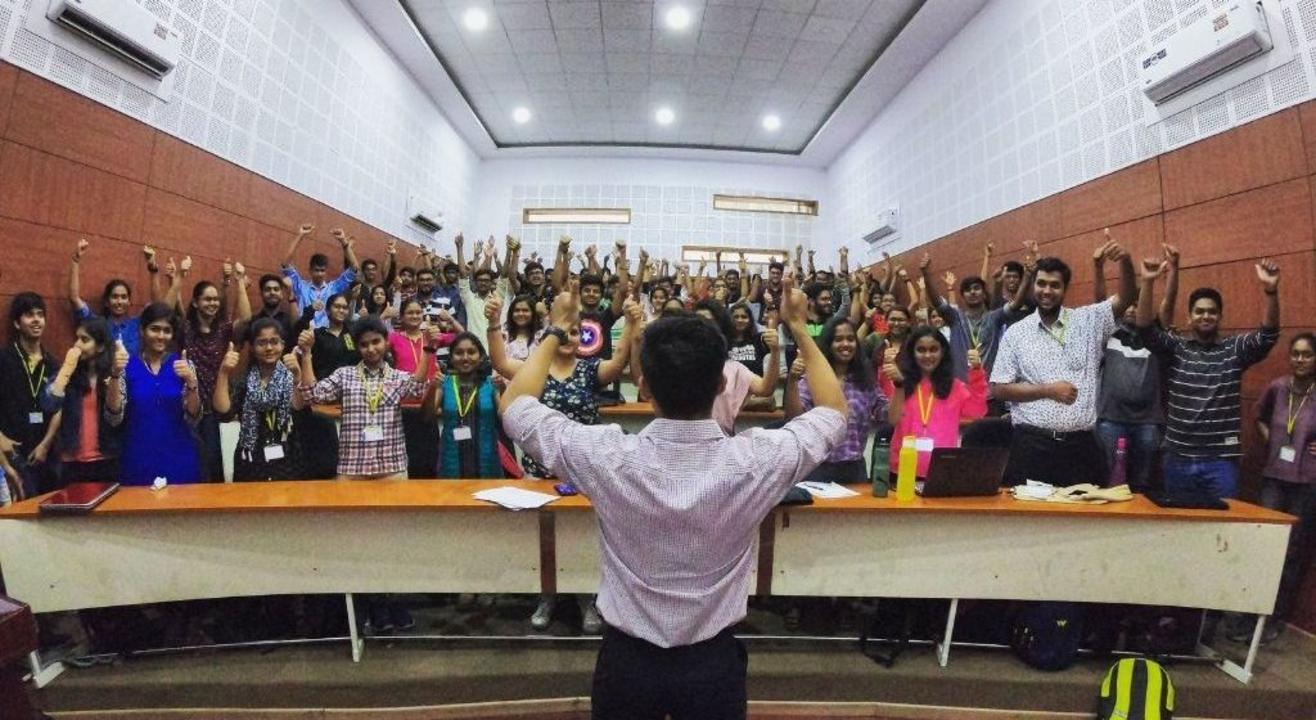 5-day Public Speaking Workshop
October 26 | 7PM - October 30 | 8PM
Enjoy this event from your home
Invite your friends
and enjoy a shared experience
Invite your friends
and enjoy a shared experience
About the Event
What we're offering is a 6-hour Workshop, filled with timeless exercises spread over a week. This workshop is taking place from the 26th to the 30th of October, with a one-hour session every day plus a bonus introductory session!
This is a Live workshop and not a recorded session, so all Questions are taken care of instantly.
This workshop has been curated to give you a deep understanding into the mind of a true showman and teach you the traits that can make you a phenomenal speaker.
The modules being covered in this workshop are:
Day-1: Killing your Nemesis – Stage fright
Conquering your nerves is Step 1 to Public Speaking Mastery. Learn the pre-event ritual of prolific speakers to build unshakeable confidence!
Day-2: Sublime Speech Delivery
After getting over the butterflies in your belly, learn what to say and how to say it! The most popular speakers are famed not just for their confidence, but mostly for the way they connect with their audience.
Day-3: Crafting YOUR Stage Personality
What attracts you to the best speakers in the world? Not their clothes or the car they arrived in, but their sheer presence on stage. Get to know about the traits that make a speaker likeable and implement it in your own life. Learn how to apply concepts like the Pareto rule to your stage persona.
Day-4: Crowd-Work: How to Conquer any Audience
The Audience is who decides if you were outstanding or if you were a dud. Human behavior at the basic level remains the same wherever you go. Learn how to appeal to an audience and give them what they want.
Day-5: D-Day: Delivering your own TED Talk
A landmark for any speaker – Delivering their very own TED Talk. Build your own pre-event checklist that prepares you for a standing ovation worthy talk.
PLUS you get a 1-hour long pre-recorded Bonus Session on how you can leverage Public Speaking in
your own lives!
We look forward to having you on the Workshop. It is time to Persuade, Compel and Conquer!!
Who this Workshop is for:
1. Beginner & Intermediate level Speakers
2. Entrepreneurs
3. IT Professionals
4. Business Executives

5. Teachers
6. Students

7. Influencers
8. Coaches who want to brush up their skill
About the Instructor:
Rahul Kolle helps aspiring speakers become the best version of themselves on Stage. He come with a strong background and years of experience in Public Speaking and Theater. Rahul Kolle is a Public Speaking Coach that wears many hats – he's a Corporate Trainer, Master Presenter and a Storytelling Expert.
Having trained over 5,000 professionals in the Art of Public Speaking, he's out to prove that it's a skill for everyone. He's the co-founder of an Education platform called Skill-X where he trains Graduates to be Job ready. He has curated many speeches on platforms such as TEDx and continues to associate himself with the TED brand.
He currently works as a Customer Experience Engineer at Cisco Systems India, and is affiliated with the L&D team to form strategic Communication Training modules for employee skill development. He more commonly goes by his stage name of "Kolle".
Not impressed yet? Here's what the folks who've attended my sessions have to say about the course:
1. Snigdha Ravi [Lifestyle/Fitness Coach, 23 yrs]
I've signed up for hundreds of seminars and I've NEVER found anything this interesting. Time just flew by in this workshop without a single dull moment! It was fun and lively but also very thought provoking at the same time. I think Rahul sets the benchmark for virtual webinars with his levels of engagement and audience connect.
2. Pooja Rai [Business Analyst @ CGI, 31 yrs]
My key take away from Rahul's workshop was how to overcome hesitation. Not just for public speaking but also communication in general. In the workshop, we learnt about key techniques that you can use when you are speaking on stage. It was a great weekend with lots of fun and learning. Thanks Rahul!
3. Sushil Athreya [Business Analyst @ Skylark Drones, 24 yrs]
Rahul's Public Speaking workshop is carefully crafted and curated to give every participant great value for their time and money! His expertise is passed on in an engaging manner which has enabled me to take my communication skills to the next level.
5. Bharath Kuppam [Senior Consulting Engineer @Cisco, 29 yrs]
I have attended many presentation skills/public delivery trainings but Rahul's unique and absolutely innovative workshop has been the most productive one. Especially I liked the session because it taught me how to sell myself better and influence others. It was practical and thought provoking. Would definitely recommend this workshop!
6. Ekansh Saxena [Territory Sales Manager @Nexa, 33 yrs]
A completely audience-driven session that really attacks one's inhibitions while speaking to strangers. Rahul ensured that the engagement quotient never dips and every participant learns while having fun. The biggest takeaway for me was the concept of brevity which one should carry before speaking in public. All in all each session makes you want to attend another.