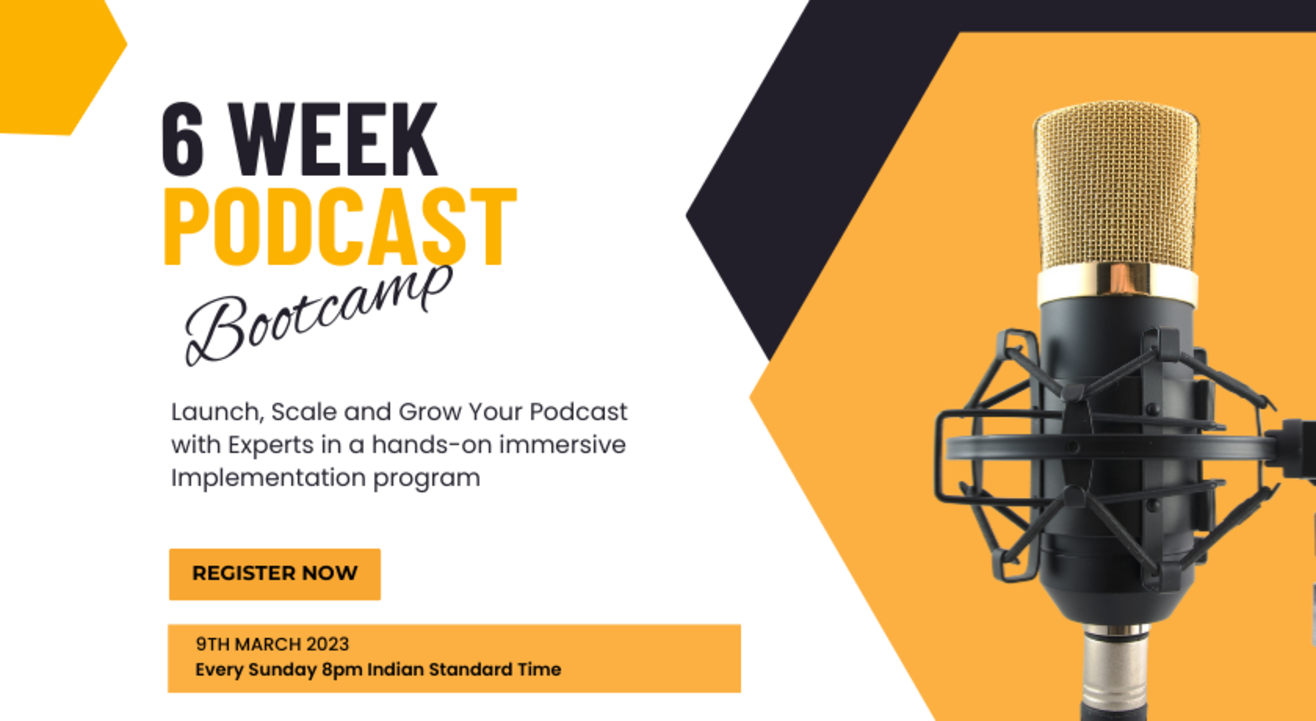 March 9 | 12PM - April 22 | 9PM
Enjoy this event from your home
Event Guide
Masterclass
Learn from an expert
Invite your friends
and enjoy a shared experience
March 9 | 12PM - April 22 | 9PM
Enjoy this event from your home
Event Guide
Masterclass
Learn from an expert
Invite your friends
and enjoy a shared experience
Event Guide
Masterclass
Learn from an expert
Invite your friends
and enjoy a shared experience
6 Week Podcast Bootcamp
10X your brand authority and generate leads using the power of podcasting. Launch & Scale Your Podcast using low-tech Systems with top experts on 10+ Podcasting Platforms even if you have no idea where to start from.
ATTENTION :
This is an Implementation Bootcamp. You will learn everything about podcasting from scratch and Implement it with experts hand-holding you for 6 weeks.
How does it work?
· A small group of 10-15 passionate individuals will work together over a period of 6 weeks with experts to launch their podcasts.
· We meet every Sunday at 8 pm Indian Standard Time online for 90-120 mins. Each session will have a concept covered by an expert followed by a Q & A.
· Participants go back and implement the concept and complete the assignment of the week.
· Experts and Peers give you feedback at each stage in a safe learning environment in a Whatsapp Group.
· Each participant will go back with a LIVE Published podcast on 10+ Platforms with a set of episodes ready and running with a detailed marketing and monetisation strategy.
What else....
We learn, we celebrate, and support each other and have loads of fun.
Who are the Coaches?
Almas Virani - Podcast Consultant, Public Speaking Coach, Author and Changemaker.
Almas fell in love with the mic when she was 11 years old and has taken her voice to many audiences both on and off stage. With over 2 decades of experience in the training and coaching space, she has impacted more than 45,000 lives. Her Podcast "Beyond Clichè" (https://bit.ly/3jVwrCS) is about creating awareness of gender stereotypes and has more than 40k downloads. She is the Founder of Ninja Podcasters where a team of experts help you launch scale and grow your podcast from scratch through online programs and consulting approaches. She is also a known voice in the Changemaking space as she is the co-author of the book Changemakers.
A renowned Public Speaking coach she helps C-level Executives and Influencers create magic on stage.
Nikhil Dintakurthi - Podcast Consultant and Founder – Kathanika Media.
Nikhil is a Podcast Consultant and the Founder of Kathanika Media. He is passionate about building great podcast shows that make people's lives better. With rich and diverse experience in Podcast Production and Partnership experiences, he is a multitasking liaison who can manage end-to-end Production, Distribution, Marketing and Business activities related to Podcasts. Nikhil has worked on more than 500+ episodes, managed over 1.5 mn downloads and raised more than INR 75 lacs of sponsorship.
What will I learn and implement in the 6 Week Hands Learning Experience:
👉Orientation & Pre-work – Learn everything you need to know about podcasts and complete a basic pre-work to start listing your top ideas.
👉Week 1 – Design your own Podcast Blueprint. Finalise your niche, topic, Title, SEO friendly Description, Format & Frequency
👉Week 2 – Give your Podcast a brand identity and finalise the Title and the Podcast Cover Art along with the brand colours.
👉Week 3 - Get ready to record your podcast promo. Create your promo script using the Podcast Promo Formula. Finalise the tonality of the promo and the music you want to choose and record it
👉Week 4 - It's time to script your episodes. Script your Intro and Outro and various segments within your episode whether it is solo or interview format.
👉Week 5– Learn to produce and distribute your podcast. Record and produce your episodes and distribute them across 10-15 Platforms
👉Week 6 – Create your Marketing and Monetisation strategy with an Expert. Here you will.
– Discover how to scale your podcast and get ever-growing downloads
– Create your social media strategy and the set of creatives for your episodes
– Create a monetization plan for your podcast
– Learn how to apply for Anchor Spotlight
You will also receive the following bonuses when you enrol for this program:
👉BONUS 1 – PODCAST EQUIPMENT GUIDE
Learn all the essentials required to set up a home studio. A Specially curated Podcast Guide loaded with options for every budget. Right from home studio options to heavy podcasting gear, it's all included in there. Absolutely free. Choose the options that work for you.
👉BONUS 2 – Podcast Platform Tech Walkthrough:
Learn everything you need to know about uploading your podcast for free on Spotify, Google Podcasts, iTunes and 5+ platforms for free with a complete tech walk-through. You see a demo of uploading a live podcast and understand how the platform works with all its features – all of this as a special bonus.
👉BONUS 3 – SCRIPTING MASTERCLASS + E-BOOK – Special session with EXPERT Madhuri Adwani – Storyteller and Host of Podcasts – Tapri Tales, Nirnantar Radio and Kahaniyon ka Adda
👉BONUS 4 - Audacity Walkthrough with Ace Producer Nikhil Dintakurthi
👉BONUS 5 - Pro Tools Walkthrough with Ace Audio Engineer Johnston D'souza
👉BONUS 6 - DONE FOR YOU PODCAST COVER ART TEMPLATES:
Want to make your Podcast Cover Art but don't have design skills? We've got you covered. Done for you templates for you to create your very own Podcast Cover Art in minutes. There's nothing stopping you from launching your podcast now!
👉BONUS 7 – PRODUCTION CHECKLIST:
All the production steps are included in one comprehensive checklist. We want to make sure you are thoroughly prepared for each episode and here's an all-you-need production checklist to help you succeed.
BONUS 8 – 7 in 1 TOOLKIT BUNDLE:
A Toolkit Bundle designed to make your podcasting launch easy. Here's what you will get:
1. Podcast Blueprint
2. Pre-launch kit templates
3. Podcast Title Cheat Sheet
4. Recommended Podcast Directory
5. List of editing software and sites for music and images
Important Notes:
· The Bootcamp will give you results if you put in the effort and do the work. This is not a 'done for you' service. It's an Implementation Bootcamp where we will guide you and you need to follow the steps.
· Please join only if you are serious and passionate about building your authority through the beautiful medium of Audio!
March 9 | 12PM - April 22 | 9PM
Enjoy this event from your home
Event Guide
Masterclass
Learn from an expert
Invite your friends
and enjoy a shared experience