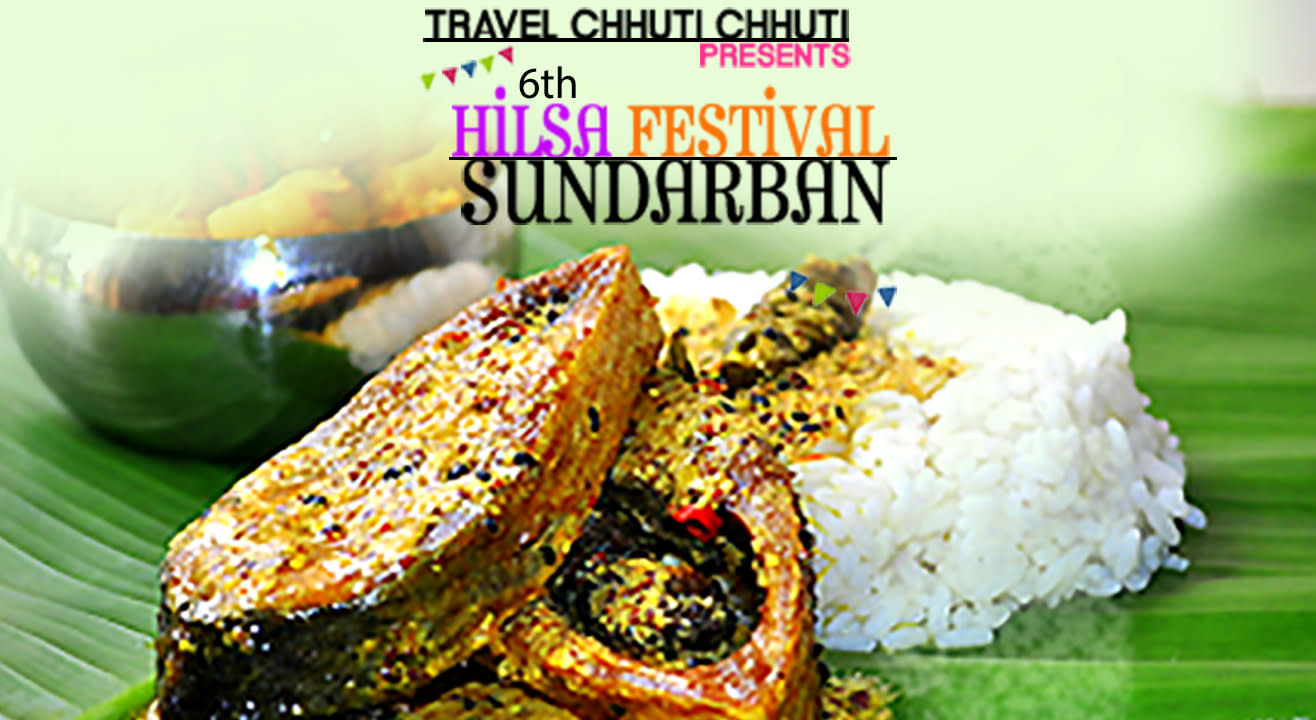 Food Fest
6th Sundarban Hilsa Festival 2019
About
With 3 days of Hilsa food, tiger reserves and a safari, the 6th Sundarban Hilsa Festival is one of the best ways to explore the real beauty of West Bengal. Visit historical bungalows & enjoy the thrill of spotting different animals in their natural habitat.
Organized after 5 successful years by Travel Chhutti Chhutti, one of the best tours & travels agents in West Bengal, cover more places at more pocket-friendly prices.
Day 1 :
7.42 A.M - Starting from Sealdah Station.
9.00 A.M - Reach Canning by Canning local. From Caning Railway Station head to the Sonakhali ferry ghat to board on launch(Open Motorboat) and proceed to Gosaba Island. Breakfast with Drinking water will be served on the launch.
Reach Gosaba Village. Visit Becon Bungalow and Hamilton Sahib Bungalow. After visiting this historical Bungalow our launch will enter inside the world's biggest mangrove forest for Sundarbans Tiger Safari. Lunch will be served on the launch.
After lunch, we will visit Pakhir Jungle. Enjoy the enchanting evening with Baul Gaan with Tea and Snacks. Dinner will be served on cruise/ Hotel.
Day 2 :
Early morning - Start Sunderban Jungle Safari through the boat, guided by our Govt tourist Guide at Sajnekhali Reserve.
Start thrilling boat Safari through various rivers, Islands, small Creeks covering Pirkhali, Gazikhali, Deul Varani, Banbib Varani. In this Tiger Reserve area, enjoy spotting animals like spotted deer, crocodile, wild boar, snakes, water monitor lizard, different types of birds and also Royal Bengal Tiger (if you are lucky).
After lunch Visit Do-Banki Tiger Reserve Area and Watch Tower. The 896-meter canopy walk at Do Banki allows you to view wildlife from a netted enclosure.
After Do Banki tiger reserve area we will visit Panchamukhni (Five river junction) through Boat.
After this thrilling Sundarbans national park safari, we will reach at Pakhiralaya Island for marketing. Dinner will be served at Hotel/ Boat.
Day 3 :
Early morning - Start our jungle Safari through Sarakkhali between different island with a Govt tour guide.
At the end of the tour, we will visit Sudhanyakhali Tiger Reserve Watch Tower. Breakfast and launch will be provided in Launch.
We will head back to Kolkata with sweet memories.
Day 1
Breakfast: Welcome Drinks, Radha Bhallavi/ Luchi, Alur Dam, Sweet, Tea.
Lunch: Basmati Chaler Bhat, Dal, Beguni, Ilisher Tel, Ilish Macher matha diye Kachur Sak, Hilsa Paturi, Barishali Ilish, Misti Doi, Chatni, Papad Vaja.
Afternoon: Tea/ Coffee.
Evening: Ilish Macher Pakora, Salad, Tea/Coffee.
Dinner: Travel Chuti Chhuti Special Khichuri (Hotchpotch), Begun Vaja/ Begun Pora, Egg Fry, Hilsa Fry.

Day 2
Early Morning: Bed Tea, Biscuit.
Breakfast: Nanpuri, Chana Masala, Sweet, Tea/coffee.
Lunch: Steamed Basmati Rice, Dal, Alu Fry, Ichor Chingri/ Potol Chingri, Hilsa Bhapa, Lau Pata Ilish, Green Salad, Chani, Papad Vaja.
Afternoon: Tea/ Coffee.
Evening: Vetki Fish Fry, Tea/ Coffee.
Dinner: Mixed Fried Rice, Chili Chicken.

Day 3
Early Morning: Bed Tea/ Biscuit.
Breakfast: Alu Parota (2 Pieces), Vegetable, Boiled Egg, Tea/ Coffee.
Lunch: Hilsa Biriyani, Hilsa Fry, Ilish Korma, Ilsher Tok, Chatni, Papad Bhaja.
Package Includes –
Kolkata to Kolkata by Canning Local | Mineral Water | All meals as mention in above | All entry fees at Tiger reserve area | Still Camera Charges | Govt Guide Charges | Experience Tour Manager | Folk Dance | Folk Dance | Night Stay at Boat (Dormitory) | Mattress & Pillow at Boat.

No luxurious facilities are available at our launch for Night Stay. This is only for adventure lovers.
Hotel Charges Rs. 500/- Per Night per person (Optional) | Any meals out of Exclusion | Movie/ Video Camera Charges Rs. 100/- (Optional).