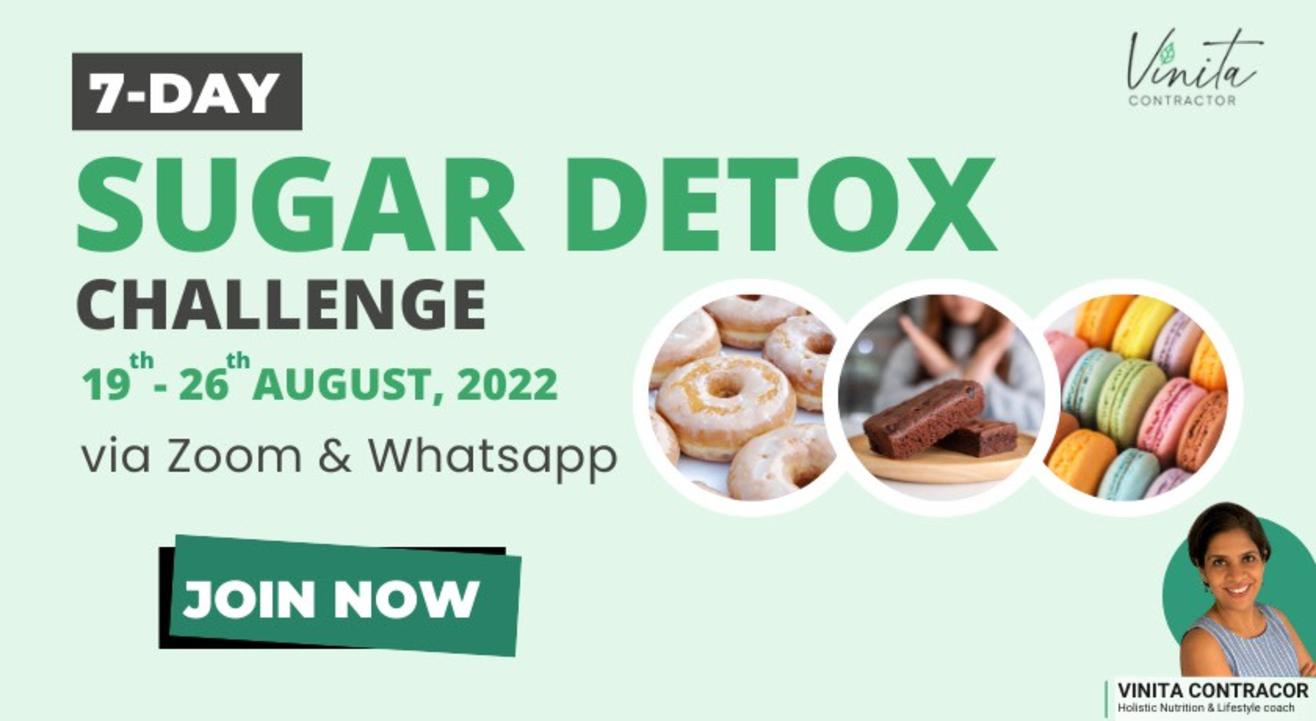 7 Day Sugar Detox Challenge with Vinita Contractor
August 19 | 6PM - August 26 | 6PM
Enjoy this event from your home
Event Guide
For Age(s)
Family Friendly
Masterclass
Learn from an expert
Invite your friends
and enjoy a shared experience
7 Day Sugar Detox Challenge with Vinita Contractor
August 19 | 6PM - August 26 | 6PM
Enjoy this event from your home
Event Guide
For Age(s)
Family Friendly
Masterclass
Learn from an expert
Invite your friends
and enjoy a shared experience
Event Guide
For Age(s)
Family Friendly
Masterclass
Learn from an expert
Invite your friends
and enjoy a shared experience
Whether you are struggling with a one-time sugar binge or are regularly eating too much sugar, the effects of sugar overload on your system can lead to heart disease, cholesterol, diabetes, aging, weakened immune system and even cancer.
In my experience over the past 6 years as a Nutrition and Lifestyle Coach, dealing with sugar cravings and striking a balance between not overdoing it and completely staying away and then binging is one the most common challenges people face.
I have discovered some powerful tools/ strategies which are practical and sustainable and I would love to share them with you so you can RESET with your relationship with sugar.
Join in for the 7 day Sugar Detox from August 19th to 26th 2022 and use it as a starting point for a new and improved lifestyle. With this challenge, you will have the tools and the know – how you need to reduce your sugar intake!
Here is what you will discover in 7 days:
· What does it mean when you crave sugar?
· What to eat so you have reduced sugar cravings?
· Which sugar alternatives which are not bad for you?
· How to figure what in the packaged foods you are eating?
· What lifestyle factors contribute to a healthier relationship with sugar?
Here is what you get:
1. 2 Zoom Live calls (19th August 6 pm & 26th August 6 pm
2. Whatsapp support throughout
3. Daily videos focussing on the topic of the day. Each topic is a powerful tool/ hack.
4. Healthy Desserts Ebook
5. Community-based interaction & Motivation
6. Daily prizes
You will feel so good as you progress through the 7 days without added sugar junking up your system. You get all the support to help you meet your goals without feeling deprived!
*The program is a guided WhatsApp-based program by Vinita where the information, recipes, and instructions will be sent to you beforehand and you will receive a daily video and support for any queries. Each participant has to follow the plan at their own pace and timings at home/ work.
7 Day Sugar Detox Challenge with Vinita Contractor
August 19 | 6PM - August 26 | 6PM
Enjoy this event from your home
Event Guide
For Age(s)
Family Friendly
Masterclass
Learn from an expert
Invite your friends
and enjoy a shared experience