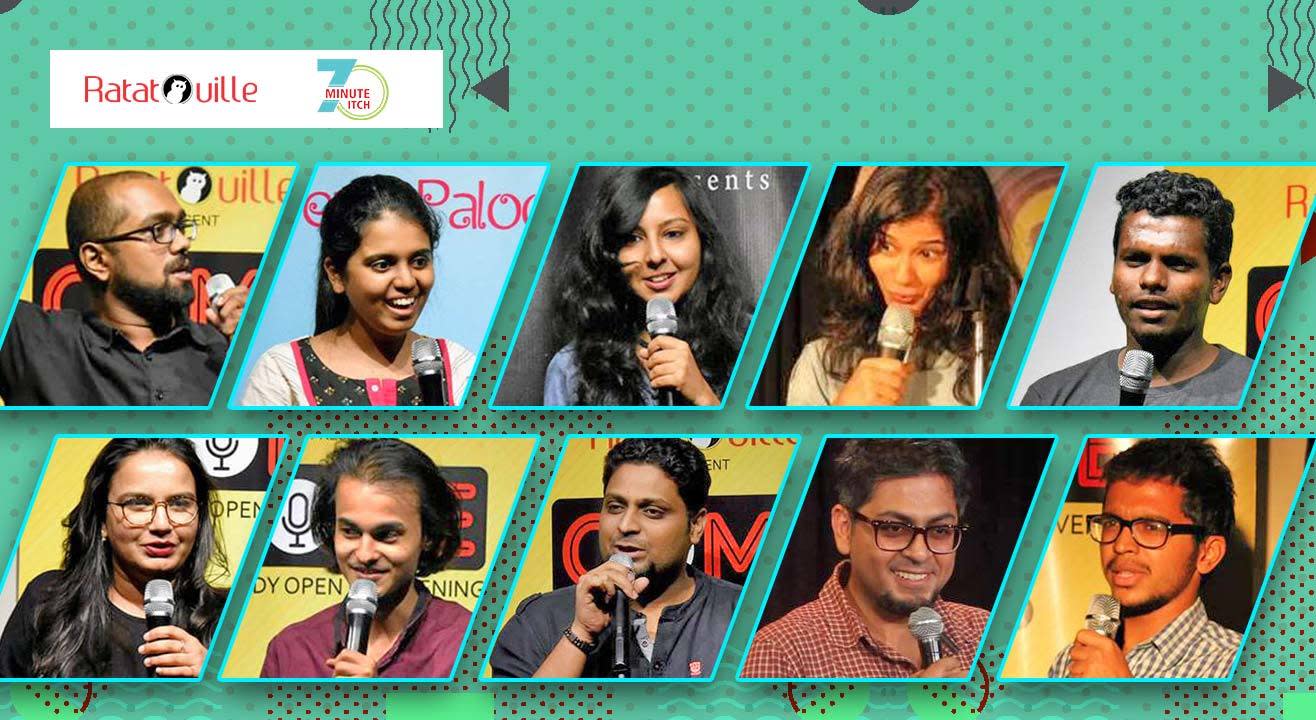 Step out and enjoy this event
Invite your friends
and enjoy a shared experience
Step out and enjoy this event
Invite your friends
and enjoy a shared experience
Invite your friends
and enjoy a shared experience
The comics on the line up will only get 7 mins to make you laugh, after that you itch and clap! Come be part of a super fun new show, A platform for new comics to try an do more than 5 mins, basically an upgraded Open mic! Best way to end your Sunday! come become a fan of someone new!
Host

Jeeya Sethi
Deepak Gopalkrishnan
Agrima Joshua
Aishwarya Mohanraj
Chetan Muley
Rajesh Jinka
Dhaval Datar
Abijit Ganguli
Pratik Somani
Unnati Marfatia
Artist Info

Jeeya Sethi
Jeeya believes if you are fat once (by fat she means FAAAAT) you are fat forever, mentally you never become thin even after losing all the weight. An event manager turned stand-up comedian, improviser and actor, she has made entertainment her new life's mission since nothing else is going for her

Deepak Gopalkrishnan
Deepak is an upcoming Stand-up comedian

Agrima Joshua
Agrima is an upcoming stand up comedian who has won various open mics in the city and she has also won Femapalooza.

Aishwarya Mohanraj
Aishwarya is stand up comedian and past winner of femapalooza


Dhaval Dattar
Dhaval Dattar is an upcoming stand-up comedian and has featured in several shows.

Abijit Ganguly
Abijit is a Bengali boy, born in Bangalore, raised in Delhi, amidst the deeply-influencing Punjabi culture, dating a Gujarati girl who lives in UP. Basically, he's Mr. India. He is popularly referred to as the best looking Bengali man after Bappi Lahiri. Tired of his ever deteriorating life, Abijit thought of getting up on stage and declaring that life doesn't have its share of ups and downs, but downs and further downs, after which you realize that the previous down was indeed an up. Over four years now and he's been killing it telling his tales of marriageable age, alcoholism, racism, superheroes, beggars, dating a Gujarati girl, weight issues, media, driving an Indica, politics and contemporary issues. On special request, he does a lot of sex comedy (which is kind of ironical)

Menchie's Frozen Yogurt
Shyam vihar Near telephone exchange Khar, Khar Pali Rd, Khar West, Mumbai, Maharashtra 400052, India
GET DIRECTIONS