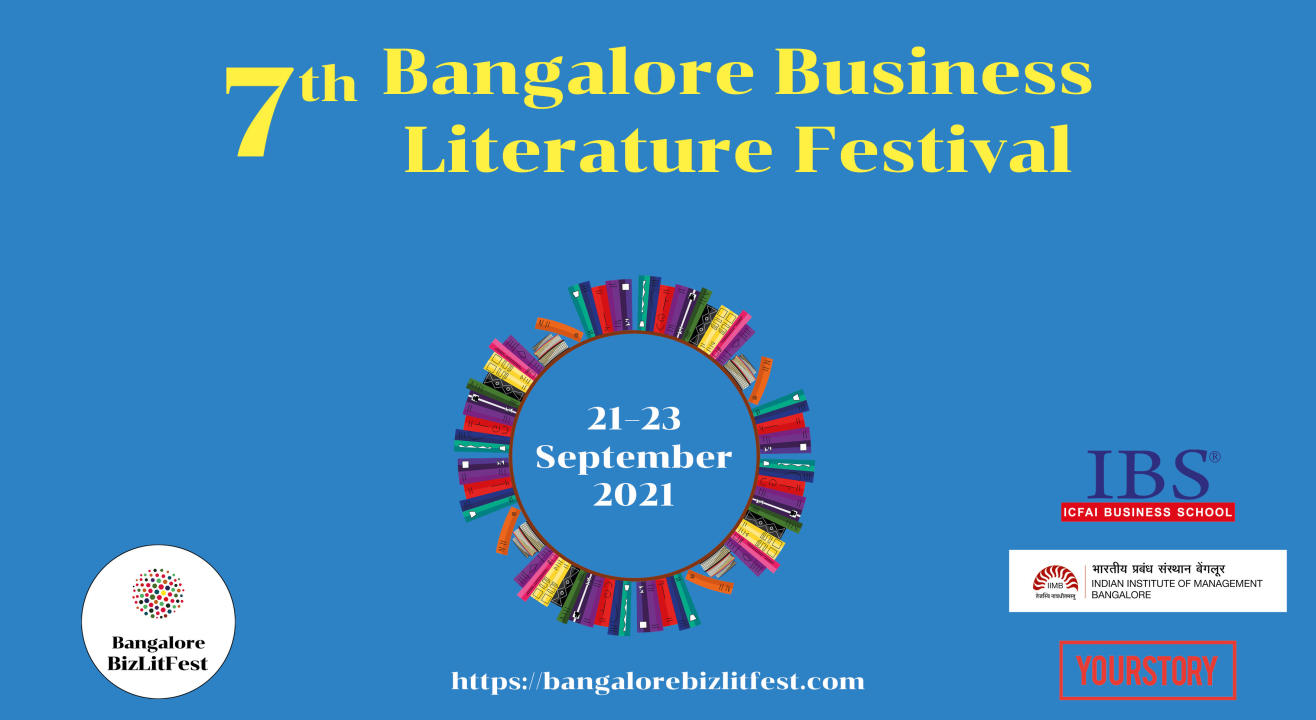 7th Bangalore Business Literature Festival
September 21 | 4PM - September 23 | 8PM
Enjoy this event from your home
Event Guide
For Age(s)
Family Friendly
Live Performance
Enjoy a unique experience
Invite your friends
and enjoy a shared experience
Event Guide
For Age(s)
Family Friendly
Live Performance
Enjoy a unique experience
About the Event
The Bangalore Business Literature Festival https://bangalorebizlitfest.com team is happy to welcome you to the 7th edition of India's first and most widely attended annual festival.
This year we have a superb line-up of authors and business leaders discussing themes that are most relevant today. Important themes addressed are future of careers and work, lesser known success secrets of start-ups, new marketing challenges, trends in digital publishing, how to convert fans into customers, among others.
Participate in conversations to stay up-to-date and relevant.
Here's the program schedule.
​21 September 2021
4.00 pm to 4.15 pm - Welcome
V Raghunathan, Chair, Bangalore Business Literature Festival, former Professor, IIM Ahmedabad, columnist and author of best-sellers like Games Indians Play, Ganesha on the Dashboard; The Corruption Conundrum and Other Paradoxes and Dilemmas; Locks, Mahabharata And Mathematics: An Exploration Of Unexpected Parallels.
4.15 pm to 5.10 pm - The Butterfly Moment: From Journalism to Writing Books
Sudha Menon, author of six books, an actor, model, and founder of popular writing workshop series - Get Writing and Writing With Women. She was a business journalist with The Hindu Business Line and Mint.
Hari Pulakkat is the Editor of IITM Shaastra, a science and technology magazine. He is the author of SPACE. LIFE. MATTER: The Coming of Age of Indian Science.
Sundeep Khanna is a regular columnist for Livemint and Money Control and co-author of the recent book Azim Premji: The Man Beyond the Billions.
In conversation with Pooja Bhula, journalist and co-author of Intelligent Fanatics of India. She is a core team member and co-host of Bangalore Business Literature Festival. She is also the founding team member of Greenlitfest.
5.10 pm to 5.25 pm - Lessons for Brand Custodians from the Pandemic
Talk by Sudhakar Rao, Director, ICFAI Group
5.30 pm to 6.15 pm - The Ingram Story
Keel Hunt is an author and newspaper columnist from Nashville with a keen eye on political and cultural change. His latest book, THE FAMILY BUSINESS: How Ingram Transformed the World of Books draws on over 70 interviews with company insiders and book-industry luminaries to chronicle the extraordinary journey of 50 years in which the little-known Nashville-based company grew to play a pivotal role in transforming book publishing around the world. A company that's known to have played an indispensable role in enabling Amazon's initial success as the world's largest online bookstore and continues to be a key part of the hidden infrastructure of publishing and bookselling in the US, including Amazon as noted by O'Reilly Media founder, Tim O'Reilly. Keel's previous books include, COUP: The Day the Democrats Ousted Their Governor (2013), CROSSING THE AISLE: How Bipartisanship Brought Tennessee to the 21st Century and Could Save America (2016).
In conversation with Karthika V K, Publisher, Westland Publications.
6.15 pm to 7.00 pm - Tracking Publishing's Digital Transformation
Mike Shatzkin is the founder & CEO of The Idea Logical Company and a thought leader on digital trends in the book publishing industry spanning a 50+ year-long career in the book publishing industry. He is the author/co-author of nearly a dozen books, including The Shatzkin Files and The Book Business: What Everyone Needs to Know.
In conversation with Vikas Gupta, Managing Director, Wiley India; former President of Association of Publishers in India (API); promoter-member of the Education Promotion Society of India (EPSI) and author/co-author of 15 books.
7.00 pm to 7.15 pm - The Book Launch - The Pilani Pioneers: Inspiring Success Stories of 25 BITS Pilani Graduates
In conversation with Ganesh Vancheeswaran, Freelance Journalist and Author of 'The Underage CEOs'
7.15 pm to 8.00 pm - The Marketing Conundrum – Making Sense of the Emerging Landscape
Dr. Karthik Nagendra is a management consultant, life coach and CEO of ThoughtStarters. He co-founded Pink Ladder. He is the author of The Thought Leader Way: Leading Your Business with Thought Leadership in an Altered World.
Jessie Paul, marketing expert and CEO of B2B consulting firm, Paul Writer. She is the author of No-Money Marketing: From Upstart to Big Brand on a Frugal Budget.
In conversation with Deepali Naair, CMO, IBM India, Podcaster Inc CEOs.
22 September 2021
4.30 pm to 5.00 pm - The Deep State - The Silent Coup: The History of India's Deep State by Josy Joseph
Josy Joseph is an award-winning investigative journalist and author, who has exposed some of India's biggest scandals. He is also the founder of Confluence Media, a platform-agnostic investigative journalism outfit. In his last role, he was the National Security Editor of The Hindu.
In conversation with Mihir Sharma, fellow at ORF, columnist and author of Restart: The Last Chance for the Indian Economy.
5.00 pm to 5.45 pm - Literature's Tech Game Plan
Bibhu Dutta Rout has been a tech professional in investment banking. He is the author of Wheels Of Wish: A Crime Planned 800 Years Ago. He is the co-founder and CEO of StoryMirror.
Ranjeet Pratap Singh is the co-founder / CEO of Pratilipi, India's largest storytelling platform with over 30 million active users in 12 Indian languages.
Suresh Narasimha, a technology & consumer-focused venture capitalist, owns JustBooks.
In conversation with Kashyap Kompella, author of Practical Artificial Intelligence: An Enterprise Playbook.
5.45 pm to 6.30 pm - How to Turn Fans into Customers and Customers into Fans
David Meerman Scott spotted the real-time marketing revolution in its infancy and wrote five books about it including, The New Rules of Marketing and PR, now in a 7th edition, with more than 400,000 copies sold in English and available in 29 languages from Albanian to Vietnamese. He is a business strategist, entrepreneur, advisor to emerging companies, public speaker, author of ten books. His latest Fanocracy: Turning Fans Into Customers and Customers Into Fans, co-authored with medical professional and fanfiction writer Reiko Scott, is a WSJ bestseller. Fanocracy explores the neuroscience of fandom through interviews with young entrepreneurs, veteran business owners, startup founders, nonprofits, and companies big and small, and lay out a road map for converting customers' ardor into buying power.
In conversation with Alap Ghosh is a digital transformation specialist, a certified marketing trainer and an educator. He is a visiting faculty at IIMB.
6.30 pm to 7.15 pm - 2030: How Today's Biggest Trends Will Reshape the Future
Prof. Mauro Guillen, Director of Cambridge Judge Business School, author and management expert. He is author of How Today's Biggest Trends Will Collide and Reshape the Future of Everything.
In conversation with Mukul Pandya, Founding and former Editor-in-Chief of Knowledge@Wharton and author.
7.15 pm to 8.00 pm - Start-Up Success Stories: Less-known Secrets and Trends
Sanjeev Aggarwal is a lifecycle investor, co-founder of Daksh, Helion and Fundamentum. He is the co-author of From Pony to Unicorn: Scaling a Start-Up Sustainably.
Prof. Srivardhini K Jha, Faculty, IIM Bangalore, is the co-author of Shifting Orbits: Decoding the Trajectory of the Indian Start-up Ecosystem.
Kaninika Mishra is a corporate learning and development professional and author of three non-fiction books. The latest one, The Indic Quotient: Reclaiming Heritage through Cultural Enterprise (Bloomsbury , 2020) has received great appreciation from Shiva Trilogy author Amish Tripathi, award-winning historian and author, Hindol Sengupta, as well as Niti Ayog. Her other two books include Fundamentals of Life Insurance: Theories and Applications that's part of reading lists for life-insurance related courses in India, Sri Lanka and Malaysia, and The Indian Millionaire Next Door, detailing inspiring journeys of India's top life insurance advisors, was translated into Hindi and Tamil.
In conversation with Madanmohan Rao, Research Director of YourStory and author of 15 books on management and culture
23 September 2021
3.45 pm to 4.45 pm - New Work, New Workplace
Parmesh Shahani is the founder of the award-winning Godrej India Culture Lab in Mumbai. He is a member of the FICCI task force on diversity and inclusion, board member of Khoj International Artists' Association, a TED Senior Fellow, a Yale World Fellow and a World Economic Forum Young Global Leader. He's the author of Gay Bombay: Globalization, Love and (Be)Longing in Contemporary India, and Queeristan: LGBTQ Inclusion in the Indian Workplace.
Vivan Marwaha is a user researcher, works on technology projects in emerging markets, and is author of What Millennials Want: Decoding the Largest Generation in the World - deemed an "urgent work of scholarship" by Dr. Shashi Tharoor.
Bhavna Dalal is the Founder and CEO of Talent Power Partners. She specialises in Leadership Coaching and Training. She helps new and experienced leaders from around the world align to their vision and strengths. She serves on the board of directors of Bodhi Education Society as Vice President, regularly writes for Forbes and Fortune and has authored two books -- Checkmate Office Politics and Team Decision Making -- that have received great praise from several business and thought leaders, including legendary business educator and coach Marshall Goldsmith.
Dr Swetha Jain, Dean, ICFAI Business School, Jaipur.
In conversation with Tony V Francis, Author, The Autograph Seeker and Chief Revenue Officer, Matrix Publicities(WPP).
4.45 pm to 5.30 pm - Being Human in the Age of Technology
Rishad Tobaccowala recently authored the bestseller, Restoring the Soul of Business: Staying Human in the Age of Data. He is a Senior Advisor to the Publicis Groupe, where he served as Chief Growth and Strategy Officer until recently. He has been named by BusinessWeek as one of the top business leaders for pioneering innovation, dubbed by TIME magazine as one of five "Marketing Innovators" He is in the Ad Age Interactive Hall of Fame and recipient of lifetime achievement silver medal award from the Chicago Ad Federation.
In conversation with Tarun Durga, brand strategist, digital transformation specialist and founder of ClearSky Design Thinking Consultancy. He was an associate director at Deloitte.
5.30 pm - 6 pm - Radical Vision for India's Sustainability
​Padu Padmanabhan, author of First Fuel: India's Energy Efficiency Journey and a Radical Vision for Sustainability.
In conversation with Hariharan Chandrashekar. He is an Indian ecological economist and mentor for green entrepreneurship.
6.15 pm to 7.00 pm - Conversation with AuthorGuru R Gopalakrishnan
R Gopalakrishnan is one of India's most prolific authors among business leaders. He has authored 16 books on various areas of Management. He wrote most of them while holding senior leadership positions in the Tata Group.
In conversation with Benedict Paramanand, co-founder of Bangalore Business Literature Festival and founder of Green Literature Festival. He edits SustainabilityNext magazine. He's the author of CK Prahalad - The Mind of the Futurist - Rare Insights on Life, Leadership & Strategy.
2021 BBLF CK Prahalad Best Business Book Award
Jury's Reflections by Rama Bijapurkar
Rama Bijapurkar is a prolific author, a thought leader on market strategy and consumer behaviour. She is also a keen commentator on social and cultural change in India.
Peter Yorke, a thought leader in business communications, will be in conversation with the winner.