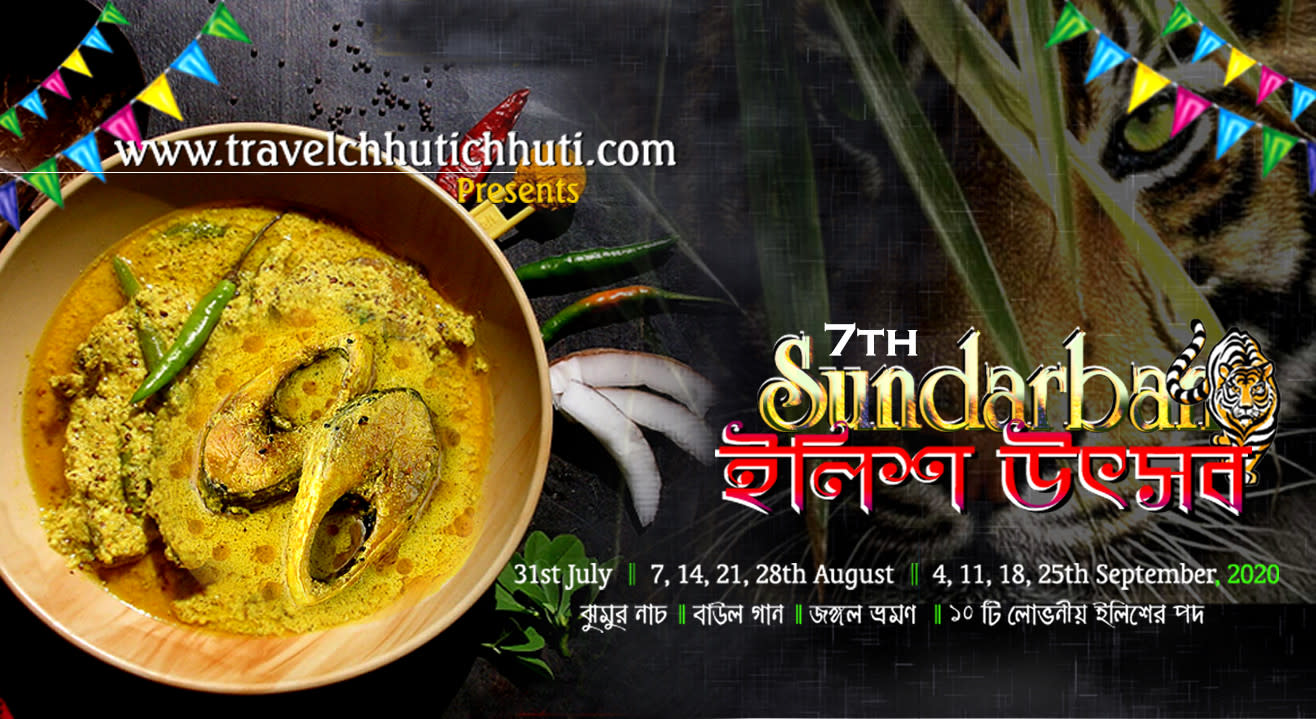 7th Sundarban Ilish Utsav
Invite your friends
and enjoy a shared experience
Invite your friends
and enjoy a shared experience
About the Event
Sundarban Hilsa festival 2020, all set to take place and you being a bong soul. Having distinct fish flavoured blood type and taste bud and not visiting it? You must be joking right! Maacher-raja Illish, is emotionally loved owing to its- soft characteristics, delicious flavour, and heavenly after-feels. Especially by bongs, who have carved out an identity out of it. Drooling over and making it their first love. In Bengal Illish fish is no more just an ordinary food item but a culture.
Covered by large water bodies, Sundarban is mainly famous for delta, river fish, and of course the beautiful wildlife. However, at the 7th program of the Hilsa festival; we will try to provide all our guests with the latest recipe dishes. Sundarban illish Utsav usually takes place in the months of- June, July, August, and September every year. Enjoy the pleasure of viewing the breath-taking scenic beauty of the tiger-land with mouth-watering marine delights with us.
Sundarban Hilsa Festival Tour Date 2020/ 2021~
July, 2020 : 31st | August, 2020 : 7, 14, 21, 28 | September, 2020 : 4, 11, 18, 25
Sundarban Hilsa Fish Festival Covers
Hamilton Buglow, Beckon Bunglow, Gosaba Market, Pakhir Jungle, Sajnekhali Tiger Reserve & Watchtower, Mangrove Interpretaton Center, Crocodile Pond, Turtle Pond, Sudhanyakhali Watch Tower, Pirkhali, Gazikhali, Chora Gazikhali, Bonbibi Bharani, Sarakkhali, Five River Junction, Do - Banki Watch Tower.
Sundarban Hilsa Utsav Package Trip Menu Details
Day 1 ~
Breakfast ~
Welcome Drinks, Radha Bhallavi/ Luchi, Alur Dam, Sweet, Tea.
Lunch ~
Basmati Chaler Bhat, Dal, Beguni, Ilisher Tel, Ilish Macher matha die Kachur Sak, Hilsa Paturi, Barishali Ilish, Misti Doi, Chatni, Papad Vaja.
Snacks ~
Ilish Macher Pakora, Salad, Tea/Coffe.
Dinner ~
Travel Chuti Chhuti Special Khichuri (Hotchpotch), Begun Vaja/ Begun Pora, Egg Fry, Hilsa Fry.
Day 2 ~
Breakfast ~
Nanpuri, Chana Masala, Sweet, Tea/coffe.
Lunch ~
Steamed Basmati Rice, Dal, Alu Fry, Ichor Chingri/ Potol Chingri, Hilsa Bhapa, Lau Pata Ilish, Green Salad, Chani, Papad Vaja.
Snacks ~
Vetki Fish Fry, Tea/ Coffee.
Dinner ~
Mixed Fried Rice, Chili Chicken.
Day 3 ~
Breakfast ~
Alu Parota (2 Pices), Vegetable, Boiled Egg, Tea/ Coffee.
Lunch ~
Hilsa Biriyani, Hilsa Fry, Ilish Korma, Ilsher Tok, Chatni, Papad Vaja.
Sundarban Hilsa Fish Festival Includes ~
Sealdah to Canning & Canning to Sealdah Train Fare.
Pick up & Drop from Canning To Ferrighat by Auto.
All Meals like Bed tea, Breakfast, lunch, tiffin, dinner as per package schedule.
Jungle Permission.
Entry Fee.
Boat Safari.
Tour Manager.
Govt. Tourist Guide.
Local Folk Cultural Program.
Mattress & pillow at Launch. (Please note: No luxurious facilities are available at our launch for Night Stay. This is only for adventure lovers.)
Sundarban Hilsa Fish Festival Excludes ~
Personal expenditure.
Hotel charges.
Kolkata to Sonakhali pickup & drop Charges.
Coolie Charge.
Any meal out of inclusions.
Video Camera Permission Charges Rs.200/- Per Day.
Sundarban Hilsa Fish Festival Activities
Jhumur Dance
Baul Gaan
Sundarban Hilsa Fish Festival tour package Itinerary
Day 1
Becon Bunglow, Hamilton & Rabindranath Tagore Bunglow, Birds Jungle. ~
Early Morning at 8.28 am we will start our tour by canning local from Sealdah Railway Station. After 1hr 10mnt we will reach Canning, and then Canning to Sonakhali by Auto. At 10.30 am we start our journey for Sundarban by Our Launch/Boat.
Tiffin will be server on the way. Our First Destination is Hamilton Bunglow & Beckon Bunglow. At 3pm we will reach Sundarban Tiger Reserve Area. First day we will go ot the Birds Jungle locally name "Pakhir Jungle". After this session we will go to hotel.
Enjoy the enchanting evening with local Folk Caltural program followed by snaks and tea. Dinner will be served at Hotel.
Day 2
Sajnekhali Tiger reserve & Mangrove interpretaion Centre, Pirkhali, Gazikhali, Duel Varani, Bonbibi Varani, Netidhopani & Dobanki Tiger Reserve & Watch Tower.
Early morning at 7.30am we will start our Sunderban tour. First we visit at Sajnekhali Tiger reserve Area, Watch Tower, Mangrove Interpretaion Centre & Crocodile Pond and Cruise through Rivers and Narrow Creeks of like Pirkhali, Chora Gajikahli, Deol Varani & Bonbibi Varani.
Our Last & next destination is Do Banki. After visit this tiger reserve area & watch tower we end our sundarban trip journey at Hotel.
In the evening we will enjoy with Bonbibi pala & Local Baul Song which is include in sundarban package tour. Dinner will be served in launch/ Hotel.
Day 3
Sudhanyakhali Tiger Reserve & Watch Tower, Sarakkhali, Island Tour ~
Early morning at 7.30am we will start our sundarban national park tour. Breakfast will be served at Launch.
In this session we will Explore sundarban's differnt creeks like Sarakkahli 1, Sarakkahli 2 & also visit many different tiger reserve island. Our last destination of our sundarban tour journey is Sudhanykhali Tiger Reseve & Watch Tower.
We will Return Back Sonakhali launch Gaht at Evening & head back to Kolkata with sweet meories.
Above all, we believe in catering to all sections of society. Accordingly, we frame pocket-friendly packages. Our tour itinerary covers all attractive areas from the 5 river junctions to 3 watchtowers. Feel the essence of tall mangroves and capture colorful birds on your camera-roll for eternity. What are you waiting for? Pack your bags & here we arrive to take you.
Sealdah Railway Station
Sealdah, Raja Bazar, Kolkata, West Bengal 700014
GET DIRECTIONS